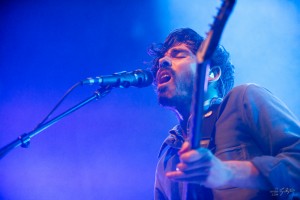 Photos by Ty Hyten
The Scene: People talk too much these days. The over sharing, the over communication, all the feelings curated and repackaged for appropriation, i.e. conscious uncoupling. In fact, the Internet recently told me that I am either the youngest of Gen X-ers, or an elder Millennial. I suppose I can craft a duality here: I have a Facebook account, but I never update it. I text all the time, but am told I lack the subtle combination of etiquette and brevity. I don't believe in the selfie, but I bought a crop top for the summer. More simply put, everyone is always talking about their feelings and making it a thing.
If I were to label the emotional tenor as I arrived at the sold-out Ogden Theatre, I would say I was immersed in the emotional equivalent of a Snuggie, or maybe properly swaddled. To explain, being on the short side, I'm usually positioned near the armpit of a hazy bearded microbrew-drinking baseball hat wearer fending off flying wisps of hair from a tall Olsen twin understudy. This time something was off, which I realized when a man? boy? a male under the age of 21 asked if I would mind moving just a little so he could get through to reach his friends, who were helpfully identified for me, in case I required proof. He was exceptionally polite, and this scene was played out for me several times over the night, as I saw the mostly younger crowd helpfully provide pathways as necessary or offer to take pictures of strangers for immediate upload and sharing. I almost texted this to someone. I definitely Instagrammed.
Opener: Moses Sumney. Spreading the culture of tolerance and goodwill, L.A. native Moses Sumney started off the night playing some Indie lullabies armed with only a looping pedal, guitar, and his wonderful instrumental voice. Pulling off gold boat shoes and a preppy ensemble of pink shirt and navy pullover, the audience quickly recognized the obvious coolness factor and cheered loudly when Sumney would manipulate his voice from a deep soulful bass and within seconds finish a phrase on a Mariah Carey-esque high note. Also, few men–nay, people–can get away with singing lyrics like "Can I tell you a secret? My wings are made of plastic" as Sumney did on his song "Plastic" and maintain complete credibility. But he did, and stayed around for two songs past his original set, ending by telling the audience "I love you so much."
Local Natives: Soon, Local Natives took the stage to continue the conversation and, as I had read, make me feel. Generating feels requires a various mix of Panama shirts buttoned all the way to the top, maybe a mustache, but boots, always boots. Giving a nod to its west coast roots, Local Natives' sound has a relaxed but exuberant, a driving but hazy tenor to it. In my mind, this marks a departure from many of the bands they are compared to, such as The National, The Fleet Foxes, Grizzly Bear, and The Dodos, among others, for employing similar melancholy themes, harmonizing vocals, and energetic drumming. Starting off with the hit single, "Breakers" from their latest album, Hummingbird, the crowd was immediately energized by the driving "oohs" that open the song. After dipping back into their first album, Gorilla Manor, to play their hit, "Wide Eyes", the band returned to Hummingbird. With members Ryan Hahn, Taylor Rice, Kelcey Ayer, and Nik Ewing lined along the front of the stage, and drummer Matt Frazier holding down fort in the back, the band continued on into "Black Balloons" and into their cover of Talking Heads' "Warning Sign" against a straightforward stage set-up of fog machines and grid lights. Although the entire band was engaged from the first note, Ayers bears his emotion so much that it's hard to take your eyes off him alone, especially from his enclave of keyboards. The direct emotion of "Ceilings" and "You & I" are exemplary of the additional perspective, rather than musical departure that Hummingbird has in comparison to Gorilla Manor. They demonstrate the hazy exuberance and emotional soul of the band, with Ayers explaining that "'You & I' shaped the entire record." Although heard live with Frazier's piercing drumming, the song acquired a new serious, haunting dimension especially with Ayers singing, "When did our love, when did our love grow cold? The closer I get, the further I have to go."
Serving as a sort of halftime, the band took a break and abandoned their guitars to play "Out Among the Stars", a track off a cover album of unreleased Johnny Cash material from the 1980s. After rousing the crowd with "Airplanes," the band came back to start its encore with "Colombia," my personal favorite off Hummingbird. Ending on the rhythmic and crowd favorite, "Sun Hands," Rice indulged the crowd by leaving the stage to crowd surf and then join in jumping and down. Even after the band left the stage, there was an air of invigoration, with the crowd leaving the Ogden no doubt ready to talk some more.
Energy: A
Musicianship: A
Sound: B
Stage Presence: A
Set/Light Show: B
Overall: A
Patty is a Washington State native that was lured to Colorado by the sun and the mountains. When not listening to music, there is a pretty good chance she can be found eating ice cream.