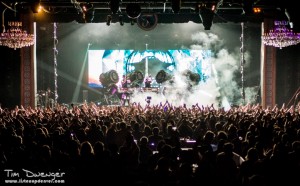 Photo by Tim Dwenger
The Scene: You're never too old for good music. The Glitch Mob announced their return to the Fillmore Auditorium in January—and ever since, I have been secretly and silently screaming inside with excitement. I told a few of my peers about my dirty little secret, only to be met with scoffing remarks about "hanging out with a bunch of tweens." My boyfriend literally laughed out loud when I asked him if he wanted to come with me. I opted to bring my little bro. The last time I saw the Mob was for Halloween in 2010, not long after the release of their first full-length and highly-acclaimed album Drink the Sea. That performance was as one of the best EDM shows I have in memory (and I have have seen a ridiculous amount of EDM in my live music career).
Needless to say, I wasn't too surprised to feel outnumbered as a thirthysomething when I got in the line outside the venue. Fortunately, any thoughts of insecurity were swept away as I was greeted at the door with the friendly smiles of excited fans wearing the typical EDM uniform consisting of fur, neon colors, light up accessories and excessive amounts of glitter. Haters gonna hate. I would rather be nostalgic I guess. I arrived on the scene a little later than usual and to my dismay Ana Sia had already completed her opening act. I was bummed because I could tell from the energy and volume emanating from the crowd I had missed a sick set. Fortunately, the best was yet to come.
The Glitch Mob: I was standing in the beer line to the right of the Fillmore stage when the trio came out, and they came out with all guns blazing. Boreta (Justin Boreta), Ooah (Josh Mayer) and edIT (Edward Ma) stood drumming their synth machines engulfed in fiery red and orange light. Behind them were four large contraptions that reminded me of giant bat signals. I couldn't have been happier when I heard the first synth notes and knew immediately that they were opening with "Drive it Like You Stole It," one of my personal favorites. Well played, Glitch Mob.
This was the second night of two; I had heard through the grapevine that the first was well-received, but was a little concerned after not feeling the same elation that I once felt about Drink the Sea when I caught up on their latest album Love Death Immortality. Don't get me wrong, it's good, but it seems the group has re-branded themselves with an edgier, almost Industrial/Rock feel. The synth, bass and cheesy vocals still intact, but presented in a slightly darker light.
My friends and I found our way up to the balcony on to the left of stage—just behind the VIP section. We were all stoked to find plenty of dancing space. The set continued in a relatively upbeat vein. Of course, there was a liberal peppering of songs from the new album, but by the time they came I was so hyped up and in my own musical headspace that I was much less critical than I had been sitting in my office examining the studio album, and when they cut into mash-ups consisting of samples from Ice Cube and 2Pac, I laughed and danced to the beat. The bat signals ended up being giant synth drums, which the three amigos played with oversized drumsticks in a powerful and ritualistic fashion.
Highlights other than the opening included "Animus Vox," and "Fortune Days." Of all their new songs, I enjoyed "Be Harmonious" the most. The dark song has a somewhat mesmerizing quality, and an equally entrancing video to accompany it, which of course was playing on the giant LED screen behind the performers. It was made by mixing lycopodium powder and water, and putting the mixture on a surface over a music-producing sub woofer to create patterns on the surface of the water that closely resemble fractal designs and created by computer and the sacred geometry that is found throughout nature, but more contemporarily seen in hipster art, particularly in the embroideries of flat-billed baseball caps. All trendiness aside, it is a very cool video. On the less impressive side—I personally did not care so much for the nod to The Prodigy's "Breathe"—I thought that song was annoying when it was popular. I found it rather strange when I heard they played it the night before as well. In the end, however, it was a great show. I left the venue with a smile; the crowd was certainly satisfied as well. Next time they come to town, you will find me again, dancing among the hoards of teens. Some things never get old.
Energy: A
Musicianship: B+
Sound: A
Stage Presence: B+
Set/Light Show: A
Overall: A

Audiophile. Logomaniac. I must get to the show.