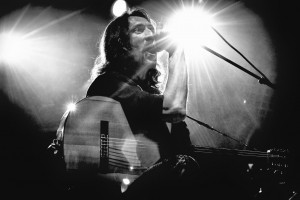 Photos by Johne Edge
The Scene: Colfax is the street that doesn't sleep; open 24 hours there is always something going on.  I do not come for the cheap motels and strip clubs whose neon illuminate it.  I come for the music that pours from venue doors like The Ogden, The Bluebird, and The Fillmore.  Music is so important to me it's hard to envision that all three of these venues almost completely disappeared at one time or another.  In fact, The Ogden Theater that I was visiting to see Gogol Bordello was closed and marked for demolition in the '90's.  Thankfully, Doug Kauffman of Nobody In Particular Presents purchased it and turned it into the premiere music venue it is today.
Gogol  Bordello: The Gypsy Punks opened their set with "We Rise Again," from last year's album Pura Vida Conspiracy.  The song's chorus of "With a fist / full of heart / And relics of future / Mama we rise again, " got the sold-out crowd moving.  The masses jumped with fists in the air during the anti-authoritarian "Not A Crime."  Front man Eugene Hütz continued to whip the crowd up into a frenzy with a stage presence that is very reminiscent of Iggy Pop.  A whirling dervish, he moved in and out of the seven other band members as they played diverse instruments such as the accordion, violin, drums, oversize cymbals, and bass.  The only thing that might be more diverse than the different instruments is the makeup of the band itself.  Goglo Bordello's members are from the Ukraine, Russia, China, Ethiopia, Ecuador, Belarus, and the US.  The amalgamation of their distinct talents created a musical caravan that took the audience on an amazing journey.
The band played crowd favorites "My Companjera," "Last One Goes the Hope," "Immigraniada (We Comin' Rougher)" and "Start Wearing Purple." Hütz sloshed a bottle of red wine all over the stage as he sang and drank.  Sergey Ryabtsev's violin wove all the different  musical elements together for me, creating a coherent sound.
For the encore Hütz returned to the stage solo playing "Alcohol," from the album Super Taranta! He was joined halfway through the song by Ryabtsev and accordion player Pasha Newmer.  I don't think that they could have picked a better song to end with.  I'm pretty sure that the night left me with a musical hangover and the desire to have my fortune told.
Energy: A+
Musicianship: A+
Sound: A
Stage Presence: A+
Set/Light Show: B
Overall: A
Wherever the music is, you'll find me with my camera, shooting on street corners, from barstools at clubs, from the side of the stage at theaters, and from photo pits in places like Red Rocks. Clicking away, trying to capture the emotive essence of music, and all those moments that we forget because of one too many Pabst Blue Ribbons.