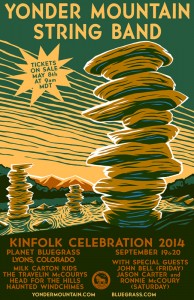 YONDER MOUNTAIN STRING BAND
KINFOLK CELEBRATION
Featuring: John Bell, The Milk Carton Kids, The Travelin' McCourys, and more
September 19th & 20th, 2014
Tickets: $50 – $90
On-Sale: Thursday, May 9th @ 9am MDT
PURCHASE TICKETS
A little more than a year after historic floods devastated Lyons and the Planet Bluegrass Ranch, Colorado festival producer Planet Bluegrass (producers of Telluride Bluegrass, RockyGrass, and the Rocky Mtn Folks Festival) will present a third major event on their festival calendar in Lyons, CO. The Kinfolk Celebration featuring Yonder Mountain String Band with special guests including John Bell (of Widespread Panic) will be held September 19-20. Tickets and camping go onsale on Thursday, May 8 at 9am MDT at shop.bluegrass.com or 800-624-2422.
The 2-day Celebration will feature full shows each evening from Yonder Mountain String Band joined by special guests John Bell (Friday) and Jason Carter & Ronnie McCoury (Saturday). Music on the main stage will begin each afternoon with some of Yonder's favorite bands including The Travelin' McCourys, The Milk Carton Kids, Head for the Hills, and The Haunted Windchimes.
The Kinfolk Celebration will welcome 4,000 music fans to the 15-acre Planet Bluegrass Ranch in Lyons on the final weekend before the Autumnal Equinox. Camping will be available onsite at the Planet Bluegrass Ranch and under the cliffs in Meadow Park (5 minute walk from Planet Bluegrass).
On Thursday evening (September 18), Adam Aijala & Ben Kaufmann of Yonder Mountain String Band will perform a special Mabon concert in the intimate Wildflower Pavilion, exclusively for Kinfolk with camping passes for the on-site campground.