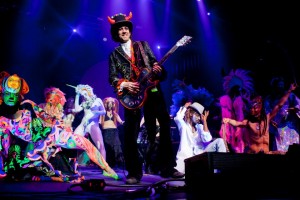 Photo by Jonathan Pirro
Why You Should Go: This weekend Shpongle will bring the live band to Red Rocks.  That's right, the London based group are set to perform a very rare set as a full 12 piece live band for their only show in America in 2014.  The legendary, psychedelic British group, comprised of front men Simon Posford and Raja Ram, will venture to Morrison to perform at Red Rocks this Saturday and, with support from Emancipator Ensemble and Minnesota, this is going to be unforgettable night. Given that this it the group's only live American performance of 2014 this is definitely not a show to be missed!
Venue:  Red Rocks Amphitheatre, 18300 West Alameda Parkway, Morrison, CO 80465 – (720) 865-2494
Doors: 6:00 pm.  Music Starts at 7:30 pm.
*Price: $44.95 – $49.95 Adv. $50.00 – $55.00 Door Price
Purchase Tickets
*All prices are gathered from other sources and we are not responsible for mistakes or inconsistencies. They are intended only as guidelines. Please, always call the venue if you desire the most accurate information possible.