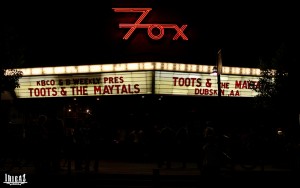 All Photos by Thomas Koppinger – irieazphoto.com
The Scene: I walked up to the Fox Theatre right around the time they opened the doors, and a small line was formed in front of the box office window. A few folks were standing away from the crowd with their cameras out taking pictures of the words "Toots and The Maytals" on the marquee. I overheard an older couple behind us saying that they had been given a pair of tickets as a gift, and really had no clue what a "Toots" even was. A man next to them quickly began to explain that Toots Hibbert was one of the originators. Told of how he was one of the first to ever be recognized for using the term reggae. He informed the couple that the Maytals were from the same time period as the Wailers and spoke of how he believed Toots was even comparable to the great Bob Marley. He even made it clear, multiple times, that "you guys are in for a real treat."  The excitement on the informative strangers face was a sure sign of the things to come. The crowd out front felt solemn yet filled with anticipation to see a legend and icon do what he does best; play that funky reggae music.
Opener: Dubskin. Fort Collins based dub sounding future-roots reggae band; Dubskin (you can download their two albums for free on their website) was warming up the crowd as we made our way down near the stage. Jamal Skinner came out after a short instrumental jam and rocked the slowly filling Fox with his soulful lyrics. They had an interesting take on reggae music and at times you could see the members of the band motioning to each other in order to go into what seemed like improvisational jams. Jason Wieseler, on the keys, was dialed in the whole time and you could tell he really dug what he did. It was interesting how they weren't strictly a reggae band, I noticed early on that Ryan Jalbert, one of the guitar players from Boulder based band The Motet was sitting in with them. He certainly brought that Motet feel to the group with his technical guitar shredding backed by Jamal on a hand drum. The only downfall was that the sound went out a few times and you could tell the members of the band were getting a little frustrated. That aside, Dubskin was still able to build the energy and by the end of their set people had trickled in and the feel of the Fox Theater slowly transformed in that of a 1960's Jamaican dance hall.
Toots and the Maytals: Toots came out after a lovely introduction sung by one of his beautiful backup singers. The legend walked on stage decked out in an all black suit with white loafers and very dark sunglasses that he didn't remove often during the set. The pressure dropped in the room as Toots and his band came out firing on all cylinders. They started their set with the classic "Pressure Drop" going into one of my all time favorite reggae songs "Pomp and Pride." He then brought everyone in the room, regardless of what they had ingested, "Higher" with the inspirational "Time Tough." Mid-way through the song he made it a point to walk along the front of the stage and shake the hand of everyone willing. I couldn't help but be a little star struck as I grasped the hand of the Jamaican Icon.
His backup singers were absolutely phenomenal and the band was on point, and very tight, throughout the entire show.  The Maytals then went into a heavy rock and roll sounding number that was hardly expected. The guitarist even took the time to rip out a little solo, almost as if to cater to the Boulder crowd and their love of "Jam" music. At over 60 years old, Toots still had all the magic that came through so clearly in his early recordings. He picked up the guitar for the slower number "Bam Bam" and almost brought me to my knees. The beat was so heavy that you could see the crowd going lower and lower with their dance moves only to be brought back with the crowd favorite "Funky Kingston" that captured the energy of a James Brown concert. It's not easy for a performer to gather full audience participation, but Toots had the entire theater in the palm of his hands. As I looked back from the front of the stage I saw a room filled to the brim with folks of all ages singing along in unison and going back and forth with the Pseudo-preacher man on stage. I caught myself swatting the air around me with my hat in order to cool myself down and realized at that moment that I was a part of something so spiritual and full of soul that it could almost be called religious. One of his gorgeous backup singers took the microphone and Toots danced around stage with his guitar. At one point I noticed a kid no older than 13 or 14 tapping out the beat on the railing and singing along to every word. No more than 3 feet away was a grey haired professional looking man clenching his wife with an ear to ear smile and his fist stretched out to the big man on stage.  Toots leaned away from his guitar and reached down to connect knuckles with someone who was obviously a long time fan. The atmosphere in the Fox Theater last Saturday was one of a kind. It was beyond inspiring to see young and old alike brought together in song by the power of one man's words.
It was nearing midnight and we decided to catch the last few songs near the back, since it was an inferno fueled by funky Ska music down in the pit. My highlight of the entire night was being able to listen to him play a song I grew up on. Hearing Toots and The Maytals end their set with "54-46 that's My Number" is easily going to go down alongside some of the most memorable musical experiences in my life. I grew up on Ska and Reggae music, so to see one of the all time greats come out to a packed house and burn the sucker down was the closest I've ever seen to a rip roaring, stand up out of your seat and clap your hands gospel hour. He was able to prove that music is timeless and holds a power that is capable of healing the masses and tearing you away from the mundane; if only for 2 hours of getting your groove on. I walked away from his set with an open mind and heart. The whole drive home I couldn't really muster much out of my mouth except the word: "Wow."
Energy: A+
Sound: A
Musicianship: A-
Stage Presence: A+
Set/Light Show: C+
Overall: A
I rode my skateboard from school in 7th grade to my buddy Vince's house where he put on the song "Perfect Government" by NOFX and I was hooked. The next day I bought the album Duh by Lagwagon. The next year I saw Against Me! at the Starlight Theater in Fort Collins, my mom dropped me off. I've since devoted every waking hour to anything done with passion. My speakerbox bumps everything from Lil' Wayne to Pablo Casals. I was never very good at making music, but I am damn good at listening to it. I've been filling up yellow notepads with random thoughts and misspelled words for as long as I can remember. I enjoy whiskey of all sorts, Newport cigarettes and the company of my family. I've got an addiction to run-on sentences that I'll probably never cure. A solid handshake with a stranger who has become a friend over a few beers means the world to me. You'll often find me wide eyed and wandering with an ear to ear grin. I live for funky break beats and spreading the love.