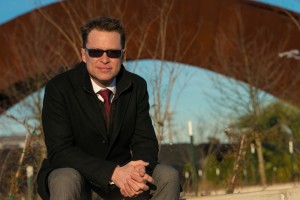 Stanton Moore is a busy man. When Listen Up Denver! caught up with Stanton just before the blissful insanity that is the New Orleans Jazz & Heritage Festival, he was preparing for thirty gigs in eleven days. But there will be no rest for Mr. Moore even as Jazz Fest comes to a close. The tireless drummer will be hitting the road with a new super group dubbed The M&Ms and they will be stopping in Denver for two shows at Cervantes' Masterpiece Ballroom this weekend (Purchase Tickets). He's also got a new record out appropriately titled (we'll tell you why) Conversations that he recorded with yet another band at an old New Orleans church revamped into a recording studio. If that wasn't enough, the passionate percussionist is forging a contemporary philosophy on the drums that puts a new spin on his playing while simultaneously staying true to his roots. Oh, and he plays in a little band called Galactic. As busy as Stanton is, he was very gracious in giving LUD! a glimpse into his whirlwind lifestyle.
If you've never seen Stanton Moore perform, now would be a good time to start. Along with bassist Robert Mercurio, Stanton is the irrepressible force that drives the Galactic Funk machine. I say irrepressible because sometimes gravity cannot even keep him on his drum throne. When Stanton is really smacking the skins he pops up off his stool like a levitating yogi. Think Buddy Rich mixed with Keith Moon, however, unlike Moon, there is a sense of controlled chaos in Stanton's playing which is as powerful as it is precise. But sometimes the powerfulness of his playing can well… overpower the finer points of the versatile drummer's range. Make no mistake, Moore has just as much jazzy finesse as he has funky punch, which is one of the many reasons his new album Conversations is so interesting.
Conversations is aptly named for the fact that it is a dialogue with the rich Jazz history of New Orleans and some of its greatest composers. The instrumentation is the classic Jazz trio: drums, bass, piano with David Torkanowsky ticking the ivories and James Singleton taking the bass lines for a walk. While the meat of the album consists of covers peppered in with the band's original compositions, Moore feels that the other artists' compositions are much too personal to be called covers. "Most of the material we were doing was written by New Orleans artists, and it was usually artists that one or more of us in the trio had played extensively with. We were doing some of these really challenging James Black tunes. If you're now aware, James Black is regarded as not only one of the greatest drummers to come out of New Orleans but also one of the best composers. So, even though we're doing some of those, which have become classics now, Torkanowsky and Singleton have played with him extensively. So there's not really a lot of covers per se or standards that a lot of other people would have done." In this way Moore's trio is not only having conversations among themselves but also with the greater New Orleans musical ethos. To top it off, Moore is also having a conversation with himself on Conversations, perhaps a much younger version of himself.
For Moore, Conversations was a vehicle to explore and share a side of his playing that fans of Galactic or his other side projects aren't as familiar with. "It's something I've been wanting to do for a long time. It's kind of a return to roots for me. I've worked on a lot of this stuff and played a lot of gigs as I was developing but not a lot of the wider public has heard me play like this. So it's a reinvention in terms of what the public has heard but also a return to some of the things I developed earlier in my playing." Illuminating the contemporary by implementing the past seems to be a cornerstone of Moore's musical philosophy. "A general approach I've had for a long time is trying to take tradition and do something new with it. Everything that we do now with Galactic, we started out trying to be true to those vintage roots, playing vintage instruments. We still do that, but now we're trying to bring all that tradition and put a modern spin on it and contemporize it a bit. That's what I've been trying to do on the drums, taking things that are traditional and putting my own spin on it and adding my own voice." Moore's "modern spin" is evident on Conversations but his traditional and yet innovative way of playing the drums started over 20 years ago and a look back at that tradition—to adopt Stanton's philosophy—may help to further illuminate the contemporary Stanton Moore.
Stanton sites two traditions as being influential on his playing early on: rudimental drumming, and of course the musical melting pot that is New Orleans. The latter can be oversimplified in three words: Blues, Jazz, Funk, but the former is a bit more technical. Stanton was influenced by legendary percussionist, teacher, and composer Marty Hurley, who was the band director at Brother Martin High School in New Orleans for many years. Hurley's emphasis on rudimental drumming had a big impact on Stanton's style. A rudiment is just one of many basic drumming exercises that can be built on and expanded to form more complex patterns. Every drum student knows (and maybe hates) their "flams" and "paradiddles," but what some impatient youngsters who want to be John Bonham right away fail to realize is that these seemingly restrictive exercises can set a drummer free. Stanton Moore is a prefect example, and his rudimentary foundation is rife in his drumming. When he reels off one of his lightning quick rolls to build tension in a jam just before a drop, that's rudimentary. When that drop comes and Stanton nearly puts a hole through his snare head, bam! That's a flam. This full circle is Moore's innovation of traditional philosophy in action and, while he relied heavily on his rudiments for his newest studio effort, he also used them to sail uncharted waters. "On Conversations I really put myself down the rabbit hole as far as trying to address certain aspects of my playing, with the brushes being one of those. Like on our version of 'Tchefunkta' I'm playing brushes on the whole tune. So that's taking something traditional and putting my own spin on it." Moore's deep understanding of percussion has led others to seek him out as a teacher, including Denver's own Eric Low of Fox Street, once again showing that Denver and New Orleans are not so far away from each other. This Saturday Moore and friends will be closing the gap even further with their new super group The M&Ms.
The M&Ms started out as many super groups do, at a festival where there are too many amazing musicians in one place to not play together. This particular festival was called Equifunk, put on by Eric Kamen who also saw the potential in the group of musicians he had amassed. Whether or not the M thing was planned or a miraculous coincidence is a moot point; the band rocked. Thus, the M&Ms were born featuring Stanton Moore, Robert Mercurio (Galactic), Papa Mali, and John Medeski (MMW). With a lineup like that, the energy was immediately apparent to all who were involved. "It was one of those things where sometimes these super jams have chemistry, and we decided that it was great and we wanted to do a little bit more of it." At the behest of a friend of Papa's, Nicholas Cunningham, the group went into the studio to record the single "Melts In Your Mind." The chemistry was bubblin' and Nicholas wanted to get them back in the studio as soon as possible, but the newly formed group had one problem: they only had one song. However, according to Stanton, this was less of a problem and more of an opportunity. "What that propelled us to do was write new material. So we came up with three new original songs that will be fresh for everybody." Although the band debuted the songs at Jazz Fest, with the exception of "Melts In Your Mind," which is accompanied by an extremely artistic and delightfully psychedelic video, the other songs are as yet unreleased and will be new for Colorado listeners. Another treat will be the addition of the Femme&Ms, backup singers Margie Perez and Monica McIntyre who will add a sultry side to the quartet. While this super group is in no shortage of super, like I said, if you haven't seen Stanton Moore perform, now would be a good time to start.
Nate Todd was born on the central plains of Nebraska, but grew up on the high plains of the Texas panhandle. With not much to do in either place, music was his constant companion. His parents dubbed the first two albums he ever owned onto a tape for him. Side A was Bert and Ernie's Sing Along. Side B was Sgt. Peppers. His lifelong love affair with music started early as he practically grew up in a Rock & Roll band, with his father and uncle often taking him out on the road or into the studio with them. Nate began performing live at sixteen and hasn't looked back, having played in numerous bands from L.A. to Austin. At the age of twenty he was bitten by the writing bug, and upon moving to Denver decided to pursue a degree from Metropolitan State University where he recently graduated with a B.A. in English and a minor in Cinema Studies.