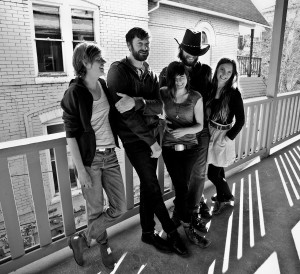 When you find a band who you love as individuals, who you love musically, who are committed to touring and working to get their music heard by every living, breathing human being, you just hope that you might have the opportunity to work with them. Today, the Greater Than Collective are ecstatic to announce that on August 19th, they will  release Ark Life's debut album, The Dream of You & Me.  [Editor's Note: Stay tuned for a big announcement about a Denver CD release party in the coming weeks!]
One year old and 120 shows in, Garage-Soul upstarts Ark Life have toured coast-to-coast, sharing stages with Of Montreal, Gregory Alan Isakov, PHOX, The Moondoggies, The Head & the Heart, Mount Moriah, Ryan Bingham, J. Roddy Walston & the Business, Ha Ha Tonka, and more. A mile high Rock & Roll ocean — equal parts mischief, humor, and heartthrob — they pull as much inspiration from contemporaries like Heartless Bastards, Elvis Perkins, and Sallie Ford as from the band's enduring loves for Leonard, Aretha, The Band, and the classic campfire singalong. Ark Life recorded The Dream of You & Me with producer Eric D. Johnson (Fruit Bats), and the Greater Than Collective will move mountains to make sure as many people as possible hear this album.
To celebrate this announcement, the Great Than Collective would like to invite all of you to join them at the Greater Than Social Club on Tuesday, May 13th at Lannie's Clocktower Cabaret. Ark Life will be playing with their good friend, Kyle James Hauser, and we have an excellent night of comedy as well with Ben Kronberg, Mara Wiles, and Kristin Rand. Cover is $5, the show is all ages, and doors open at 7pm.
Please enjoy this video from Ark Life's performance at the Greater Than Social Club last August.
Ark Life — "What You Want To" — Greater Than Social Club from Ark Life on Vimeo.