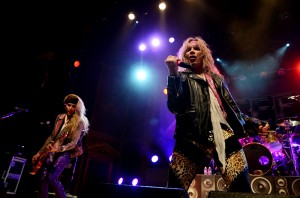 Photos by Todd Radunsky
The Scene: Take three-parts huge 1980's hair, toss in a bushel of big boobs and torn, low cut, tee shirts. Add in a dollop of crazy colors, a dash of bandannas, and then top it off with a helping of loud Metal music and lots of sexually charged lyrics. If that's not enough for you, you might stir in some rabid screaming fans and even an onstage marriage proposal for good measure. Put it all in Denver's Ogden Theatre for 90 minutes at about 100° and you have yourself a piping hot, ready to serve Steel Panther show in all it's glory.
Opener: Future Villains. Gritty, professional and tight, Future Villains opened the show for Steel Panther on Wednesday playing to a pretty packed house of fans that really seemed to get off on their music. Lead singer Dusty Bo's voice kind of brought me back to the good old days of Bon Scott and live AC/DC concerts. Very entertaining. I'd love to see them with their own lighting setup so I can really get to see what they're up to the entire show. Opening bands sometimes don't get the lighting they deserve.
Steel Panther: Yep, that's right, Los Angeles based rockers Steel Panther showed up with their unique sound, bitchin' fashion and accessories, as well as plenty of tasteless, yet hilarious discussion between songs about the bands sexual conquests and exploits. If nothing else, these guys are pretty fuckin' entertaining.
Continuing their All You Can Eat tour, Steel Panther had it's loyal fans singing and banging the entire set with tunes like "Pussywhipped," "Asian Hooker," and "Gang Bang at the Old Folks Home."  Classic!
I've been to a countless concerts.  Seen hundreds and hundreds of bands.  You can't name a genre I haven't been a witness to. But I have to admit, I've never seen a group quite like these guys. Satirical and insensitively comical, their brand of music and on stage humor is a very rare mix that's difficult to pull off, but somehow, they do it. All four musicians in the band are parody experts, and perfectly pull off the '80s Hair Rock, Super Glam thing to a tee.  In between his over-exaggerated winks and crass tongue wiggles, lead vocalist Ralph Saenz (aka Michael Starr), constantly air kisses what seemed like each individual woman in the audience and they absolutely love it. Starr had the ladies in the crowd begging him to jump off stage and "Give it to me hard!" as one female audience member put it. Pure comedy, and pure Rock and Roll, gotta love it. As if it wasn't enought, towards the end of the show the band let a random audience member get up on stage with his girlfriend to ask for her hand in marriage.  She of course said "Yes," and Starr of course had the give the new groom to be some ribbing, letting him know that "he only gets one piece of pussy for the rest of his life now."
Steel Panther has had it's share of ups and downs, but I for one hope they stay around for a while. The music world needs bands like this, offering us a glimpse into the past and helping us all remember that sometimes music doesn't have to be taken so seriously. Music can be about the glitz and the glam, the entertainment value and the energy rather than deep, lyrical intensity and perfect instrumental prowess. Try as they might, some entertainers can't pull this off, but Steel Panther can, and that's what makes them so unique.
Overall: A-
I work in the music industry photographing bands live and offstage for publicity. My work includes shooting concerts, festivals, and portraits of musicians and bands. I shoot for promoters, record companies, publicists, magazines, band managers, and individual musicians. I also photograph weddings, and portraits and have traveled the world to do so. I've shot weddings in Cali, Ireland, Mexico, Cape Cod, and Amsterdam to name a few.