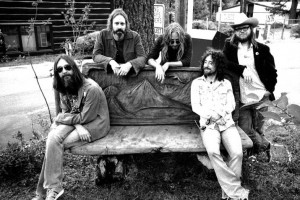 Why You Should Go: In 2011, after more than 20 years of intense gigging and recording, Chris Robinson set off to shape something new.  This new project was a fresh rock mythology, a breathing kaleidoscopic thing stuffed with chooglin' soul, bedrock boogie and shuffling wisdom birthed in intimate clubs and among the tall trees of the Golden State and eventually taken nationwide as the Chris Robinson Brotherhood evolved. What began as an experiment without expectations turned into a 118-show journey for Robinson (lead vocals, guitar), Neal Casal (guitar, vocals), Adam MacDougall (keys, vocals), George Sluppick (drums) and Mark Dutton (bass, vocals) that surprised these seasoned pros as music of unshakable solidity and exuberant reach poured from them; a New Cosmic California sound with tendrils reaching to the original Fillmore West, Topanga Canyon and outwards towards far horizons.  This Friday and Saturday CRB is coming to Denver and Cervantes' Masterpiece Ballroom so do yourself a favor and check out these shows!
Venue:  Cervantes' Ballroom, 2635 Welton Street, Denver, CO 80205 – 303/297-1772
Doors: 8:00 pm. Show at 9:00 pm.
*Price: $20.00 Adv.  $25.00 DoS.
Purchase Tickets
*All prices are gathered from other sources and we are not responsible for mistakes or inconsistencies. They are intended only as guidelines. Please, always call the venue if you desire the most accurate information possible.