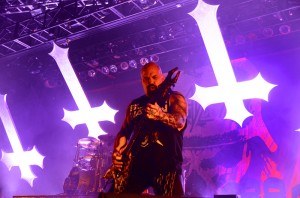 Photos by Todd Radunsky
The Scene: Denver's Fillmore Auditorium played host on Saturday night to a trio of slamming bands as well as a raucous crowd of concert goers ready to explode to their favorite form of music: Heavy Metal!
As I approached the Fillmore a sea of black shirts and tattoos formed a line that was at least 1/4 mile long and around the corner more than a block away.  Clearly it was going to be a special night, and it was.
Exodus and Suicidal Tendencies: Yes, each of these two bands played for about 45 minutes while the last band, Slayer, played for about 90. However I would never call Exodus or Suicidal Tendencies "opening bands." Both groups came out with a vengeance and musically attacked the crowd with amazing energy and gusto for their entire respective sets. Each band set the tone for the evening and got the fans thrashing and moshing in several different mosh pits. By the time Slayer hit the stage, the crowd was collectively foaming at the mouth.
Slayer: Five minutes before the main attraction came on stage, I asked a kid in the front row, "can you breath in there?"  He chuckled and said, "Barely!" He wasn't kidding either. The main floor was as packed as can be with rabid Heavy Metal fans; tattoo wearing tough guys, and chicks clad in torn tee shirts. It didn't seem to matter to the dedicated fans up front however. Even in the front row, getting mashed on the barricade from the pressure of fans behind, it just didn't seem to matter. All the fans wanted was to see and hear one of Metal's most influential bands over the past 30 years or so… Slayer.
The house went dark and the fans erupted in unison as Slayer hit the stage and immediately dropped in to "Hell Awaits." Holy shit! Talk about going from 0-100 miles an hour in three seconds! BOOM! The crowd was off and moshing as wicked red light engulfed the band in an evil glow of metal madness. Tom Araya's deep growls and vocal range held the crowd up as the crunchy and lightning fast guitar licks of Gary Holt and Kerry King knocked them down.
With the untimely death of Slayer guitarist Jeff Hanneman in 2013, some fans and critics wondered if the band could go on and perform up to the levels they used to. While I agree Hannemen was a complete beast on the axe, the band hasn't lost that much, if anything at all.  Perhaps to the very trained ear or the grouchy, uber picky fan they've lost something musically, but to the masses watching them live, all you need to do is be there to see how the music of Slayer effects them.
Fierce mosh pits, intense faces, people making devil's horns with their fingers and holding them high and proudly in the air.  Metal lovers going ape shit as they scream, yell and sing along with the band while banging their heads. Plain and simple, this is how a fan acts at a 2014 Slayer show. It's awesome! When you can effect people in this way, and do so in city after city, crowded venue after crowded venue, you must be doing something right.
With huge upside down crosses that were constantly changing colors as their backdrop, Slayer blew the crowd away with songs like "Mandatory Suicide," "Die by the Sword" and "Dead Skin Mask." Fans were crowd surfing and flying over the barricade into the photographers pit, only to be nicely escorted out of the pit by security, and then do it all over again.
It's very difficult, and ultra rare in music, that a band can stay together for 10 years much less 20 and keep things raging on stage almost seamlessly. To have the ability to hold a fan base for that long of a time and keep yourself relevant in the music industry might even be more difficult. Things like losing band members, having fights and arguments, personality clashes, family obligations, management and money can all break a band apart.  The fact is however, Slayer started in 1981 and they're still going strong. That's 30+ years!!!  There's something to be said for that, and Slayer should get more credit for it than they do.
Energy: A+
Musicianship: A
Sound: A
Stage Presence: A+
Set/Light Show: A
Overall: A
I work in the music industry photographing bands live and offstage for publicity. My work includes shooting concerts, festivals, and portraits of musicians and bands. I shoot for promoters, record companies, publicists, magazines, band managers, and individual musicians. I also photograph weddings, and portraits and have traveled the world to do so. I've shot weddings in Cali, Ireland, Mexico, Cape Cod, and Amsterdam to name a few.