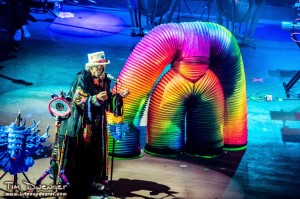 Photos by Tim Dwenger
The Scene: All day long my friends and I were trading text messages and talking about the miserable weather that was in the forecast for the night of this show.  People turned up with ski coats, rain pants, ponchos, hats and gloves, but, in the end, the weather ended up holding off until about 5 minutes after Shpongle left the stage.  Instead we were blessed with a night of cool temps, still air, and low clouds that made for almost the perfect atmosphere for a Shpongle show.
Shpongle: Yes, it's been quite a few days since this show but, in all honesty, it's taken me this much time to even attempt and collect my thoughts about the mindbending spectacle that was Shpongle Live at Red Rocks.  I've seen several Simon Posford DJ sets over the last 5 years at venues like Mishawaka Amphitheatre here in Colorado and Coachella out in the desert of California, but even the Shpongletron can't hold a candle to seeing musicians perform this music live.  Couple that with the majesty of Red Rocks and you have one of the best concerts I have ever witnessed.  Yes, it was that good.
From the moment the set started with the eerie, toy piano like sounds of "Brain In a Fishtank," the opening track of Shpongle's most recent album Museum of Consciousness, I knew we were in for something special.  The energy that was radiating through the crowd as a cool mist enveloped us all was nothing short of magical.  We were bound together in the cool damp confines of one of the most spectacular venues on earth to witness the kind of spectacle that legends are made of.
As the band of seasoned professional dropped huge beats and floated soaring melodies on tracks like "Schmaltz Herring" and "I Am You," lasers painted the low hanging clouds and the 72 year old Raja Ram danced and sparred with a variety of mythical characters in the center of the stage.  From the dark weirdness of a towering horned creature to the animated silliness of a rainbow colored multi-limbed slinky to the psychedelic live painter who had her own place among the band, the stage show presented a feast of eye candy of Cirque Du Soleil proportions.
The sold-out crowd was lost in the experience and the world seemed to float away as Simon Posford led the band through mind altering song after mind altering song.  We were transfixed as Posford was "Juggling Molecules," and the "Ineffeble Mysteries" that are so characteristically "shpongle" took us to another place entirely.  The sea of dancing humanity that filled The Rocks was so intense and beautiful that I was awestruck when Posford stepped to the mic and, in his British accent, said "now, let's play something a little dancey."  I mean, what had they been doing all night??? What followed was one of those inexplicable moments that you just had to be there to truly experience as the band launched into "Devine Moments of Truth."
It was just past midnight when the band broke our trance as they waved and walked off the stage.  Wide eyes danced around in the crowd and I saw more than one mouth utter "is it over?"  It was a few minutes before Posford and Ram led the band back out on-stage but, when they did, they thanked the crowd and closed out the night with the pounding beats, punchy flute riffs and mysterious vocals of "Around The World In A Tea Daze."
As the lights came up, my friends and I attempted to collect ourselves and couldn't help but gush about the show we had just witnessed.  I was just about to head toward the parking lot when I heard someone behind me mention that this had been his first Red Rocks show.  I turned around and gave him a big hug before looking him straight in the eye and saying "it doesn't get much better than this."  I'll let him be the judge, but in the hundred or more Red Rocks shows I've been to in the last 14 years, I stand by that statement.
Setlist: Brain in a Fishtank, Dorset Perception, Periscopes of Consciousness, Schmaltz Herring, When Shall I Be Free?, The Stamen of the Shamen, How the Jellyfish Jumped Up the Mountain, I Am You, Juggling Molecules, Ineffable Mysteries, The Epiphany of Mrs Kugla, Nothing is Something Worth Doing, Divine Moments of Truth (followed by introductions), My Head Feels Like a Frisbee, Outer Shpongolia, Levitation Nation
Encore: Around the World in a Tea Daze
Energy: A+
Musicianship: A
Sound: A+
Stage Presence: A-
Set/Light Show: A
Overall: A
Music has always been a part of my life. It probably all started listening to old Grateful Dead, Peter Paul & Mary, and Simon & Garfunkel records that my parents had, but it wasn't long before they were taking me to concerts like Starship, Crosby, Stills & Nash, and Huey Lewis & The News. I got the bug to write about music after reviewing an Eric Clapton concert for a creative writing project in high school but didn't really take it up seriously until 2002. Since then I have published countless articles in The Marquee Magazine and done some work for Jambase.com, SPIN Magazine, and various other outlets. I started Listen Up Denver! as a way to share the music information that is constantly spilling out of my head with people who care. Please enjoy!