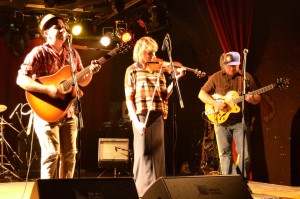 Photo by Brent Bacetti
From Open Mic night to editor's pick, Mathias Olson has come along way to find himself on the beat of The Crooked Streets. The band formed in 2011 when the singer/songwriter decided to take his solo project to the next level. Three years and several craigslist ads later, he now fronts the five-piece Denver Indie Folk band that many locals have come to love. Their crooning gypsy sound is gritty but has a certain charm–the shabby chic sort of feel that is so common of the great modern Indie Folk groups of our time.
Listen Up Denver!: How did you come up with your band's name?
The Crooked Streets: I was listening to a song by Bright Eyes called "I Must Belong Somewhere."  There is a line where Conor sings, "Let the sideways rain in the crooked street remain." The imagery of a crooked street was indelible, it stuck. I later found myself writing a song that I eventually titled "Crooked Streets." So the name came in a roundabout way from a Bright Eyes song.
LUD!: What is the line-up of the band?
CS: The lineup has changed numerous times over the past few years. When the band first started out it was only me playing my guitar and singing at open mic nights around Denver. With a Craigslist ad the "band" found a violin player named Aimee Nelson (she is still a part of the line-up). They then added Andrew Neldon to the group, who played Steel Drums and percussion (he is no longer playing). Honestly, there are a few more musicians that joined and exited the group. The answer to this question could, and already has rambled on. To summarize, the group is currently comprised of: Mathias Olson (Acoustic guitar, banjo, harmonica, vocals), Logan Barrier (Drums, backing vocals), Aimee Nelson (violin, backing vocals), Jeff Malek (electric guitar, backing vocals) and Bradley Morse (Upright bass, backing vocals). Mark Emde will join the band on stage from time to time and put the "man" in mandolin.
LUD!: How would you describe your sound?
CS: Honest. Gritty vocals. Americana. Gypsy Jazz. Blues. Indie Folk Rock. It's not the easiest of questions to answer as genres change from song to song.
LUD!: Who would you count as major influences on your band?
CS: Contemporary: Elephant Revival, Tallest Man On Earth, Jose Gonzales, Iron and Wine, The Black Keys, Josh Ritter. Classic: Nick Drake, The Beatles, John Prine.
LUD!: How did you guys get started playing together?
CS: Well, most of us met through craigslist ads.
LUD!: Does anyone in the band have any formal musical training? If so, what is it?
CS: Yes we do. I went to school at South Plains college and studied some Bluegrass, Jazz and theory for a year. Bradley graduated from the University of North Florida with a degree in Jazz studies. Jeffrey graduated from Fort Lewis College in Durango, CO with a degree in classical guitar. Logan is mostly self-taught, but he has attended a few drum clinics taught by various professional drummers. Aimee graduated from a college in California where she was classically trained on violin.
LUD!: Where was your first gig together and how did it go?
CS: Hm, must have been at Waterloo in Louisville. Waterloo is nice enough to have us play there once a month. I think the gig was probably a little rocky since it was the first time to play with Bradley and Jeff. It was great though, they both came in and played songs they never heard before and for the most part it was a success.
LUD!: What's your favorite memory of playing together?
CS: Our CD release show was an awesome experience. We had so many people come out and dance, sing and cheer. We love our fans! From the most avid of listeners to the casual concert goers, they are all #1 in my book.
One story that comes to mind isn't a "favorite" memory, but I feel like needs to be shared. We booked a gig at a real seedy bar on Colfax called Zephyr Lounge. The owner, Byron, isn't the world's best communicator and I thought we played at 10 and was mistaken. I get a call from him at 8:30 asking where we are because we are supposed to start in 30 minutes. We were all on our way at that time and started only 30 minutes late. The only business in the place was a few regulars, some older gentlemen with women who were obviously prostitutes, and about 15 friends/fans of ours. So, what I'm saying is if we weren't playing that night the place would have been quite quiet. Byron, the owner, wasn't even there.
He called the bar around 10:45 during our set break to complain about how many people we brought out and asked if he could pay us $100 dollars less then what was agreed upon. What nerve! As an owner you'd think you'd want your entertainment to be pleased and in a good mood going into their next set. I told Byron to do what he had to do and that we'd never play in his place again.
You know it's not the best of stories, but every band has one of these. I'm just glad that we can look back on it and laugh.
LUD!: Are you playing any shows coming up that you are particularly excited for?
CS:  We are taking the rest of the month of June off because my first child will be born! I don't want to risk playing somewhere out of town while my wife goes into labor. We have just started booking for July.
LUD!: What is your favorite song to cover?
CS: There are a few, "Never Settle For Less" by Thamusemeant, "Gotta Keep Moving" by Willy Mason and a song from an old Geico commercial called "Remind Me" by Royksopp.
LUD!: What is the strangest request you've had at a show?
CS: It was at Park House a few weeks back a lady asked us to play either A. "something bluegrass" or B. "something from the 90s." I really wish we could have thought of a Bluegrass song from the 90s, but we played an original Bluegrassy song called "Weighing on my Soul."
LUD!: What was the first song you wrote together as a band?
CS: Well there isn't really one song that we all sat down and wrote together. The closest thing to a song written as a band would be one we call "Waiting for Aimee." It started at a rehearsal when we were waiting for Aimee to arrive (she's consistently not on time). Bradley started by playing this real funky bass riff and quickly Logan, Jeff and myself joined along. It was a great chord progression and it stuck in my head. About a week later I sat down with it and wrote some lyrics.
LUD!: Do you still play that song live? If not, why?
CS: We do still play this song live from time to time. Mostly either when Aimee can't make a gig or when we are passing around a tip jar. We have Aimee pass around the tip jar because she is the pretty one and people give her more money than they'd give any of us. That's what I call a business strategy.
LUD!: Have you released any of your material yet? If not, do you have any plans to?
CS: We released our first album titled From a Seed in January of 2014, just a few short months ago. The cast of musicians on the album is different from what you'd see at one of today's live shows. The only person on the album that still plays now is Aimee Nelson. We are actually planning on getting into the studio soon to record a whole new slew of songs. We are very excited to get to work on this project.
LUD!: What is your favorite venue in Colorado, and why?
CS: Red Rocks, it's obvious why. The location, the view, the sound, the atmosphere, the big names, the history, these are all things that make Red Rocks truly remarkable.
LUD!: If you could play on any stage in the world where would it be and why?
CS: See the answer to our favorite Colorado venue. It is one and the same.
LUD!: If you could open for any band or artist, who would it be and why?
CS: Oh man that's a tough question to answer. There are so many! The Tallest Man On Earth because he is such a great songwriter and inspiration. Monsters of Folk because then we could meet four members of three awesome bands (Bright Eyes, My Morning Jacket, M. Ward). Elephant Revival would be awesome as well.
LUD!: What is the most outlandish thing your band would consider putting in your backstage rider?
CS: Man, if we get to the point in our careers where having a list of things to have backstage becomes possible then why not take full advantage of it. Everyone else does.
17 bottles of Makers Mark
11 Beach Towels
13 giant barracuda statues on wheels
7 overgrown ferns
9 candles all scented cucumber melon
A "build a bear" station
Various cheese and meat platters
33 love sacs
That's just the beginning…
LUD!: What is your band's drink of choice?
CS: Probably Makers Mark on the rocks.
LUD!: Can you name a few local Colorado bands that are really impressing you right now?
CS: We love Taarka (Dave and Enion are amazing and our Bass player Bradley will be playing a few shows with them this summer), Elephant Revival (It's Alive is a well-produced EP and These Changing Skies is full of hits), Chimney Choir, Anthony Ruptak, Jacob Russo, and Banshee Tree (I think they're currently recording their first album). These are only a few of our favorites, but these guys all seem to consistently impress us.
Audiophile. Logomaniac. I must get to the show.