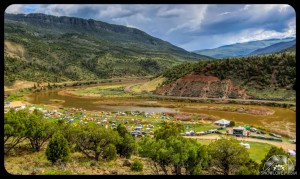 Photos by JohnRyan Lockman
There is always a bit of eager anticipation that runs through me as I start to pack up for my annual excursion to the off-the-grid festival called Campout for the Cause held in the hills of North Central Colorado. This year was no exception. As I awoke in the morning and did my daily scan through the Facebook world I saw pictures from load-in and stage set up the night before and immediately I wanted to ditch all my morning responsibilities and drive out to the site. As it happened, I made the adult decision to finalize all my priorities and rolled out in the early afternoon.
Friday May 23rd
I pulled into my parking spot at Rancho Del Rio at about 2 pm. Campout for the Cause began in this camping zone in 2009. While over the years it had traveled downstream to the State Bridge venue, this year, founder and promoter, Scott Stoughton decided to return the festival to its roots by placing it back at the pseudo-shanty town/river paradise that sits against the back drop to the usually peaceful Colorado River. It didn't turn out to be so peaceful this weekend, but I'll get to that later.
I turned off my phone and stowed it in my car (be prepared to do the same thing unless you want to use it for a camera. There is no cell phone service anywhere near the festival grounds) and began to set up my campsite. The first thing I noticed is the usual six degrees of separation between festival goers is a much slimmer two degrees. At most. It seemed I knew just about every person to pass by me on their way to set up their own tents. If I didn't know them it appeared that someone immediately next to me did.
Family. It was one of the many buzz words of the weekend. The family vibe of this event didn't stop with moms, dads and their children. The community feeling ran between the oldest and best of friends to the newest and craziest of people. It was felt among the artists on stage looking out to each reveler dancing in the grass. From the vendors to the bartenders to everyone in between. All seemed to come together for the common cause. Music and charity.
What exactly was this "cause" we were all camping out for? Stoughton decided after volunteering with the disaster relief organization All Hands in 2009 to align Campout For the Cause with this international NPO, in addition to local charities. This year the local charity Campout worked with was the Eagle Valley Land Trust.
As I was finishing my tent setup, I could hear the first notes of Bluegrass wafting down from the upper Hootenanny Stage. Local Eagle band Hardscrabble had kicked off the festival, followed by the Altitones with their unique combination of wide ranging covers. The line-up for Campout is extremely Colorado heavy. Mainly local and regional bands with a mix of larger regional and national acts. This is no big name, superstar festival. It would be just as easy to find Tim Bluhm or Mark Farina sitting next to you at the campfire as anyone else.
I was looking forward to the next Colorado act Gipsy Moon. This Nederland-based band fuses Bluegrass music with a little of the carnie vibe. Kind of like Gogol Bordello on a sedative, but that's not to imply they are boring. I fell in love with their unique sound at Winter WonderGrass this last year (another Stoughton creation). The combination of singer Mackenzie Page's lilting voice and Andrew Connely's cello stylings always seem to have a calming yet invigorating effect on me.
I wandered back to my campsite to grab dinner. One of the best parts of Rancho del Rio is it's intimate size. Even back at camp I didn't miss a beat of Sea Stars. But I definitely needed to fuel up for what was ahead of me. The first of two Mark Farina sets was dedicated his self created style of "Mushroom Jazz." Mushroom Jazz is Acid Jazz infused with the west coast's jazzy, organic productions along with urban beats. My feet never stopped moving.
Pulling out all the stops was Fruition to round out the first night of music. Hailing from Portland, Ore. I coined their style "Hipster Bluegrass." Their music has solid roots in the Bluegrass world but they add something to it, an almost intangible flavor that can only come from the West coast that makes the parts come together and become more than just pieces of a whole. Mimi Naja on the mandolin is, at times, like a whirling dervish on stage whipping the other members into a frenzy. Their alternative cover of Bill Withers "Use Me" was easily one of my favorite songs of the weekend.
Saturday May 24th
I awoke early to the freezing cold, put on some thicker socks and tried to fall back asleep. If there was one consistent challenge at this festival it was the weather. As a seasoned festival goer I was prepared for the temperamental Colorado climate. Throughout the weekend we had it all: hot sunshine, cold rain, hail, raging rivers and freezing evenings. However to start the day, once the sun rose, this Saturday morning appeared to be a beautiful, comfortable, halcyon day. If only that could have lasted. I was looking forward to catching one of the many yoga workshops held throughout the day. Unfortunately I missed arguably the best one. While I prepared my breakfast, Mark Farina sat in on one of the morning yoga classes. Spinning his signature beats, a participant I talked to said it was the "most amazing combination of beats and yoga flow I have ever experienced." Damn me and my desire for eggs and bacon.
After my belly had been filled, I meandered over to the main stage to watch Miss Bridget Law pull forth her sweet and soulful music. At times before I have said that West of the Mississippi, all violin players become fiddlers. Miss Law seems to be the exception to my rule. She keeps the classical elements of the violin and can still seem to blend it in to any style of music she chooses. Although don't get me wrong she can fiddle with the best of them. This weekend I watched her become the Warren Haynes of Campout for the Cause. From 1pm on practically every set I watched had her sitting in. What a beautiful, talented and hard-working woman.
After that was my turn. Amid some of my other moderate talents, I also teach and perform with a hula hoop. While my workshop started off slowly I soon had a rather large group to teach "in spin" and "anti spin" flowers. We twirled and giggled and played. As soon as I packed up my hoops I saw the ominous clouds forming over the backside of the hills and I knew it was time to pack it all into my tent.
Here came the weather.
Strong winds, pounding rain, hail and the sudden knowledge that my tent was not quite weather proof had me hunkering down in my sleeping bag to wait it out. And while the rain persisted for the rest of the day and into the night, it didn't dampen the spirits of festival goers or musicians alike. Oh absolutely not. We toughed it out in our wool inner layers and Gore-tex outers through sets from the likes of Tierro and Grant Farm and into the evening.
One of my favorite sets of the evening came from Denver based The Congress. These rockers pulled me into their entire set by the huge smile on drummer Mark Levy's face and what can only be described as guitarist Scott Lane's shred show.
Headliner Paper Bird was a complete turnaround. I had interviewed them many years ago for a local music magazine and back then they were an Elephant Revival-esque hippie folk group. While their set didn't quite pull me in and keep me attentive, I was intrigued to hear that while they have maintained their haunting female harmonies, their sound has developed into a much more mod hipster sound.
Throughout the evening the crowd was dazzled by the fire and acro yoga performers while The Mother Hips and Scott Law's Super Jam both doled out the hit of Rock and Roll that was so much desired. It seemed to me that it was the 'tweener sets from The Town Cavalry was where Campout hit it's stride and facilitated the family vibe. Packed onto the covered Hootenanny Stage, safe from the elements, that feeling came to fulfillment. Playing the song "Joyful Noise," we were all squeezed onto that deck stage together. Front to back. Side by side. It didn't matter who you were next to, whether you knew them or not. You danced!
Sunday May 25th
Waking up to a slice of bacon in the back of someone's warm truck (as opposed to my leaky tent), I was not upset about any of the decisions I had made in the past 24 hours. While I didn't want to get out of the warm bed into the brisk morning air, I was ready to take on the day. Sunday was filled workshops and treatments. Yoga classes. Drumming workshops. Standup paddleboarding clinics. Massage therapy. For such a small scale event it was impressive that there was always so many alternative things to do if you didn't want to watch the music at hand. I am however, first and foremost, a music enthusiast and while the therapies and workshops got me motivated it's the music that sucks me in.
Fox Street was my first real set of the day and I always enjoy what I hear. Lead singer Jonathan Huvard's vocals consistently remind me of a cross between Mike Mattison of Derek Trucks Band and J.J.Grey. You'd never expect such a big, gravely voice from such a small, white man. That coupled with James Dumm's searing slide guitar technique really blew me away.  Even Tyler Grant, after telling me "I've never heard these guys," couldn't resist jumping onstage for a couple songs. Fruition even came for another afternoon set, back from driving down to Mishawaka Ampitheater on Saturday night.
Austin Texas' own Wood and Wire proved a pleasant afternoon surprise with their two sets of distinctive originals and unique lyricism. Each Bonfire Dub and Elephant Revival set was really a mash up of both bands, as members from each band sat in on the other's set, lending yet again to the aforementioned family vibe. Headliner Head for the Hills stepped the pace up, switching from Dub and Folk love to a foot stomping Bluegrass lather. To finish up the evening Kirby K, who had been spinning beats in between sets almost all weekend, started his last set only to be joined in by practically the entire weekend lineup for the Campout Super Family Jam (Wait, have I said the word family once before already?).
As I settled back into my sleeping bag, and again while driving home the next morning, I was reminded why I return to this tiny event year after year. The venue, the music, the people, the family. All of it coming together for a few great causes. Hopefully you will come join us next year!
Jenna Stecker is a freelance writer and music enthusiast who has lived in the Vail area for 7 years. She has published articles in multiple local and regional Colorado publications. When she is not hiking with her boxer Marley you can find her spinning circles inside of a hula hoop.