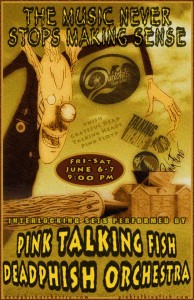 Why You Should Go: This weekend Quixote's play host to a multiple night performance featuring 2 of the most unique and exciting Tribute Bands on the scene.  Pink Talking Fish is a Hybrid Tribute Fusion Act that takes the music from three of the world's most beloved bands and creates a special treat for fans of the music.  Although the music from each act is different, Pink Talking Fish has discovered that fusing the material together creates an amazing story.  The epic emotion of Pink Floyd…. The funky, danceable layerings of The Talking Heads…. The multitude of styles, unique compositional structures and pure fun of Phish…. to merge these three into one gives music lovers a special experience.  Pink Talking Fish features Eric Gould, founding bassist of Particle, and a revolving cast of established players in the national music scene.
The DeadPhish Orchestra is a quartet of Colorado musicians who, above all, are close friends who have played together for many years. They had played Grateful Dead songs together, and they had played Phish songs together.  But they got to wondering what would happen if they tried to merge the music of these two bands, the Granddaddies and Daddies of the Jamband scene.  While these two bands have their surface similarities, most fans realize that their actual musical styles are quite different. The Grateful Dead are an earthy, folky, bluesy band where Phish is sharper around the edges–funky and more aggressive. But both bands have an improvisational approach to their live shows, and it is in that spontaneity where the magic really happens.  These two bands together create "The Music Never Stops Making Sense" and they will be doing seamless transitions between bands all weekend long, making this a must see show!
Venue:  Quixote's True Blue, 314 E. 13th Ave, Denver, CO  – (303) 366-6492
Doors: 8:00 pm. Showtime at 9:00 pm.
*Price: $15.00
Friday Tickets
Saturday Tickets
*All prices are gathered from other sources and we are not responsible for mistakes or inconsistencies. They are intended only as guidelines. Please, always call the venue if you desire the most accurate information possible.