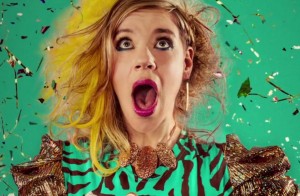 The Scene: One would expect to find a Burning Man centered universe amid the feather boas and body odor last Wednesday night. In fact, this world was not the middle of the desert but the Gothic Theatre for none other than Tribal Electro-Pop band tUnE-yArDs and opener up-and-coming Sylvan Esso. The coupling of these two acts on a still Colorado night set a very high bar for approaching summer shows.
Opener: Sylvan Esso. Tucked in the corner of the Gothic stage behind tUnE-yArDs' equipment, you'd find singer/songwriter, Amelia Meath, and producer, Nick Sanborn. The two make up Electro Folk-Pop duo, Sylvan Esso. That genre packs in a lot, but the sound you get is nothing less than elusive and simplistic beauty. Bass echoed out into South Broadway for the opening song, the popular and soothing "Hey Mami." Meath, mimicking the sounds of Feist and Wild Belle, sported a messy bun and natural look that paired well with the effortlessness of her stalwart voice. "Coffee," the duo's first single, appeared quickly in the set as the third song (this warranted one of the largest singalongs of the night, surprisingly).
The heartwarming connection between Meath and Sanborn had the whole crowd giggling in adoration. As the pair gracefully performed their way through a large portion of their first album, one could feel their appreciation towards both tUnE-yArDs and Denver as a whole for welcoming them with such monstrous applause. Their whimsical simplicity will most certainly bring them to the most elaborate of venues. Be sure to check out their first album, the self-titled Sylvan Esso.
tUnE-yArDs: Even the most ardent fan of Experimental Electro-Pop could feel disconcerted by the abrasiveness of the sound created by Merrill Garbus a.k.a tUnE-yArDs. Upon discovering the intricacy of the brash global pop sensation, one would come to understand that tUnE-yArDs is doing something challenging, unique and simply awesome. The live show is a spectacle.
Garbus' voice sounds similar to harsh screams, yet they are so controlled that they are beautiful and powerful. Tribal elements echo through her music and also her performance and general stage presence. Garbus approached the stage with two backup singers and began an acoustic tribal-like chant, coupled with the sound of their hands clapping, steadying the beat. She adorned pink leggings and a form fitting gold and aqua dress. The paint on her face made her look somewhat androgynous.
As Garbus started singing "Hey Life" from her most recent album, Nikki Nack, the crowd revered her amazing range. Its catchy hooks and quick verses grabbed the crowd and did not let go. The very popular "Gangsta" from her 2011 album Who Kill followed in suit. Garbus never turned her back. She gripped her drumsticks and banged the drums that surrounded her. She never took her eyes off of the crowd. Her eyes would widen to such a degree that the upstairs bartenders could feel her gazing into their souls. "Sink-O" came next, resembling the sound of noisy Pop duo, Sleigh Bells. Following this heart race of a song, Garbus would slightly interject polite "thank you's" in a very awkward and subdued tone. Next, the rest of the band left the stage leaving only Garbus and her bassist, the only male in the band. She busted out her infamous electric ukulele and spoke to the crowd: "Which of you saw us play at the Hi-Dive in 2011? Which of you saw us open for Arcade Fire at the Pepsi Center recently? And…which of you saw us play at Lion's [Lair] in 2008?" A fair amount of people responded in applause to the 2008 comment which surprised even Garbus herself. She continued on playing popular hits like "Powa," "Wait for a Minute," and "Stop That Man." Then closed with the most notably popular, "Bizness." This engaged the crowd who bellowed along with Garbus, "Don't take my life away, don't take my life away." It was interactive and invigorating, which is just how Garbus and her troupe wanted us to feel. An incredible energy throughout the Gothic Theater this night, from start to finish.
Energy: A+
Musicianship: A+
Sound: A
Stage Presence: A+
Set/Light Show: A-
Overall: A

Lindsay was born in Georgia, raised in Florida, and moved to Colorado when she turned 18. All Lindsay asks for in life is music, hoppy beer, and the written word. The necessities of family, friends, water, and food naturally follow.