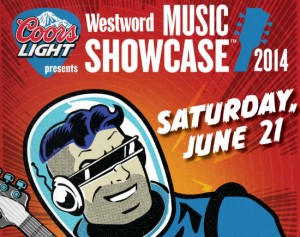 On June 21st, The Westword Music Showcase will take over the Golden Triangle and the good folks over at Westword revealed the schedule today!  Time to start planning!!!
The thing has grown over the decades, and this year there are about 140 Denver bands to go along with an outdoor main stage featuring 2 Chainz, Diplo, King Khan and the Shrines, Cherub, Man Man and more. All the details are below.
This Friday, June 6, Westword is hosting a Pre-Party at Stoney's featuring headlining sets by Science Partner and In the Whale . . . FOR FREE!  Share in the good times on June 21 in the Golden Triangle. Tickets are on sale now.
MAIN STAGE
12:00 – 12:30 – Claymore Disco
12:45 – 01:15 – Pink Hawks
01:35 – 02:20 – Reno Divorce
02:40 – 03:40 – King Khan and the Shrines
04:00 – 05:00 – Man Man
05:20 – 06:20 – Cherub
06:50 – 08:05 – 2 Chainz
08:35 – 09:50 – Diplo
CITY HALL AMPHITHEATRE
12:00 – 12:30 – SF1
12:45 – 01:15 – DJ Cavem Moetavation
01:30 – 02:00 – Turner Jackson
02:15 – 02:45 – Reverb and the Verse
03:00 – 03:30 – Planes!
03:45 – 04:15 – Eddie Knolls
04:30 – 05:00 – H*Wood
05:15 – 05:45 – Wheelchair Sports Camp
06:00 – 06:30 – MTHDS
06:45 – 07:15 – Pan Astral
CITY HALL CUE ROOM
12:00 – 12:30 – Seris
12:45 – 01:15 – Khemmis
01:30 – 02:00 – Muscle Beach
02:15 – 02:45 – MF Ruckus
03:00 – 03:30 – Lotus Gait
03:45 – 04:15 – In the Company of Serpents
04:30 – 05:00 – IAMTHESHOTGUN
05:15 – 05:45 – Weaponizer
06:00 – 06:30 – Gomorrah
06:45 – 07:15 – Native Daughters
CITY HALL MAIN
12:00 – 12:30 – Babah Fly
12:40 – 01:10 – Aires Jackson
01:20 – 01:50 – Koo Qua
02:00 – 02:30 – Kitty Crimes
02:40 – 03:10 – Soul Pros
03:20 – 03:50 – Lily Fangz
04:00 – 04:30 – Extra Kool
04:40 – 05:10 – Diamond Boiz
05:20 – 05:50 – Spoke in Wordz
06:00 – 06:30 – Mr. Midas
06:40 – 07:10 – Stay Tuned
ROOSTERCAT
12:00 – 12:30 – TBA
12:45 – 01:15 – TBA
01:30 – 02:00 – TBA
02:15 – 02:45 – TBA
03:00 – 03:30 – TBA
03:45 – 04:15 – Patient Zeros
04:30 – 05:00 – Church Fire
05:15 – 05:45 – Echo Beds
06:00 – 06:30 – CP 208
06:45 – 07:15 – Iuengliss
VINYL ROOFTOP
12:00 – 01:00 – Tyler Snow
01:00 – 02:00 – Shannon von Kelly
02:00 – 03:00 – DeeJay Tense
03:00 – 04:00 – DJ KTone
04:00 – 05:00 – DJ Low Key
05:00 – 06:00 – Samples
06:00 – 07:00 – boyhollow
VINYL MAIN
12:00 – 01:00 – Keepers
01:00 – 02:00 – Man Mantis
02:00 – 03:00 – Pruitt
03:00 – 04:00 – Decadon
04:00 – 05:00 – Illenium
05:00 – 06:00 – RUMTUM
06:00 – 07:00 – Human Agency
BAR STANDARD
12:00 – 12:30 – Plume Varia
12:45 – 01:15 – Pale Sun
01:30 – 02:00 – The Outfit
02:15 – 02:45 – Safe Boating Is No Accident
03:00 – 03:30 – Dragondeer
03:45 – 04:15 – FaceMan
04:30 – 05:00 – Emerald Siam
05:15 – 05:45 – Confluence
06:00 – 06:30 – Inner Oceans
06:45 – 07:15 – Shady Elders
STONEY'S
12:00 – 12:30 – Ivory Circle
12:45 – 01:15 – Petals of Spain
01:30 – 02:00 – Foxfield Four
02:15 – 02:45 – Eldren
03:00 – 03:30 – Rob Drabkin
03:45 – 04:15 – Megan Burtt
04:30 – 05:00 – Rachel and the Kings
05:15 – 05:45 – Calder's Revolvers
06:00 – 06:30 – Hot Apostles
06:45 – 07:15 – Lola Black
KREWE
12:00 – 12:30 – I'm a Boy
12:45 – 01:15 – Science Partner
01:30 – 02:00 – Varlet
02:15 – 02:45 – The Jekylls
03:00 – 03:30 – CRL CRRLL
03:45 – 04:15 – A Band in Pictures
04:30 – 05:00 – Monroe Monroe
05:15 – 05:45 – The Royal
06:00 – 06:30 – Joy Subtraction
06:45 – 07:15 – The Photo Atlas
100 % DE AGAVE
12:00 – 12:30 – TBA
12:45 – 01:15 – Jeremy Dion
01:30 – 02:00 – Finnders & Youngberg
02:15 – 02:45 – Belle Jar
03:00 – 03:30 – Mosey West
03:45 – 04:15 – Andy Thomas
04:30 – 05:00 – Lil Thunder
05:15 – 05:45 – Thief River
CURIOUS THEATRE
12:00 – 12:30 – Poet's Row
12:45 – 01:15 – Glowing House
01:30 – 02:00 – John Common Superheart
02:15 – 02:45 – Patrick Dethlefs
03:00 – 03:30 – Chimney Choir
03:45 – 04:15 – Covenhoven
04:30 – 05:00 – The Raven and the Writing Desk
05:15 – 05:45 – Champagne Charlie
06:00 – 06:30 – A. Tom Collins
06:45 – 07:15 – Ian Cooke
BROADWAYS
12:00 – 12:30 – Cult of the Lost Cause
12:45 – 01:15 – The Inactivists
01:30 – 02:00 – Indigenous Robot
02:15 – 02:45 – Magic Cyclops
03:00 – 03:30 – Colfax Speed Queen
03:45 – 04:15 – The Best Creeps
04:30 – 05:00 – Thee Dang Dangs
05:15 – 05:45 – The Dirty Few
06:00 – 06:30 – Warhawk
06:45 – 07:15 – The Drunken Cuddle
BANNOCK STREET GARAGE
12:00 – 12:30 – Jack's Smirking Revenge
12:45 – 01:15 – Catholic Girls
01:30 – 02:00 – Shining Wires
02:15 – 02:45 – Wiredogs
03:00 – 03:30 – SPELLS
03:45 – 04:15 – Allout Helter
04:30 – 05:00 – Pitch Invasion
05:15 – 05:45 – Boldtype
06:00 – 06:30 – Frontside Five
06:45 – 07:15 – Synthetic Elements

ROOSTER & MOON
12:00 – 12:30 – The Wild After (Randy Ramirez)
12:45 – 01:15 – New Ben Franklins (Dave DeVoe)
01:30 – 02:00 – Spools of Dark Thread (acoustic)
02:15 – 02:45 – King Rat (Luke Schmaltz)
03:00 – 03:30 – Anthony Ruptak
03:45 – 04:15 – We Like Monsters
04:30 – 05:00 – Sunboy
05:15 – 05:45 – Fingers of the Sun
06:00 – 06:30 – The Kissing Party
06:45 – 07:15 – Somerset Catalog
LA RUMBA
12:00 – 12:30 – Walter
12:45 – 01:15 – Vices I Admire
01:30 – 02:00 – iZCALLi
02:15 – 02:45 – Amanda Hawkins
03:00 – 03:30 – Devan Blake Jones
03:45 – 04:15 – The Other Black
04:30 – 05:00 – Something Underground
05:15 – 05:45 – Rowdy Shadehouse
06:00 – 06:30 – Atomga
06:45 – 07:15 – Potcheen
DAZZLE
12:00 – 12:30 – Jon Wirtz
12:45 – 01:15 – Adam Bartczak
01:30 – 02:00 – Delta Sonics
02:15 – 02:45 – Dan Treanor's Afrosippi Band
03:00 – 03:30 – Josh Quinlan
03:45 – 04:15 – Go Star
04:30 – 05:00 – Matt Skellenger