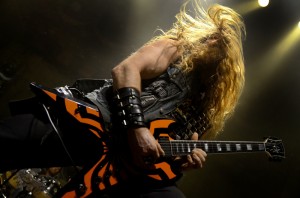 Photos By Todd Radunsky
The Scene: Denver's Metal heads were out in full force Sunday night as a trifecta of heavy metal bands converged on the Ogden Theater for the "Revolver Golden God's Tour."
Opener: Butcher Babies. Fronted by two long haired, head banging rock Goddesses, the Butcher Babies opened the evening with a short but sweet 30 minute set.  This band is full of stage presence and energy and did what they came to do which was get the crowd exited and  pumped for the festivities ahead.  Butcher Babies brought the perfect sound and energy to open up a metal show and get the crowd in the space they need to be.
Opener: Devil You Know. Sandwiched between Black Label Society and Butcher Babies, were rockers Devil You Know who pounded out a strong performance of their own. The band played about 45 minutes.  Their set was filled with deep throated vocals from lead singer Howard Jones while Ryan Wombacher's thumping bass lines took the night to another level. The bands two guitar players, Roy Lev- Ari and Francesco Artusato, worked flawlessly together to create a crushing sound that thrilled the crowd.
Black Label Society: Despite the great performances that came before, the night belonged to Black Label Society.  Led by front man, metal guitar icon, and Ozzy Ozbourne's former guitar player, Zac Wylde, the band killed it as they played to a raucous and amped up crowd of head banging fans screaming Wylde's name.
Wylde, with his signature Bull's Eye guitar and long blonde hair constantly hanging in his face, blew the crowd away with his smoking guitar chops and raw, powerful, sometimes even wicked sounding vocals.   Intense energy, physical movement, great stage lighting, and a hard core intensity is what BLS brings to the table at one of their shows.  Mix that with stacks and stacks of Marshall amps as a backdrop and this band is a sight to behold.
Whether they played a ballad like "Angel of Mercy," or a more ear splitting piece like the opening song "My Dying Time," the band held the crowd in it's collective hands the entire show.
Energy: A+
Musicianship: A-
Sound: A
Stage Presence: A+
Set/Light Show: A-
Overall: A-
I work in the music industry photographing bands live and offstage for publicity. My work includes shooting concerts, festivals, and portraits of musicians and bands. I shoot for promoters, record companies, publicists, magazines, band managers, and individual musicians. I also photograph weddings, and portraits and have traveled the world to do so. I've shot weddings in Cali, Ireland, Mexico, Cape Cod, and Amsterdam to name a few.