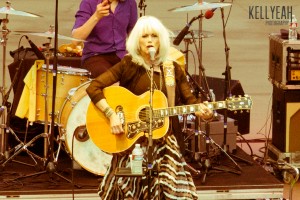 Photos by Kelly Hueseman
The Scene: As you would expect from a night of music from two Folk legends, the crowd at Red Rocks Amphitheatre was full of kind, excited fans who anxiously awaited the music while sitting under the warm sunset on the first day of June.
Emmylou Harris: As the ever-beautiful Emmylou Harris walked onto the famous Red Rocks stage, it was like watching a legend meet a legend. The multiple-Grammy-winning singer-songwriter looked up toward the back of the historic venue and softly said, "This is the most beautiful venue in the world." Although Harris has played at Red Rocks many times before, she mentioned that each time she visits she's in awe of its beauty.
Harris and her eclectic band took us on a journey through decades of her music including the sorrowful "My Name is Emmett Till," a song Harris was inspired to write after hearing the story of the young Mississippi boy murdered for flirting with a white woman in 1955. The cry in Harris' voice that she's known so well for was present in many of the night's performances, including "One of These Days," a 1972 George Jones hit Harris sang as a tribute to her mom, who loved the song.
The band, which includes an accordion player who doubles on piano, a pedal steel player who also plays lap steel and dobro, a lead guitar player from Australia, a drummer, and a bassist, were all great support for Harris' style of rich, heartfelt music. Some moments where the band really stood out included "Orphan Girl," a cowboy folk song from Gillian Welch's 1996 album, Revival, and also on "Red Dirt Girl," written by Harris for her namesake album released in 2000.
Harris ended her set with a touching encore of "Boulder to Birmingham," a song she wrote in memory of the legendary Gram Parsons, the man who inspired her early career and who still serves as her musical backbone. For the last four years alone, Harris has released a new album each year and collaborated with new artists, further expanding her wings in the industry and planting her roots even deeper into her already well-established ground as a legendary Country-Rock pioneer. The heart felt in every word that comes out of her mouth is both calming and stirring at the same time. It's with pride and excitement I look forward to the next time I'll see Emmylou in concert.
John Prine: Before John Prine even started playing music, we got a glimpse of the resilient spirit the two-time cancer survivor carries with him through life. Humbled by Mother Nature, Prine and his crew watched on as his old Martin acoustic took a nosedive off it's stand. The infamous Red Rocks wind gusting over the stage had cracked Prine's oldest guitar in two. While unfortunate, Prine's personal resilience as a cancer survivor can teach us all a lesson, and this was yet another opportunity for Prine to showcase his great attitude. "My oldest and dearest guitar took a nose dive. But I'm sure it'll come back sounding better," Prine said before dedicating the touching song, "Souvenirs," to one of his own.
It was certainly a bummer not to be able to photograph John Prine, as the expressions in his smile and eyes tell as great of a story as do his lyrics. His smart and witty songwriting delighted us all night as he strummed his guitar and recalled memories from his 40+ years in the music business, some of which took place in Colorado.
I'd been hoping for and expecting Harris and Prine to join forces onstage, and was not surprised at all when Harris took the mic once more for a beautiful rendition of "Angel From Montgomery." Prine ended the night of music with "Paradise" as an encore, a lighthearted song that would send us off into the warm summer night with memories of a great evening with two of Folk music's greatest.
Energy: B+
Musicianship: A
Sound: A+
Stage Presence: A
Set/Light Show: B
Overall: A-
After growing up in Missouri listening to vintage records of The Allman Brothers, Carly Simon, and Stevie Ray Vaughan, I was hooked to the live music scene and the contagious sounds of guitar licks and soulful lyrics. After moving to Colorado, I've been contributing to Listen Up Denver! as a freelance photographer and writer. I've also started a side project, KellYeah Photography, which gives me the opportunity to pair my passion for live music with my creativity and love of being around people. Aside from photography and writing, I'm an avid hiker of Colorado 14ers and a beer enthusiast.