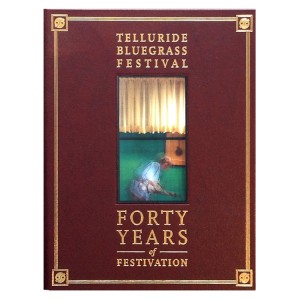 In celebration of the 40th Anniversary of The Telluride Bluegrass Festival, Planet Bluegrass has assembled THE comprehensive book on the history of America's premier Bluegrass festival.  Telluride Bluegrass Festival: 40 Years of Festivation will be officially released June 19th at the 41st Annual festival and, judging by the sneak peak we got, the book is unparalleled in its beauty, attention to detail, and the sheer volume of information on this legendary event that it contains.
Hinged on year-by-year, gonzo style, accounts penned by longtime festival MC Pastor Mustard (aka Dan Sadowsky), the book features more than 350 photos dating back to the very beginnings of music in Town Park, revealing, behind the scenes anecdotes by the likes of Peter Rowan, Sam Bush, Emmylou Harris, and Bela Fleck and brilliant, full-page reproductions of all 40 posters.
For anyone who has ever been to Telluride Bluegrass it should come as no surprise that a written history of the festival wouldn't be close to complete without delving into the shenanigans and mayhem that give this festival it's off-beat and fun loving character.  From Peter Rowan's account of walking in on John Hartford as he jumped on his bed in his pajamas while "rocking on his banjo" to Pete Wernick describing the time John Cowan crashed the stage during a Red Knuckles set in one of Maura O'Connell's dresses and sang "You Ain't Woman Enough To Steal My Man," many of the festivals luminaries share the things that keep them coming back, June after June, to the awe-inspiring box canyon that is Telluride.
The beautifully written and illustrated book proves once and for all that tarps have been part of the fabric of the festival from the beginning (and proves that naked tarp dashers do exist) and even has a photograph of the very dog responsible for the "no dogs allowed" rule.  Readers looking for the "true" story behind the disappearance of Pastor Mustard or the origin of Lyle Lovett's Large Band just might find that information within this elegantly hardbound book as well.
Whether it's the photos, the posters or the fascinating tales that lurk within, there's something in Telluride Bluegrass Festival: 40 Years of Festivation for anyone who has ever even thought about making the pilgrimage to the annual event.

Music has always been a part of my life. It probably all started listening to old Grateful Dead, Peter Paul & Mary, and Simon & Garfunkel records that my parents had, but it wasn't long before they were taking me to concerts like Starship, Crosby, Stills & Nash, and Huey Lewis & The News. I got the bug to write about music after reviewing an Eric Clapton concert for a creative writing project in high school but didn't really take it up seriously until 2002. Since then I have published countless articles in The Marquee Magazine and done some work for Jambase.com, SPIN Magazine, and various other outlets. I started Listen Up Denver! as a way to share the music information that is constantly spilling out of my head with people who care. Please enjoy!