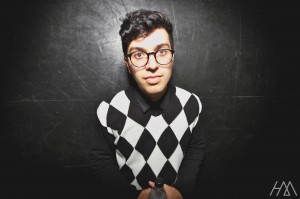 The Scene: The crowd at Summit Music Hall was a bit patchy when I arrived on Saturday. I strolled in at about 11:00 that night–I always come a little later to the Summit's shows, as the headliners notoriously go on late and the place stays open until just before 2:00 in the morning. Maybe that's why is such a great place for EDM. I figured it would be a fitting venue to have my first encounter with Alvin Risk, the young Producer and DJ who has quickly ascended the ranks within the EDM scene with his genre-bending sound, combining and overlapping Dub Step, Drum'n'Bass, Moombaton, and Electrohouse with a wide range of vocal samples, and changing tempo continuously–amazingly, he pulls it off and he does it with a certain panache that is unmistakable. He also produced a single with Skrillex in the fall of 2013, and another with Designer Drugs just months before. These collaborative efforts have pulled him into the spotlight to stand among the greats of the EDM scene.
I expected to see hordes of hipsters with one side of their head shaved and tight jeans, but what I found was a small but somewhat diverse crowd. Though they were mostly twentysomethings, there were jock guys, geek dudes, a group of Asian guys that I imagined to be foreign exchange students, chicks that looked like they came out to go clubbing (minis, pumps and all) and others donning the jeans, flannels and the oh-so-predictable nerd glasses. Though it lacked numbers, it was friendly crowd, complete with young party kid types who will insist that you dance. It was amusing to say the least.
Opener: Frisk. L.A. based producer/DJ Frisk started just as I was approaching the venue. I heard the thumping of the bass while walking up the street–over the music and noise of the Sports Column, Beta, et. all: it was exciting. It quickly became apparent why Frisk was on the ticket. His high-energy EDM was a nice pairing for the music Alvin Risk is known for. He spanned a wide range of genres, combining Dub, House (echoing that Moombaton vibe), Dub Step and Hip Hop. It was an entertaining set and he did a great job of warming up the crowd. When his spot ended at 12:25 we were ready for the main act.
Alvin Risk: As I mentioned, Marcio Alvarado, aka Alvin Risk, is known for his swift and illustrious rise to fame–his opening was appropriately strong. He kicked it off with a remix of the single he produced with Skrillex, "Try It Out." He also had an impressive stage presence. In truth, Alvin Risk does not look like your typical EDM Producer/DJ. He looks like a nerd. I know that's in style, but based on appearances alone I would not expect him to be an extrovert, however he is clearly very passionate about his music–his movements on stage were much bigger and more emotional than those of a typical DJ. He seemed really connected to the music, and that feeling is contagious: when the bass dropped, the whole crowd dropped too–into a mad fury of crunk-like dancing. You don't have to have moves to be in this scene. Dance is pure expression.
Along with the darker "I'ma try it out" vocal sample, there were some chipmunk-sounding sped up female vocals and another sample of a guy saying, "Uh… Yeah.. Ok…" which reminded me of a certain Dave Chappelle skit–it was comical, but the overall sound was masterful, because somehow it was cohesive. It started to get a little more crowded at that point; the spacious dance floor of the Summit was full from sound booth forward. His visual production was also eclectic–Star Wars like Sci-Fi video loops, images of dark masked villains and Mayan calendars–again, somehow I really liked it. The only thing that didn't jive so well were the interchanging red and blue strobe lights which produce a somewhat nauseating effect–don't get me wrong, I like regular strobe when I am cutting a rug.
And then he sang.
This was the kicker of the evening! Somehow the fact that he does his own vocals completely eluded me (I guess it's hard to tell from SoundCloud tracks) so this was a complete surprise, and he actually has an amazingly angelic voice. After he shared melodic vocals, he cut right into a Zelda Dub Step song, and then some of his Moombaton stuff. Lots of vocals. Another highlight of the set was a mix of Fun's "We Are Young." When it ended just before 2am, it seemed like night had zipped by in the blink of an eye. The crowd could've gone all night. Nonetheless, at $15 a pop, it was an awesome show, and though he might not have a huge following in Denver, this is not the last we will see of Alvin Risk, not by a long shot.
Musicianship: A-
Sound: B
Energy: A
Stage Presence: A
Set/Lights: B
Overall:A-

Audiophile. Logomaniac. I must get to the show.