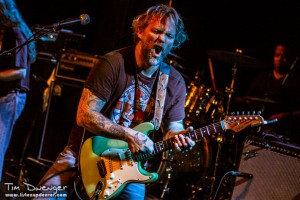 Photos by Tim Dwenger & Jim Mimna
The Scene: The sold-out sign that hung in the box office window at The Bluebird when I walked up took me a little bit by surprise but, looking back, I guess it shouldn't have.  Anders Osborne has been steadily gaining more and more fans here in Colorado with his annual appearances at the Telluride Blues & Brews Festival along with regular stops on the Front Range.  The room was packed with a who's-who of the Denver music scene rubbing shoulders with veterans of many-a Grateful Dead tour and 60 somethings clearly infatuated with Osborne's sound. His brand of Rock-n-Roll is something that Coloradoans can really relate to and the attendance proved, yet again, that the Colorado – New Orleans connection is alive and well.
Anders Osborne: As soon as he took the stage the room exploded and Osborne wasted no time in tearing into "Had My Reasons" from his 1999 album Living Room.  Backed by his longtime rhythm section of the rock-steady Eric Bolivar on the drums and wild-man Carl Dufresne on the bass, the trio was augmented by Boulder resident Peter Stelling on rhythm guitar.  The addition of Stelling allowed Osborne to really stretch out and focus on texture and soloing rather than holding the song together.  This freedom came through loud and clear as Osborne stomped around the stage and seemed to channel Neil Young's electric side at several points in the evening.  In fact, I even went so far as to lean over and tell my buddy that this might be the closest we ever get to seeing Crazy Horse in a club during a particularly raucous jam in "Mind Of A Junkie."
For all its Rock-n-Roll rawness, the show was extremely well paced as the band coaxed the energy in the room to a peak before backing off a bit and then dipping back into the reserve tank to push things over the top again. Osborne accomplished this by slipping in songs like the reggae infused "Marmalade," the 50's rock of "Jealous Love," and tender takes on "Standing With Angels" and "Sarah Anne" (the later of which eventually built to a screaming climax).  The crowd responded in-kind by showering their praise on Osborne and his band and pushing the party to another level.
After a two hour set that spanned his career, Osborne delivered a blistering encore consisting of the one-two punch of "Black Eye Galaxy" and "On The Road to Charlie Parker."  It was a fitting to wrap up a powerful show and made me wish I was heading up to Lyons for the Oskar Blues Burning Can Festival the following day!
Energy: A
Musicianship: A
Sound: A
Stage Presence: A+
Set/Light Show: B
Overall: A
Music has always been a part of my life. It probably all started listening to old Grateful Dead, Peter Paul & Mary, and Simon & Garfunkel records that my parents had, but it wasn't long before they were taking me to concerts like Starship, Crosby, Stills & Nash, and Huey Lewis & The News. I got the bug to write about music after reviewing an Eric Clapton concert for a creative writing project in high school but didn't really take it up seriously until 2002. Since then I have published countless articles in The Marquee Magazine and done some work for Jambase.com, SPIN Magazine, and various other outlets. I started Listen Up Denver! as a way to share the music information that is constantly spilling out of my head with people who care. Please enjoy!