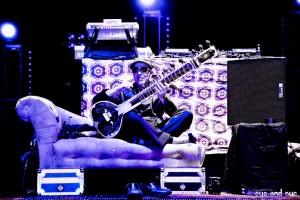 Photos by Ben Wilson
The Scene: An air of mystical excitement filled Red Rocks Amphitheatre on Friday the 13th 2014. The curious date was met with another peculiar happening: a full moon, a combo which won't be seen again until 2049. Adding to the situation, this particular moon was a special moon; the Native Americans called it the Strawberry Moon because it marks the harvest of the strawberries, other cultures called it the Honey Moon because it has a particular hue of gold to it. A Strawberry Moon hasn't occurred since 1919. All of this made for a fantastic yet somewhat eerie mood and energy within the crowd. Put it together with the enchanting Electronic World Dance music of Thievery Corporation and the magnificent and world famous venue Red Rocks and what do you get? "It's going to be spiritual," I heard one guy say while discussing the phenomenon with a fellow show-goer. His prediction was spot-on.
Opener: Fort Knox Five DJ Set. Washington, D.C. based Jon "JonH" Horvath and Steve "Raskal" Raskin of Fork Knox Five offered an impressive DJ set to kick off the evening's festivities. Fort Knox Five has been creating funky Breakbeat fueled and live instrument-driven EDM since 2003 and, in the process, have garnered quite a following. When they took the stage, they were met by a respectable gathering of fans who were clearly excited to see their set. Though the whole band is certainly more impressive in a live setting, they are also well known for their signature remixes–they've even coined a term for putting their own spin on a sound: "reminted" songs have been produced by Fort Knox Five for contemporary artists like A. Skillz and Krafty Kuts, as well as more classic icons, like Louis Armstrong and Bob Marley. JonH, who usually rocks an impressive afro, had his 'do up in pigtail buns, which made him look like a teddy bear. Well…maybe a Rasta teddy bear.
Their set started off on a Dub-heavy, super chill and happy vibe–Reggae is always a good way to set the mood at a outdoor summer show. Then they got a little heavier, dropping notes of Hip-Hop and harder Rap in the mix, some Persian music samples added a Gypsy effect. Their music seemed to hit an energy apex when the Latin flavor started being the major force behind their songs. There is something about Chicano Rap that just screams 303. "Reminted" personal favorite: Of Monsters and Men's hit single "Little Talks"–the song takes on a whole new feel the way they spin it. They ended their set with a bang, with their mix of the The Who's "Baba O'Riley"–it was minty for sure.
Opener: Tycho. The second act was a pleasant surprise to many. Scott Hansen, professionally known as Tycho, is an Ambient/Downtempo producer out of Sacramento, California. I was delighted to find that he had brought a live band with him. When he took the stage Red Rocks was a little more than a third full. Though some seemed to know the tunes, most clearly did not. But, as each song drove on, the audience seemed to become more and more enchanted. His sound was ethereal. The video production was a also celestial—pictures of clouds, geometric suns rising over blissful melodies. As the honey moon rose over the what might be the most sacred musical space in the world, the crowd swayed and grooved. Tycho gave an impressive and lifting performance, offering a fantastic appetizer to segue into the final act.
Thievery Corporation: Red Rocks is always a treat. Thievery Corporation is always a treat. The show Thievery Corporation delivered Friday was almost perfect. We'll come back to that almost later. The night was filled with amazing music, fantastic technical prowess and collaboration, hypnotizing lights and intricately choreographed stage production — all under a Strawberry Moon. The large group is impressive in numbers, the many different key players that come together is different than most live shows people see. And then there is the on-stage performance, I have always likened their shows to those of the Pop genre—it's not just about the music. The on-stage entertainment is an integral part as well, and they always deliver, parading and highlighting different musicians in a variety-show type of fashion.
Thievery kicked their performance off with a sitar-heavy tune; Rob Myers jammed from a plush chaise to deliver his exotic sound while Rob Garza strummed his guitar and danced around stage with bassist Ashish Vyas. Behind them all, two drummers with kits laid the beats. "Amerimaka" was in there along with the quintessential "Lebanese Blonde." Several different amazing female vocalists added variety in mood and tone. Of course, they played "The Heart's a Lonely Hunter," the song featuring a voice sample from David Byrne, which echos in the background of the band. The See-I brothers made their appearances too; "Be Strong" got the crowd moving as well as what seems to be their favorite cover, Sly and the Family Stone's "Thank You (Falettinme Be Mice Elf Agin)." This is where that almost I mentioned before comes in—I am 100% sure that they played that cover last year at Red Rocks, and I might even wager to say they played in 2012 as well. There were a lot of repeats in fact, and at $50+ a ticket, the lack of variety was a bit disappointing. Thievery Corporation has produced nine full-length albums. They have been to Colorado only a handful of times. With an amazing catalog of music, they can do better.
The silver lining was found in the light peppering of songs from their latest album, Saudade, a sultry recording founding band member Eric Hilton says captures "the essence or feeling of true Bossa Nova." It is sexy music. I really dig it. By half-way through the show, the venue was filled to capacity; the audience became an entity of its own, breathing the music, swaying and flickering in the wind and the light of the full moon. It was a beautiful performance, and as usual, the sheer number of artists coming together to make such an intricate and united sound was impressive. In the end, all of my objections to the set list were pacified. It was spiritual, after all, and art is art. A painting doesn't become less beautiful the more you look at it. Sometimes you want something new or something more, but it is still beautiful. So was Friday the 13th, 2014 at Red Rocks, and it won't be soon forgotten.
Energy: A-
Musicianship: B
Sound: A
Stage Presence: B+
Set/Light Show: A
Overall: A-
Audiophile. Logomaniac. I must get to the show.