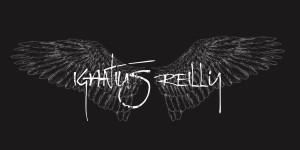 The best music is made collaboratively. Though new talent pops up regularly, it seems that the bands that make the quickest movement to the spotlight are the Frankenstein bands–we all know them, have seen them. Some are more regular than others. Certainly, every once in a while a musician happens upon another musician, and together they make something that is a graduated version of what they each made alone. When four experienced, talented and well-seasoned musicians come together in this way, you end up with a band like Ignatius Reilly. If you haven't had a chance to give them a listen, it's time to tune in.
Listen Up Denver!: How did you come up with your band's name?
Ignatius Reilly: We were debating what to call ourselves at practice one day and our drummer saw the book "The Confederacy of Dunces" on a bookshelf. We're all huge fans of this book that's set in New Orleans and the lead character is named Ignatius J. Reilly. The name seemed to be a good fit for us.
LUD!: What is the line-up of the band?
IR: Brock Elam (vocals and guitar), Eric Bullock (guitar and vocals), Ethan Ice (keyboards, keyboard bass and vocals), and Jeff "Birddogg" Lane (drums, percussion and vocals).
LUD!: How would you describe your sound?
IR: Acoustic and electric Rock 'n' Roll with a bit of Alt Country, with southern influence and a dash of New Orleans thrown in.
LUD!: Who would you count as major influences on your band?
IR: There are many, but Neil Young, Widespread Panic, Ryan Bingham, Anders Osborne, Dr. John, JJ Cale, The Beatles and Bloodkin are a few.
LUD!: How did you guys get started playing together?
IR: Ethan and Birddogg played together in several Colorado bands off and on for over a decade before Birddogg moved to Atlanta to play music there. Birddogg met Brock down South and they struck up a musical friendship. Ethan played several gigs previously with Eric and they worked really well together. When Birddogg moved back to Colorado, Brock had moved to Colorado too, wanted to put together a musical project and all the pieces just came together.
LUD!: Does anyone in the band have any formal musical training?  If so, what is it?
IR: A few lessons here and there when we were younger, but for the most part we are all self-taught.
LUD!: Where was your first gig together and how did it go?
IR: Denver's Highland Pacific in November 2013–it went great and exceeded our expectations.
LUD!: What's your favorite memory of playing together?
IR: Any show we actually can remember.
LUD!: Are you playing any shows coming up that you are particularly excited for?
IR: We have a southern Colorado run in July where we're playing Durango, Montrose and Crested Butte.
LUD!: What is your favorite song to cover?
IR: "The True Blood Assembly of Ravensville" by Jojo Hermann and Danny Hutchens
LUD!: What is the strangest request you've had at a show?
IR: Birddogg asked us to cover Dokken once.
LUD!: What was the first song you wrote together as a band?
IR: "Into the Dark," a song Brock had the initial ideas for but we all came together and contributed parts.
LUD!: Do you still play that song live?  If not, why?
IR: We definitely do.
LUD!: Have you released any of your material yet?  If not, do you have any plans to?
IR: We recently finished recording a 4-song EP called Seersucker Vest with Denver producer Chadzilla Johnson.
LUD!: What is your favorite venue in Colorado, and why?
IR: Cervantes' Masterpiece Ballroom, because it's a good space with great sound and the staff treats us too good.
LUD!: If you could play on any stage in the world where would it be and why?
IR: Red Rocks would be pretty hard to beat with that view.
LUD!: If you could open for any band or artist, who would it be and why?
IR: Neil Young—he has influenced all four of us in a big way.
LUD!: What is the most outlandish thing your band would consider putting in your backstage rider?
IR: Four fried chickens and a Coke.
LUD!: What is your band's drink of choice?
IR: Budweiser and Bourbon whiskey shots.
LUD!: Can you name a few local Colorado bands that are really impressing you right now?
IR: There's so much talent, but The Congress and the Fox Street All Stars come to mind as great bands and great people.
Audiophile. Logomaniac. I must get to the show.