Below is a feature that I wrote for The Marquee Magazine back in 2009 on the heels of Yo La Tengo releasing their 12th studio album, Popular Songs.  Yo La Tengo will be returning to Denver tomorrow to bring their unique brand of Indie Rock to The Westword Music Showcase.  It should be great fun to catch these guys right before Chromeo funks things up a bit, so please read a little about the history of this legendary indie band and then go check out the show.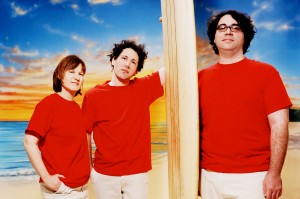 25 years ago it was 1984.  Ronald Regan defeated Walter Mondale in the presidential election, Transformers first appeared as a Saturday morning cartoon, Michael Jackson won 8 Grammy awards, and somewhere in the small town of Hoboken New Jersey, the husband and wife due of Ira Kaplan and Georgia Hubley formed Yo La Tengo.
Since then, the pair has released 12 proper studio albums and a host of other material that ranges from film scores to a covers album they released earlier this year under the name Condo Fucks.  While Kaplan and Hubley have remained constants in the band since its inception, the band didn't find its third permanent member, James McNew until 1991.  "I joined as a temp worker basically," McNew said in a recent interview with us.  "I signed on for a short trip through the Midwest and then a three week tour in Europe.  I was 22, it was in the spring and summer of '91, and it was amazing. I used to go see them, I bought all their records, and then all of a sudden that line between fantasy and reality took a beating and I was like, 'wow' here I am on the other side.  I am involved in the creation of songs by this band I really like.  I wanted to help write new songs and contribute ideas but also at the same time I didn't want to fuck it up!"
As a result of this somewhat star-struck feeling, it took some time for McNew to find his footing in the band and really begin to contribute to the creative process.  While he was involved in the recording of the Yo La Tengo albums, May I Sing With Me and Painful, both records were primarily made up of material that Kaplan and Hubley had written before McNew was on the scene.  It wasn't until after the touring for Painful had subsided in 1994 that he really became involved in the bands writing process.
"We basically just started practicing and playing everyday for the fun of it.  We'd make up songs and jam without any real goal as far as rehearsing for gigs, or learning cover songs for tours.  We'd just sort of mess around," he said.  "Through those practices and jam session we started coming up with ideas for songs as the three of us, and basically that's the songwriting method, or lack of method, that we have been using ever since.  We write as a band.  The three of us come up with these ideas together.  It takes a long time and it certainly isn't as efficient as writing at home and then going to practice and teaching the band how the new Yo La Tengo song goes, but it is a very exciting and, I think, unusual way of writing songs.  But that's how it happens."
Apparently, it is still how it happens.  Whether the group is writing songs for a new record, or for some of the soundtrack work they have been doing over the past several years, they are almost always writing in their Hoboken, New Jersey practice space.  In fact, for the first time, they recently recorded a full Yo La Tengo album in that same space.  "We have been doing a lot of movie soundtracks in the last couple of years and we have been recoding them ourselves on a little recording set up that we have in our practice room.  We really like the sound of the room and we are really comfortable there," McNew said.  "When it came to make this record we asked Roger Moutenot if he would be interested in throwing some of his equipment in the back of his car and driving up to stay with us for a while.  It was just the four of us constantly moving microphones and wrapping cables and it was really exciting to find out that we could make a proper album that way.  It really opened our eyes."
The result, Popular Songs, is a remarkable album that provides the casual fan with a window into the soul of the Yo La Tengo catalog.  It sinks its teeth into the listener with the darkly orchestrated Indie-Pop of the lead track on the album, "Here To Fall," before dropping the beat all the way to Heroin slow for the Hubley sung "By Two's."  "If It's True" bounces along in the style of an early 60's bubble gum pop song and before you know it the album has reached track 10 of 12 and it isn't even half over.  The last three songs clock in just shy of 38 minutes and run the gamut from the experimental ambient sounds of "The Fireside" to the 16 minute, Sonic Youth-esque, noise-rock marathon "And The Glitter Is Gone" that closes the album.
What the band makes perfectly clear with this record is that 25 years down the road they are still going strong and producing some of the most creative material of their storied career.  Who would have thought at this point we would have our first African American President, that Transformers would be a blockbuster, multi-million dollar film franchise, and Michael Jackson would have passed away at the age of 50.  It is funny how time seems to affect some things so strongly and while it leaves others to mellow with grace.

Music has always been a part of my life. It probably all started listening to old Grateful Dead, Peter Paul & Mary, and Simon & Garfunkel records that my parents had, but it wasn't long before they were taking me to concerts like Starship, Crosby, Stills & Nash, and Huey Lewis & The News. I got the bug to write about music after reviewing an Eric Clapton concert for a creative writing project in high school but didn't really take it up seriously until 2002. Since then I have published countless articles in The Marquee Magazine and done some work for Jambase.com, SPIN Magazine, and various other outlets. I started Listen Up Denver! as a way to share the music information that is constantly spilling out of my head with people who care. Please enjoy!