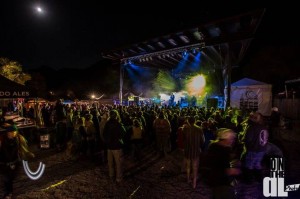 Photo by Dylan Langille
The Second Annual Beanstalk Music and Arts Festival took over State Bridge this past weekend in beautiful Bond, CO. Youths in dreads mingled with bearded older folks, while bright-eyed flower children rubbed shoulders with the tenured hippie chicks. At State Bridge, families will party with the young and the restless, just so long as their kids are equipped with the most state of the art headphones. Music brings these crews together and they couldn't be happier.
However, State Bridge is going through a bit of a funk these days. Shuttling attendees from the two campgrounds to the venue has always registered as a struggle for the organizers, but this time around no shuttles were even offered from the pristine campgrounds of Rancho Del Rio. Concertgoers had to rough it in the sketchiness of BLM. The area is hilly, rocky, and rough in more ways than one. You can find neighborhoods of tents nicknamed things like "The Ghetto" and hear of strange new drugs you'd never want to try. The one porta potty that BLM set up was never cleaned. Not once. People were there for four days. Is this appetizing you yet? Those who paid VIP were promised "all you can drink" for the 3-day fest, but the venue ran out of beer that Saturday. Food wasn't served until 3pm and ran out at 7pm that night. But never fear, future BLMers, there is one perk that Rancho lacks: a walking path to the venue. It might be taped off by caution tape at the moment and a bit of a hike, but hey, anything's better than riding broken down shuttles that might stall out at 2 a.m. Either way, you'll need your hiking shoes. All glum pessimisms aside, BLM provides such an impactful experience that it makes for quite the story and lasting memory. The people are mad and they dig good music. Just know how to build your own waste hole in the woods.
Now to the tunes: The music this year was unmatched to many of the State Bridge festivals preceding Beanstalk because of its surprisingly prominent lineup and inevitable collaborations. Thursday night MVP undoubtedly goes to This Must Be The Band, a Talking Heads tribute. Although The Magic Beans set the ambivalent tone of the night, This Must Be The Band stole the show. They were funky, reggae-fied, and jamtastic, all in one. If you have the chance to catch them, (pretty please) go!
Sunsquabi, a funk-electro Boulder trio, amped up the second night with intergalactic sounds similar to that of Conspirator and Emancipator. Jam band masterminds, Particle, came next stealing away the funktronic show with their version of space-disco jam. Not too long after they left the stage and the Beans brought on a little bit of their own magic, Particle joined in for some Talking Heads tributes (round 2)! It's hard to say who exactly took the prize this night, but the collaboration between Particle and the Magic Beans may have been one of the better Colorado dous this festival season.
The final day was swept away by Yamn, The New Mastersounds, and the Magic Beans's final set. Yamn wowed the crowd with a cover of The Darkness's "I Believe in a Thing Called Love" and the Mastersounds looked classy as always in their suits and jamming good charms. What better way to end a weekend of interstellar and [mainly] Talking Heads covers than to bring out the Mastersounds for the Beans's last hurrah. Seeing these tenured British beards jamming alongside the freshly dreaded Boulderites brought the whole weekend full circle.
Local Colorado musician, Andy Thomas, was quoted recently speaking on Colorado's genuine music scene: "Man, we are so spoiled playing music here. You can play with any type of band, in any type of venue, on any day of the week, and, with a few exceptions, no one is a d**k." Even with its blunders and imperfections, State Bridge allows for such a beautiful community of lifestyle and living, and with a few exceptions, no one is a d**k.

Lindsay was born in Georgia, raised in Florida, and moved to Colorado when she turned 18. All Lindsay asks for in life is music, hoppy beer, and the written word. The necessities of family, friends, water, and food naturally follow.