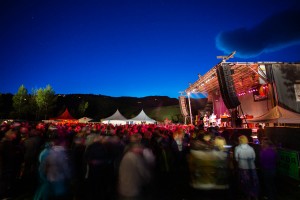 Photo by Jeremy Swanson
Saturday June 14th

I made it to Snowmass Village with what I thought was plenty of time to settle in to our hotel and jaunt up to the free chili tasting early Saturday afternoon. Unfortunately once we arrived many of the vendors were completely packed up and ready to get out of town. Because of my apparent tardiness I was only able to try one amazing red chili, one mediocre red chili, one green chili that would have been best smothered over a breakfast burrito, and one mango salsa. All the other chili vendors were done. Lucky for us we still had another hour before the beer tasting began and I'd have been damned if I'd miss that!
​This year Snowmass Mammoth Fest featured over 25 breweries each pouring two different drafts. When I received my first three ounce pour of an imperial IPA that was 10.2% ABV I knew I needed to pace myself. Unfortunately with all the choices in beer and only a couple hours to try them, that wasn't what happened. Thankfully there was music to distract me from the excessive amounts of craft beer. The line-up for Saturday consisted of the Wheeler Brothers, Nathaniel Rateliff, Houndmouth, Xavier Rudd and Leftover Salmon. My musical highlights from this day were definitely the two headliners.
​I had just recently had the opportunity to work with Xavier Rudd at the GoPro Mountain Games in Vail the weekend before so I was super excited to see him again. Xavier has recently added a touring bassist and drummer. While I have always appreciated Xavier on his own with his plethora of guitars, dobros, and didgeridoo there is a wonderful fullness that has been added to the show with a continual drum beat and bass line. The energy onstage and interaction between all three musicians was enjoyable.
​After Xavier came one of my Colorado favorites, Leftover Salmon. Their self described "Polyethnic Cajun Slamgrass" music never fails to get the crowd moving. Salmon was joined on stage by Bill Payne from Little Feat who they have been touring with off and on for over a decade. Payne even produced Salmon's self titled album, released in 2004. With a combination of covers, Salmon originals, and a few Little Feat goodies, even though the night was damp and cold, the feeling in the crowd was warm and welcoming.
​After the show we went back to Snowmass Village and played (or attempted to play depending on who you ask) some pool and shuffleboard. P.S. Some members of Salmon take their shuffleboard playing very seriously. I won't mention any names though. *cough* Vince! *cough*
Sunday, June 15th
​Picking up the pieces of the night before is hard when a water main busts and I can't use a shower to gather my wits. But somehow I managed and got down to the festival grounds early for a full day of music. All of the beer vendors were packed up and put away adding to the open feel on the grounds. Perhaps that is not the best thing for a promoter's bottom line but it was a great bonus for everyone who went.
​The London Souls were first up. While I had heard great things about them prior to this show their performance never really pulled me in. There was some really good moments but it felt like they were missing the balance between precision and dirty guitar playing and always falling slightly too far to the dirty side.
​Next up was the Royal Southern Brotherhood which was lead notably by Devon Allman and Cyril Neville. Here was the balance between Rock and Roll, dirty guitar and the precision I was looking for. Watching Devon Allman play lead it's obvious the apple doesn't fall far from the tree. The man is a beast and a sexy one at that. Cyril Neville brought a little of that New Orleans Soul to each song and second guitar player Mike Zito kept everything on point.
​The Motet next up brought their own style of Funk and dance to the crowd while I shared a hamburger and some good conversation with one of the aforementioned guitarists. The thing about The Motet is I have never heard them play "The Motet." When I see them it is usually The Motet playing a night of Parliament Funkadelic or The Motet playing a night of songs from 80's. It was nice to know that while they play covers within the set they can still rock their own style and songs. I think I need to make an effort to see them more often.
​After that came my favorite act of the weekend and always a combo I look forward to hearing. Les Claypool's Duo De Twang. That man slaps a bass like no one's business and he makes it look so easy. They started off their set with the old Primus song "Winona's Big Brown Beaver" and only Les Claypool can appropriately play such an inappropriate song. They continued on through some other Primus oldies, some newer Duo De Twang songs and some great covers including what Claypool stated was "quite possibly the best song ever written throughout the history of mankind" (FYI–that song was the BeeGees' "Stayin' Alive"). Cracking typical Claypool jokes throughout the set and eventually being joined onstage by Chris Robinson, the man who says he tunes his guitar now because he's not playing in Primus, gave me the show I'd been wanting for the entire weekend. I do have a side note directed specifically to Les. You can stop at one Grateful Dead joke. We get it, we are in Colorado. Yes, a lot of us like that hippie music.​
​Closing out the weekend was the Chris Robinson Brotherhood. I was surprised how psychedelic and soft their sound was. I guess I should have known better than to think they would sound anything like the Black Crowes. While they were the headliner for this day and for the festival at large I would have enjoyed a little flip flop in the daily line up. The Brotherhood's sound was a little thin for my tastes and didn't seem to warm the crowd as the sun started to drop behind the hills. Perhaps for my palette everything can sound thin after getting a lesson in bass from Les.​
​The music ended at 8pm on Sunday giving everyone enough time for a good dinner and a few more cocktails before dropping into an early bed. I was up in time on Monday to drive home before work and feel pretty good about myself. Whether your tastes run from chili to beer to music you will find what your heart desires in Snowmass at Mammoth Festival.

Jenna Stecker is a freelance writer and music enthusiast who has lived in the Vail area for 7 years. She has published articles in multiple local and regional Colorado publications. When she is not hiking with her boxer Marley you can find her spinning circles inside of a hula hoop.