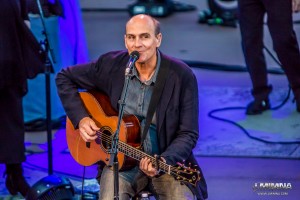 Photos by Jim Mimna
James Taylor opened his sold-out two show run at Red Rocks to a very eager boomer crowd ready for the icon to bring the hits.  Taylor's voice has aged remarkably well, his tones are as warm and soothing as they were in his heyday.  The weather was also warm, a perfect summer night. Some said the setlist was perfect as well with some deep cuts and plenty of hits, no one left unhappy.
Set 1: Something in the Way She Moves, Today, Today, Today, Lo and Behold, Believe It or Not, Everyday, Country Road, Millworker, Never Die Young, Carolina in My Mind, One More Go Round, Sweet Baby James, You've Got a Friend 
Set 2: Stretch of the Highway, You and I, Handy Man, Hour That the Morning Comes, Steamroller Blues, Only One, Fire and Rain, Up on the Roof, Mexico, Your Smiling Face 
Encore: How Sweet It Is (To Be Loved by You) 
Encore 2: Shower the People 
Encore 3: Wild Mountain Thyme
Capturing life in various forms is what I do. I consider myself an archivist by nature. It is not a career choice that I consciously made, but it is something that has called me. I strive to freeze a moment in time with every frame, a moment that can retell its story with each viewing, forever. I also have a deep passion for music and have been photographing and recording live music for years. Capturing the energy and magic of a live performance in a photograph is one of my passions. In addition, I enjoy photographing in a wide variety of settings, from wildlife scenes to family portraits and everything in between. I am a lover of the earthscapes that we see all around us every day, both natural and manmade, and aim to make unique images that do justice to their beauty. Where others see darkness, I see streaks of light through long exposures. I shoot a very wide variety of subject matter including individual/family portraits, event coverage, landscapes, live concert/performance, HDR, product and commercial photography, architectural, weddings, food, and editorial photo journalism. With artistic expression, I aspire to create visual art that speaks volumes.