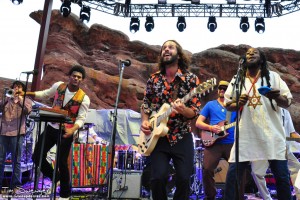 Photo by Tim Dwenger
Why You Should Go: Afrolicious has established themselves as both one of the most legendary weekly parties in San Francisco, and of the top live/electronic bands on the scene. Started as a weekly dance party featuring DJ's and brothers Pleasuremaker and Señor Oz alongside percussionists, MC's and horn players, and an amazing crowd from day one. Over the years it has evolved as founding DJ/Producer Pleausremaker (Joe McGuire) alongside brother Señor Oz (Oz McGuire) hooked up with some of the most exciting personalities in the Bay Area music scene and started writing original music under the alias Afrolicious.
Paa Kow is an internationally renowned drummer player, bandleader, composer, and teacher of music. Growing up in the small village of Enyan Denkyira near Cape Coast in Ghana, West Africa, Paa Kow began to play music and tour with his family's concert band at a very early age.  He has since grown to be widely recognized as one of the most remarkable drum set players to tour in Africa, Europe, and America. Paa Kow's deep groove and prodigious talent reveal a unique ability to speak to listeners with his drums, inspiring a profound spiritual conversation. His songs are captivating and danceable and incorporate lyrics in his native language, Fante, as well as English.  Paa Kow's vision is to spread the music and culture of his homeland by touring the world with his Afro-Fusion orchestra.  Afrolicious and Paa Kow will be supported by local favorites Atomga making this a night of Afro-Beat music you don't want to miss!
Venue: The Boulder Theater, 2032 14th Street, Boulder, CO 80302 – 303.786.7030
Doors: 8:30 pm. Show at 9:00 pm.
*Price: $12.50 Adv. $15.00 DoS.
Purchase Tickets
*All prices are gathered from other sources and we are not responsible for mistakes or inconsistencies. They are intended only as guidelines. Please, always call the venue if you desire the most accurate information possible.