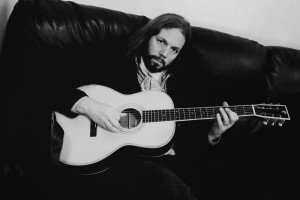 Photo by Laurent Chanez
"The ceaseless sight on the horizon, into the day, we'll ride away and never to go backwards on our road again…" A line snatched from "Down The Road"–a standout track from Rich Robinson's most recent release The Ceaseless Sight gives significant insight into themes of change, forward movement, and personal growth that are present throughout the album's twelve tracks. For an artist who has spent the better part of 25 years enjoying success on the road and in the recording studio as a founding member of The Black Crowes, one could assume that leaving the nest might be a scary proposition. If the music on The Ceaseless Sight is any indication, Rich Robinson is shaping an entirely new musical identity.
His third solo release in ten years certainly sounds like his most natural: incorporating musical elements that Crowes fans might find familiar, while embracing sounds, styles, and rhythms that are far outside the scope of anything he's touched on with his brother Chris. Robinson's signature guitar style is still at the core of every tune, from delicate, pastoral acoustic fingerpicking to full on raunchy Rock 'n' Roll riffage and wailing solos, but the new record also brings into full focus Robinson's voice and truly unique melodic sense — something the guitarist admits he hasn't been as comfortable with in the past. The record opens with the rowdy barrelhouse piano-charged "I Know You," a classic kiss-off containing lines like "I know you, you got a penchant for fallin', you grabbed my neck and threw me into the cauldron." Tracks like "One Road Hill," "The Giving Key," and "I Have a Feeling" showcase a new-found depth of expression in Robinson's voice, much more in the vein of a Nick Drake or the softer side of Crosby, Stills & Nash than one might expect given the sound he's cultivated with The Black Crowes.
Falling in line with the theme of change, the making of The Ceaseless Sight also signaled drastic changes in Robinson's approach to songwriting and studio work. In a departure from his usual routine of working songs into shape gradually over time, Robinson entered Applehead Studio in Woodstock, New York with fewer refined ideas, hoping that a more spontaneous approach to the project might be a welcome change in his creative process. Collaborating with longtime drummer Joe Magistro, Rich first recorded all the guitars, bass, and vocals himself before bringing in any other players to add to the tracks. Amy Helm (daughter of Levon Helm of The Band) provided some beautiful harmony vocals on a few tunes, and the work of keyboard maestro Marco Benevento is another highlight of the record as well. Some of the best "ear candy" on The Ceaseless Sight is provided by Benevento, always tasteful and interesting — whether it's touches of Bluesy piano, Gospel inflected organ, or gentle washes of ambient, psychedelic color. Having recorded and toured with world-class keyboard players ranging from Chuck Leavell (Allman Brothers, The Rolling Stones) to John Medeski of avant Jazz trio Medeski Martin & Wood, Rich had nothing but praise for the up and coming Benevento: "Marco came in looking like a young Leon Russell, heard the stuff once, and just killed it," Robinson said during a recent interview with Listen Up Denver!  He's also just a super positive guy. Phenomenal ears."
In addition to composing all the music and performing the lion's share of recorded parts, Rich also produced The Ceaseless Sight on his own; calling the shots on performances, sounds and song arrangements. In his tenure with The Black Crowes, Rich had the opportunity to work with and learn from with some of the biggest names in Rock 'n' Roll production (Brenden O'Brian, Don Was, Kevin Shirley, and George Drakoulias to name a few) but has opted to take the reins himself on his own records. "I've been in the studio for 25 years and hopefully learned a thing or two, so I figured I would just get in there and do it," he said. Making all the production decisions on his own records and taking a different approach was a breath of fresh air for Robinson. "It wasn't a whole lot of fun in the studio with The Black Crowes post-2005… Pretty tumultuous times."
The combination of knowledge gathered from those experiences, along with an increasingly spontaneous approach to composing and recording paid off on Robinson's latest release. The record does have a more earthy feel than his past two efforts, recalling great acoustic-infused rock records like Exile On Main Street and Led Zeppelin III, particularly in its sound and simple atmospherics. Acoustic guitars gently intertwine with ear-catching percussion and warm keyboard sounds in some spots while the ragged clang of Robinson's Fender Telecaster and walls of Hammond organ collide in others. Emphasis on more natural tones and honest performances, over clever editing and shaping what might be considered a more "current" or "high fidelity" sound is clearly a priority for Robinson. "The way Levon Helm approached playing drums was different than anybody else or when you can hear John Bonham's kick drum squeaking. That's what brings you into the room when you listen to those records," he said.  "These days, people would Pro Tools that shit out… There's no such thing as drum feel on popular records now because everything is picked apart on the computer. The purpose of music to me, personally, is the human element. There's push and pull in great music, good film, everything in life."
During the 25 year run with The Black Crowes, Rich and Chris Robinson pushed and pulled their way to a string of creative and commercial successes. Between hit records and relentless world tour schedules (including a legendary pairing with Jimmy Page performing the songs of Led Zeppelin) the brothers cultivated a catalog of songs that's still resonating at Classic Rock radio and on movie soundtracks many years past the Crowes' commercial peak. On the flip side, the Robinsons also rode a well-documented roller coaster of frequent and problematic record label disputes, infamous infighting, substance issues, and multiple personnel changes–all the usual pros and cons of being in a big Rock 'n' Roll band–many of which surely contributed to Robinson's desire to reboot his career and do things on a more grassroots scale by opting to release The Ceaseless Sight via indie label The End Records, and embarking on a world tour featuring dates in some of the most intimate rooms Rich has played in years.
When he turned to discuss the current state of music industry, Robinson had a more positive slant than one might expect from someone who enjoyed commercial success during a time when album sales were still breaking records. "You know, Jazz was the popular music for a time… Now Jazz still exists, but on a more discerning level… Rock 'n' Roll isn't going away, it's getting smaller and more selective." When pressed for some of his recommendations, "It's not all shit, you just have to look harder," Robinson joked, "Joanna Newsom, Vetiver, Buffalo Killers, The Fruit Bats, Heartless Bastards, The London Souls… There are a lot of really great young bands that are out there that get it." No small praise from someone who's stood toe-to-toe on stage with members of Led Zeppelin, The Allman Brothers, and The Grateful Dead.
Those lucky enough to see Rich Robinson on tour this year will catch the legendary guitarist at a creative peak. As he embraces the more dynamic sounds heard on The Ceaseless Sight,  Robinson continues to cement his place among guitar legends, while stepping out as a gifted singer and songwriter in his own right. Though questions about the status of The Black Crowes "indefinite hiatus" are still posed to the guitarist on a regular basis, it's clear that he's focused on forging ahead on his own, still extolling the virtue of Rock 'n' Roll music served with passion and drama. "At the end of the day what we're talking about is expression… You listen to something like The Beatles or Steven Stills, and they're singing about everyday human experiences in a way that means something to people… It's supposed to be above junk food, above gratuitous violence or sex. It's supposed to be mythological in a sense… That's what has always moved me about music and songs. Why can't you have that now?"
 Rich Robinson
w/ Fox Street
Cervantes' Other Side
July 2nd, 2014
PURCHASE TICKETS