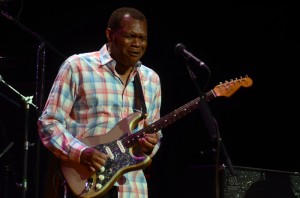 Photos by Todd Radunsky
The Scene: Robert Cray, one of the world's great Blues guitar icons, as well as the youngest musician to be inducted into the Blues Hall of Fame, brought his unmistakable sound and incredible talent to the Denver area Friday evening, playing the intimate Arvada Center. The venue wasn't packed, but it was mostly full, and the crowd of Cray fans, mostly over 35 years of age, were nothing less than enthusiastic and knowledgeable.
Opener: Lionel Young Band Featuring Arthur Lee Land.  These guys are all about soul and talent.  The band mixes Lionel Young, who is as gifted at playing Guitar as he is playing the rare, but very effective, electric Blues violin, and Arthur Lee Land, who completely tears it up on the Fender Telecaster. Both of these musicians are seasoned vets, playing around the world with their own bands, as well as playing with other great and talented artists over the years.  Lionel's newer project with Arthur Lee Land seems to have a great chemistry and onstage energy.  I look forward to seeing and hearing them again.
Robert Cray Band:  Much of the crowd clapped and sang along to almost every tune and always offered a passionate response when Robert Cray finished a song.  It would have been nice to see more than a handful of 20 somethings at the show, to represent the new generation, but alas Cray once again proved that he's one of the best triple threats on the planet no matter who's in the audience.  An understated, silky smooth voice, unique and emotional guitar tone and talent, mixed with intelligent, meaningful songwriting is what makes Cray so special.  His longevity in the business and the number of people and musicians he's inspired should say a lot about his place in music history.
The band that surrounds Cray, consisting of soulful keyboard player Dover Weinberg, longtime childhood friend Richard Cousins hammering the bass, and Les Falconer playing drums, are incredibly tight and full of great energy.  They're a perfect compliment to Crays tone and playing style.
Cray, now past 60 years of age, still has no problem bringing the house down in different musical ways.  On numerous occasions Cray hit high notes on the guitar that made the crowd get up out of their seats and shout their appreciation.  Yet, in other moments, he used his soulful, sometimes soothing voice to bring the energy down to a sexy standstill as the ladies shouted his name, and told him they loved him.  Cray, a true pro, simply and constantly has the audience in the palm of his hands.
Robert and his band continue this tour hitting the road to more than two dozen cities around North America.  Catch him if you can!
Energy: B+
Sound: A-
Musicianship: A
Stage Presence: A-
Set / Light show: B-
Overall: B+
I work in the music industry photographing bands live and offstage for publicity. My work includes shooting concerts, festivals, and portraits of musicians and bands. I shoot for promoters, record companies, publicists, magazines, band managers, and individual musicians. I also photograph weddings, and portraits and have traveled the world to do so. I've shot weddings in Cali, Ireland, Mexico, Cape Cod, and Amsterdam to name a few.