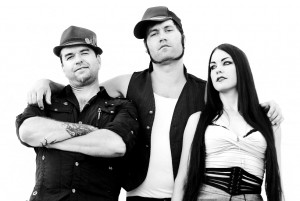 Listen Up Denver! had the privilege of sitting down with Sidecar Tommy, Zoe Jakes, and David Satori of the genre-bending world-fusion group Beats Antique before they walked on stage to open the sold-out Bassnectar show this past weekend at Red Rocks Amphitheater. Here is what they had to say about their fast moving project steeped in a never ending drive to create.
Listen Up Denver: It's a real honor to sit down with you three. Your cutting edge sound and new age approach to timeless music seems to really be making an impact on not only the electronic scene, but the music scene in general. Is this your first time at Red Rocks?
Sidecar Tommy: We played at the Monolith Festival a few years ago. We actually played at what is today the merch tent. So it was just this really tiny stage, people would just walk by it.
David Satori: Yea it was about two years ago. There were five stages set up on the Red Rocks premises and we got the tiny one.
LUD: Being that this is your first time on the main stage, what was your overall impression of the venue?
ST: Just amazing. Standing out there, looking up and imagining the place full. It is just going to be so cool.
DS: It's just epic!
LUD: Can you explain a little about where Beats Antique came from?
Zoe Jakes: Tommy and I met a long time ago in a band called The Extra Action Marching Band. Then we played in The Yard Dogs Road Show and from those projects learned a lot about performance art, music, live shows and just how to entertain people.
DS: I was playing in Ambrosia at the time. Then Tommy and I met through a mutual friend named Derick Ion. He has had some interesting involvement in the band. He helped named us; we actually started as Antique Beats.
ZJ: Yeah! He was like "No that sucks! It should be Beats Antique!"
DS: He was just an interesting guy I met and he told me I need to check out a band in the Bay area by the name of Breakfast, and meet this producer/drummer: Sidecar Tommy. Prior to that introduction I had also seen the marching band they were in at a street festival in San Francisco. I was just looking for a drummer to do a gig with and went up to him and asked him to help us out.
ZJ: We've been playing for about 4 years, well, that was when the first album was released.
DS: It was about 2006 when we started talking about it, 07 when we started actually working on it. So it's been about four years in total.
LUD: Have you been touring the entire time?
ST: No, actually just the last two years. At first we never even intended on performing. It was just supposed to be a single record and that then turned into two records. By the time that happened, our friends convinced us to DJ.
ZJ: They kept on saying "So, I want you to play the party!" and we all were like "What the hell does that mean."
ST: "What do we do . . . and how?" Because we have so many instruments in our sound, it's just not feasible.
DS: definitely not feasible to bring a 10 piece band on the road. I was in a 10 piece band; these guys were in a 30 piece.
ZJ/ST: It's really hard and you just don't make money. We had not made money for many years so we just decided we had to figure out how to do it with just us three.
LUD: You've gone from not knowing how to DJ the party to playing at in front of a sold out crowd at Red Rocks. Can you put into words the emotions and feelings going in all this time leading up to the when you take the stage?
ST: It's been a long fun journey, you know? We've gone through a lot of changes, a lot of refinements. Our sound has changed a lot. When you are performing live you start thinking differently about how you are producing your sounds, how you are going to perform them. It is basically figuring out how to take the limitations of only three people and turning it into this giant sound. We've just been constantly reinventing ourselves.
ZJ: We want to figure out how to put on a giant show with only three people.
LUD: You said you went into the project only intending to do one album, but the visual aspect has become almost equally important as what is going on sonically. How did that come about?
ST: Let me give you some history. The project basically started as making an album specifically as a soundtrack for belly-dancers and other performance artists to perform to. So, there was a performance aspect to it for sure, that's what it was put together for. However, it was for other people, not really for us, to present to.
LUD: Going into it you never anticipated reaching the sort of audience you are performing for today?
ST: Not at all, our crowd . . . well our anchor crowd, has really been all of these performance artists that have performed to our music all over the world. If you go to Youtube and search for "Beats Antique," you see all sorts of other people with videos of them performing to our music. It's really cool.
LUD: On top of all of that, you guys also record with countless artists. Harmonica Virtuoso; John Popper was featured on your last album. How was it working with him?
ST: We found out we share the same manager, and knew we were both going to be at South by Southwest, so we decided to get him to sit in with us. Afterward asked if we could record that song with him and ended up sending an engineer to his house and recording him on his couch.
DS: I remember going to see Blues Traveler in high school and being blown away by him. There is no one that plays like him. It was just great to have a musical legend we all respect contribute to our sound.
ZJ: It's just incredible working with these musical masters of their form.
DS: We have a list of people we would love to work with. We actually did a tour with Les Claypool and talked about working with him a little, but we're not too sure if it will work out.
ZJ: That would be our Dream!
LUD: I could only imagine! Do you guys bring any of the artists you work with on tour with you?
ZJ: We actually have three people on this show.
ST: We have Sylvain Carton with us. When we bring someone out on the musician side it's always him. Sylvain plays almost all the clarinet and a lot of the saxophone that you hear. Pretty much we are bringing the guy that we record the most. He is such an important part to our sound that we try to have him play whenever we can afford to fly him out. Also, Zoe has her dance troupe out here.
LUD: Sounds like you've got quite a show set up. Can you guys try to put into words and describe how it feels to end a set and the emotions going on when you walk off the stage?
DS: Its pure adrenaline. Sometimes its half exhaustion, almost like you've just ran a marathon.
ZJ: I feel like it's a combination of the best sex you've ever had, plus the best achievement you've ever done, plus all of the adrenaline and energy you are feeling in combination with all of the energy from the audience. It's just like holy shit! It is multiplying the most incredible experience by thousands!
ST: Its really ridiculous, so much energy. Everyone is just a giant sweaty mess. It's really just a mind-fuck. For example we just played Bonnaroo last weekend for 20,000 people. We were able to say "scream" and 20,000 people screamed. It was surreal, definitely the pinnacle so far.
LUD: Wow, from not even expecting to perform to standing in front of 20,000 folks in only four years.
DS: Yeah, it's been a really fast ramp for us; I mean we've been doing this our whole lives. But as far as this project, we have been moving really, really fast.
ST: I always thought that "maybe, the only way I was going to get to play in front of a whole bunch of people would be as someone else's drummer." Just as a professional and end up in a situation, where at that point you might not even like the music. With this, it's like I love these guys, we are best friends and I look at them like my family.
ZJ: The one thing that we all have, and why I think the project works so well, is that all three of us share this really intense drive to create. See, you guys get the album and we're already half way through the next one; trying to figure out creatively where we are going. We are inspired just in the creation of the sound.  It's really a never ending process.

I rode my skateboard from school in 7th grade to my buddy Vince's house where he put on the song "Perfect Government" by NOFX and I was hooked. The next day I bought the album Duh by Lagwagon. The next year I saw Against Me! at the Starlight Theater in Fort Collins, my mom dropped me off. I've since devoted every waking hour to anything done with passion. My speakerbox bumps everything from Lil' Wayne to Pablo Casals. I was never very good at making music, but I am damn good at listening to it. I've been filling up yellow notepads with random thoughts and misspelled words for as long as I can remember. I enjoy whiskey of all sorts, Newport cigarettes and the company of my family. I've got an addiction to run-on sentences that I'll probably never cure. A solid handshake with a stranger who has become a friend over a few beers means the world to me. You'll often find me wide eyed and wandering with an ear to ear grin. I live for funky break beats and spreading the love.