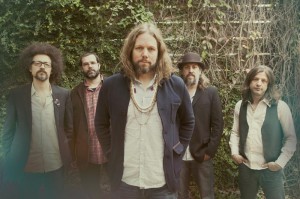 Why You Should Go: After the release of his third solo album The Ceaseless Sight, Rich Robinson, best known as the guitarist, songwriter, and founder of The Black Crowes, stands ready to complete the solo artist evolution that he began ten years earlier.  A worldwide Black Crowes tour kept Robinson busy in 2013, but he found the time to return to Woodstock to record The Ceaseless Sight. The album finds Robinson stepping solidly into his own as a solo artist as he adds confident vocalist and lyricist to his accomplished musical resume.
Fox Street boasts a big, soulful rock n' roll sound laced with three-part harmonies, screaming guitars, soulful sax, and a devastatingly funky rhythm section. It certainly helps that the members of Fox Street share varied influences throughout American roots music — blues, jazz, country and a whole lotta funk — but also having shared the experience of taking Fox Street on the road together gives the band a certain tightness, a dynamic range that simply cannot be acquired any other way. Over the past five years, Fox Street played hundreds of shows, maintained a relentless coast-to-coast tour schedule.  Do yourself a favor and check out this night of great music!
Venue:  Cervantes' Other Side, 2635 Welton Street, Denver, CO 80205 – 303/297-1772
Doors: 8:00 pm. Music starts at 9:00 pm.
*Price:  $20.00 Adv.  $25.00 DoS.
Purchase Tickets
*All prices are gathered from other sources and we are not responsible for mistakes or inconsistencies. They are intended only as guidelines. Please, always call the venue if you desire the most accurate information possible.