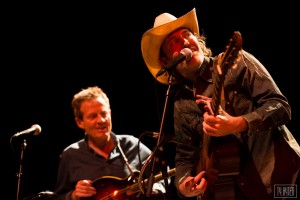 Photos by Ty Hyten
The Scene: It was a tiny bit of a buzz kill to walk into a venue and see tables full of gray haired couples filling up the Boulder Theater. That's not because I'm agist or even one to dance, but I just wanted to be in a lively room for an artist like Dave Rawlings. His Bluegrass infused good time guitar pickin' isn't something I wanted to glance at from afar while pondering if I had taken my Celebrex for the day, so we stood awkwardly, beer in hand, on the somewhat empty floor of the theater for a spell. As showtime neared the floor filled with people of my same enthusiasm and the show that unfolded was just the energy I had hoped for and a standout night with a few big names in music.
Dave Rawlings Machine: A day or two before the show I got to wondering and worrying about Gillian Welch. It was her name on the bill that made the show a must for me and I was concerned that she might just be an opener or a small piece in the band, so I ventured to the Boulder Theater website for more info. Much to my surprise I realized I would be seeing a bit of an Americana supergroup that included Willie Watson (Old Crow Medicine Show) and John Paul Jones (Led Zeppelin). I would have paid just to see Dave and Gillian tune their guitars, so the addition of Willie and a legend like John Paul Jones was pretty damn exciting.
When the five members of Dave Rawlings Machine walked out on stage I got a feeling that I rarely get, a nervous joy to be that close to musicians as amazing as Gillian Welch, Dave Rawlings, and John Paul Jones. The group was dressed in their Nashville finest with cowboy boots, hats and enough denim to make old Levi Strauss blush.
The night consisted of each member taking the lead on songs backed by the fabulous voices of their counterparts. It was clear from the banter that the group was flying by the seats of their pants in what was the second night of a limited seven show tour. It was a twenty song, two hour mix of originals and covers with a healthy dose of guitar and mandolin runs between verses. Dave Rawlings held the largest share of the songs but it was the songs of Gillian Welch and Willie Watson that stuck with me most.
Three guitars lined the stage much of the night with Gillian and Willie strumming chords in tandem, leaving the fireworks to Dave Rawlings whose picking was frantic, tempo-shifting and emotive. Dave and Willie also both took turns playing clawhammer banjo. John Paul stuck to somewhat unexciting tremolo mandolin strumming and brief stint on the fiddle in a duel with Willie at the end of the night. His playing was by no means bad but I was left feeling like his contribution may have been more in the form of filling extra seats than adding much to the music.
Standout songs included Gillian's "Wayside/Back In Time," Dave's "Bells of Harlem" and "It's Too Easy," Willie's "Keep It Clean," the notable Led Zeppelin cover "Going to California," and the Dave's "To Be Young" (made famous by Ryan Adams). Dave told the story of performing "To Be Young" with Ryan Adams at a party in Nashville and when he saw Ryan later that week Ryan had no recollection of playing it. Willie Watson sang perhaps the best cover of the traditional Folk song "Midnight Special" I think I've ever heard in his Roy Orbison meets Hank Williams timbre.
The night ended with the three song encore of "Going to California," "Look at Miss Ohio" and a cover of The Band's overused "The Weight" that was predictably well received.
The collaborative effort that was the Dave Rawling's Machine was a unique opportunity and the night left me feeling warm. I could have used a lot more of Gillian and Dave playing Gillian's songs together, but that wasn't what was on the bill, so I can't complain.
Energy: B
Musicianship: A
Sound: A
Stage Presence: B
Set/Light Show: C-
Overall: A-