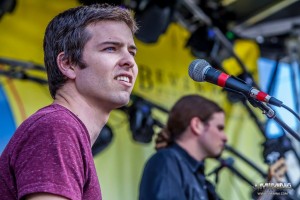 Photo by Jim Mimna
Crashing into the local music scene like a wild animal, Tiger Party is the latest and greatest Electro/Funk/Jam superband to spring up in Denver. The "collaborative music project" is an amalgamation of East coast and Denver influences and and talents. Led by keyboardist Blake Mobely, the group has talent from the likes of STS9, Lotus and The Motet within its ranks (just to name a few) and seems to impress Denver more and more with each performance. Most recently, they rocked the main stage at the LOHI Music Festival, confirming that this band is ready to let the world hear its roar. Their second album, "Made of Stars," is set to be released July 12. We sat down with Mr. Mobely and chatted about the creation of Tiger Party as well what the group sees on the horizon, and he kindly offered us an exclusive track off his latest release to share with our dear readers… Listen Up Denver!: How did you come up with your band's name?
Blake Mobely: That's actually a bit of a story right there… So I used to play in this band called Damn Right!. On one particular piece of promo we put out, the drummer and amazing graphic designer, Tommy Bradel, playfully added in the words "Tiger Party" to a poster. Maybe I'll try and dig it up and send it over if I can find it, I'm pretty sure there were tigers and laser-beams involved? Anyway, when my time ended with the band, I think in part I wanted to pay tribute to DR! and my time spent with them. Simultaneously I was reading about this collective of black musicians in the '80s who called themselves The Young Lions.  They were young, fiery musicians pushing what we now call Neo-bop and many ended up creating quite a name for themselves.  They were a collective/rotating cast and I remember reading about Wynton & Branford Marsalis, Wayne Shorter, Lee Morgan and one of my favorite living sax players – Joshua Redman among a few others. It's crazy but not unpredictable that many members of The Young Lions became such prolific writers and players after going through the musical process with such talented players!
So I figured if the Jazz scene could have their lions, maybe the Jam scene could have this collective of tigers?  And then Tiger Party just kinda made sense.
LUD!:
What is the line-up of the band?
Blake: It's constantly rotating which is the fun part! Off the top of my head, we've have members of STS9, Lotus, The Motet, The Malah, O-Neb, Kinetix, Atomga, The Bridge, Brothers Past, John Kadlecik Band…and many more…and all in the last year or so!
LUD!: How would you describe your sound?
Blake: While the musicians are constantly rotating, I'd say we are generally hovering around Funk and Electronic music with an emphasis in songs. These songs that have been written to sort of be flexible and change depending on the personnel for the night.
LUD!: Who would you count as major influences on your band?
Blake: Every player who comes in has their own. But this question has always been a difficult one to answer… I've personally been inspired by everyone from M.J. to MMW to MMJ. Jimmy Smiths to Jimmy Cliffs.  Little Dragons to Big Gigantics.  There is SO MUCH amazing music in this world!
But I'd like to think that Tiger Party's influence as a whole is largely dictated by the bands that these players are coming from. Going back to The Young Lions, I think the people that you learn to play music with, largely shape who you become as a musician.  It's pretty awesome, actually.
LUD!: How did you guys get started playing together?
Blake: After DR! ended for me, I just decided to start calling some players that I really respected in the area to see if they wanted to get down and be a part of this collective.  I didn't really waste any time putting this group together and a couple years later am really glad it came to fruition so quickly.
LUD!: Does anyone in the band have any formal musical training? If so, what is it?
Blake: Some of these guys and gals went to school for years for their instrument, others learned to shred by playing and grinding gig after gig.  Personally, I majored in music at St.Mary's College of Maryland but my focus was in the TUBA of all things.  However, music theory is music theory and I had plenty of opportunities locked in practice rooms to fall in love with the piano and eventually all keyboards.
LUD!: Where was your first gig together and how did it go?
Blake: I think the first official Tiger Party happened at The 8×10 in Baltimore with my East Coast musician crew. It was a handful of originals with a bunch of covers on the set-list. Maybe like ten musicians onstage, we got a bit rowdy that night!
LUD!: What's your favorite memory of playing together?
Blake: Many of these shows have all be so different and generally a great learning experience. I'd say it's hard to pick just one!
LUD!: Are you playing any shows coming up that you are particularly excited for?
Blake: TIGER PARTY CD RELEASE WITH KINETIX & UDNTPRTY at Cervantes' Other Side!! It's on Saturday, July 12th and it's gonna be a blast. A lot of talent will be in the house that night!
LUD!: What is your favorite song to cover?
Blake: We've done some fun ones for sure but one that stands out because it always gets really rowdy is RJD2  "The Horror."
LUD!: What is the strangest request you've had at a show?
Blake: We played a fun private party that helped to fund the record that is about to come out. We were asked to learn a few cover tunes and were happy to oblige. But at the end of the night we were asked to play "Shakedown Street"… a 2nd time, haha. I won't tell you if we did it or not.
LUD!: What was the first song you wrote together as a band?
Blake: I had some tunes brewing but technically the first tune I put together was with our main Tiger singer, Ashley Niven as a demo. It was a tune called "Roar Like A Tiger." I didn't really know her but called her up and said I was coming over to record her vocals, she probably thought I was a weirdo, haha. That track made it on the first album but since we recorded in Baltimore, I had my friend Bridget sing Ashley's part. I'm glad Ashley still talks to me!
LUD!: Do you still play that song live? If not, why?
Blake: We never played it live… not once. It was sort of intended as an introduction to Tiger Party. It was more an announcement that we are a thing, now. I think it would come off a little strange in a live setting?
LUD!: Have you released any of your material yet? If not, do you have any plans to?
Blake: So yeah, we've got one album out, recorded in Baltimore, self titled. And we actually just recorded another one here in Denver, it'll be out on July 12th and is called Made of Stars. It's got a great vibe to it I think. I'm getting pretty excited to release this one out into the world and see what happens.
LUD!: What is your favorite venue in Colorado, and why?
Blake: Red Rocks! I haven't played it yet but c'mon, it's amazing.  Of venues I've played… State Bridge is pretty special.
LUD!: If you could play on any stage in the world where would it be and why?
Blake: Red Rocks? The Gorge? I think there is an outdoor theme forming here.
LUD!: If you could open for any band or artist, who would it be and why?
Blake: Spinal Tap. That is all.
LUD!: What is the most outlandish thing your band would consider putting in your backstage rider?
Blake: If we are keeping it clean, I think some full-body tiger suits would be the hotness.
LUD!: What is your bands drink of choice?
Blake: Most of these tigers do not seem to be afraid of whiskey. But anyone who knows "Fleeb" Keith Thomas, knows he's going straight to the tropical island drink, it cracks me up every time. I need to start bringing little umbrellas to drop in when he's not looking.
LUD!: Can you name a few local Colorado bands that are really impressing you right now?
Blake: Of course The Motet, Big G, SCI cats are always killing but I'm loving some of these younger guys on the scene right now, Genetics, Dynohunter, Lost Optical and Eminence Ensemble are all putting on pretty awesome shows right now.  But as is pretty obvious to the Denver music lover I think, the scene is BONKERS right now! There is a huge amount of talent out here and that will just be growing for the next few years.  I'm super excited to see what this scene turns into and constantly excited about what's/who's next to start bringing the ruckus. COLORADO!!!
Audiophile. Logomaniac. I must get to the show.