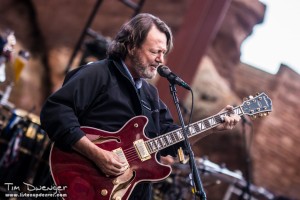 Photos by Tim Dwenger 
The Scene: The last weekend of June has become synonymous with Widespread Panic here in Colorado and this year was no different as the band and their legions of fans descended on Morrison's hollowed Red Rocks for three nights with the reigning titans of Southern Jam Rock.  As the faithful gathered for some pre-show cocktails and reunions with old friends, some threatening clouds dropped their payload and slipped out of sight leaving only a brief and barely noticeable shower for showtime.
Widespread Panic: Let there be no mistake, the boys came out of the gates RAGING on Friday night.  From the moment Schools dropped the first bombs on the "Imitation Leather Shoes" opener, mouths were agape and it was clear that this juggernaut was rolling at full speed.   After the Ball pairing of "Tortured Artist" and "Papa Johnny Road" the band slowed things up a bit with a satisfying take on Van Morrison's "And It Stoned Me."  I for one had never heard Panic play this legendary tune and really loved how they stayed pretty true to the original arrangement as a softer side of JB's voice rang out over The Rocks.
After a slightly rocky segue from "Happy" into "Sell, Sell" the band closed out the first (and shortest) of the weekend's six sets with a pair of tunes that date back to the earliest days of the band; a thundering "Postcard" and version of "Conrad" that made us all remember that Schools was in the house and holding down the lowest of the low ends as Sonny added his signature textures to the old favorite.  Not to be outdone, Herring took the reins late and showered notes over JoJo's B3.  It was short but sweet and we all knew we were in store for something special in the second stanza.
The second half of the night kicked off as darkness fell over Morrison with a 15 minute version of "Second Skin" from the band's 2006 album Earth To America that eased us into a set that was littered with old school favorites with an organ heavy jam.  "Rebirtha" came next and got everyone dancing as the rolling beat flooded the amphitheater, but the energy was cranked even a little higher when the band slid into a swirling passage that teased the Talking Heads encore that was in store later and eventually landed in a powerful "Sleeping Man" that allowed Herring to show off his chops as Schools slapped out the bass line.
The highlight of the show for me came just a few minutes later with a 30 minute run that started with a genre bending "Driving Song" and "Ribs and Whiskey" combination that eventually yielded to a lengthy drum jam that allowed JB, Herring, Schools and JoJo to take a break backstage before re-emerging for "St. Louis" and wrapping it all back up where they started by returning to finish "Driving Song" to the delight of the crowd.
The set wrapped up with the one-two punch of "Bayou Lena" and another old gem in "Love Tractor" before the band waved and ambled off stage only to return a few minutes later with a trio of Talking Heads songs up their sleeves to close out the night.  The grinding rhythms of "Papa Legba" gave way to the fist pumping anthem "Life During Wartime" and finally a very fitting closer of "City of Dreams" brought us back down to Earth and left our expectations high for the rest of the weekend.
Energy: A+
Musicianship: A-
Sound: B+
Stage Presence: B+
Set/Light Show: B+
Overall: B+
Music has always been a part of my life. It probably all started listening to old Grateful Dead, Peter Paul & Mary, and Simon & Garfunkel records that my parents had, but it wasn't long before they were taking me to concerts like Starship, Crosby, Stills & Nash, and Huey Lewis & The News. I got the bug to write about music after reviewing an Eric Clapton concert for a creative writing project in high school but didn't really take it up seriously until 2002. Since then I have published countless articles in The Marquee Magazine and done some work for Jambase.com, SPIN Magazine, and various other outlets. I started Listen Up Denver! as a way to share the music information that is constantly spilling out of my head with people who care. Please enjoy!