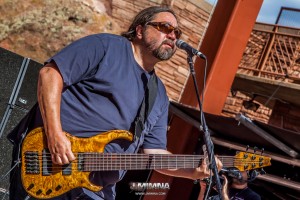 Photos by Jim Mimna
The Scene: There is just something different about catching a Red Rocks show in the middle of the day, something that feels like vacation.  Good vibes and bubbles hung in the air as white fluffy clouds floated across the deep blue sky and The Rocks looked even redder than usual.  Sure, it was hot, like mid-90's hot, but it wasn't anything a few ice cold beers and some great music couldn't fix.
Widespread Panic: Panic lore states "never miss a Sunday show" and, for me at least, that sure was good advice this year!  You see, I'm not the biggest Widespread Panic fan.  Sure, I dig it, but there's no way I'm travelling all over the country to see them and wouldn't cry if I couldn't get into a show.  They are a talented band with an army of devoted fans but I've got other favorites and, on Sunday, JB and company did their best to win me over at the end of the first set by playing a trio of songs by my all time favorite band: The Band.
The first set started off strong with "C. Brown" falling in the second slot and "All Time Low" coming a few tunes later, but things really started to heat up when the boys busted into The Meters classic "It Ain't No Use."  Herring's fingers danced all over the neck of his guitar and the pace picked up and got dirty as JoJo tore into his Clav as the song wound on for more than 10 minutes, and then, out of no where Schools led the band into "Opehlia" and I lost my mind.  Dancing and singing at the top of my lungs, I was in a heaven that only got more heavenly when "Ophelia" gave way to "The Shape I'm In."  On this one I wasn't the only one singing as nearly everyone in the capacity crowd got in on the action and pumped their fists in the air and gave JB a run for his money on the chorus.  At this point I really didn't think it was possible for things to get much better and joked with a friend that they were going to bust into "Chest Fever" next (as they had released a great version of the song on the 2007 tribute album Endless Highway: The Music of the Band) and you know what?  They did!!!  JoJo gave us a little taste of the songs usual lead-in, "Genetic Method," but it never developed into a full Garth Hudson worthy version as he launched into the "Chest Fever" theme after less than a minute (Hudson's versions sometimes topped 10 or 15 minutes of organ wizardry).  Needless to say the energy on The Rocks was through the proverbial roof and my face was sore from grinning ear to ear for the better part of 15 minutes.  What a way to end a set!  The Meters into not one, not two, but THREE songs by The Band?  That's one way to say "don't go anywhere Ladies and Gentlemen!"
It took most of set-break for my glow to wear off as the sun slipped behind Creation Rock and the air temp dropped a few degrees, but I was ready when they kicked off the second set with "Can't Get High" and clouds of smoke billowed across the crowd aiming to prove the boys wrong.  The highlight of the second set began when the first notes of "Tall Boy" echoed across the hills.  It was another high energy singalong and when the rollicking barroom piano of "Bust It Big" emerged from the ashes of "Tall Boy" I got that big ol' grin back and danced as Sunny banged on the skins and JoJo laid on the gas with his impossibly dirty Clavinet fills.  Without missing so much as a beat, "Big Wooly Mammoth" kept the piano theme going and the crowd raging before the agenda turned to covers again in the form of Neil Young's "Time Fades Away" and The Beatles's "Ballad of John and Yoko."
At this point I was thrilled with the show.  It had featured elements of the dark side of Panic that I can appreciate while also serving up healthy helpings of the sunnier side of the band and delivering crowd pleasing cover after crowd pleasing cover.  The second set wrapped up with a trio of originals before the band returned for a two song encore that featured "May Your Glass Be Filled" and the cherry on top of my Sunday "Climb To Safety."  I left Red Rocks in the daylight feeling satisfied and repeating the mantra "never miss a Sunday show."  You know what, I don't think I will make that mistake anytime soon.
06/29/14 Red Rocks, Morrison, CO
Set 1: Flicker, C. Brown, Better Off, Genesis, All Time Low, Crazy, It Ain't No Use, Ophelia > The Shape I'm In, Chest Fever
Set 2: Can't Get High, Quarter Tank Of Gasoline, True To My Nature, Tall Boy > Bust It Big > Big Wooly Mammoth > Time Fades Away, The Ballad of John and Yoko, Pickin' Up The Pieces, Surprise Valley, You Should Be Glad
Encore: May Your Glass Be Filled, Climb To Safety
Energy: A+
Musicianship: A
Sound: A
Stage Presence: B+
Set/Light Show: B+
Overall: A
Music has always been a part of my life. It probably all started listening to old Grateful Dead, Peter Paul & Mary, and Simon & Garfunkel records that my parents had, but it wasn't long before they were taking me to concerts like Starship, Crosby, Stills & Nash, and Huey Lewis & The News. I got the bug to write about music after reviewing an Eric Clapton concert for a creative writing project in high school but didn't really take it up seriously until 2002. Since then I have published countless articles in The Marquee Magazine and done some work for Jambase.com, SPIN Magazine, and various other outlets. I started Listen Up Denver! as a way to share the music information that is constantly spilling out of my head with people who care. Please enjoy!