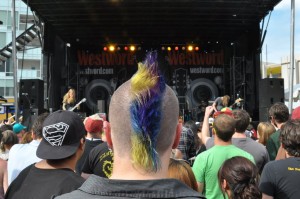 All Photos by Tim Dwenger
This past weekend, The Westword threw their annual music festival in the Golden Triangle neighborhood.  With 16 stages and over 150 local and national bands participating the festival boasts that it is Denver's biggest one-day music festival and quite frankly, it's almost too much to manage.  With 16 bands playing at the same time, conflicts abound and you are left to select only a few over the course of the day.
Our day started at the mainstage for a set from LA's Young The Giant.  Their soaring rock-n-roll sounded great at times, but was unfortunately marred by some technical difficulties.  From there we headed over to Stoney's on Lincoln to catch some of the radio ready rock supplied by Vices I Admire and Young Cities.  Unfortunately the sound in the sprawling bar did reach much beyond the twenty or so feet directly in front of the stage, so our perch at a table by the bar wasn't in the prime listening window, but on some level that is what the festival is all about.  It's a chance to wander between bars, catch some music or grab a drink and hang with friends and there were plenty of people doing it all.  I'm pretty sure there were a couple of groups of people who didn't even know that the festival was going on and they had simply come in to grab a drink on a beautiful Saturday afternoon.
As Young Cities wrapped up their set, we headed back to the mainstage to catch the blistering metal of Austin's The Sword, and boy did they deliver.  The scorching hour long set was heavy on material from the bands recent release Warp Riders and executed with precision.  While some in the crowd complained of the volume, The Sword was pumping out much more than just noise as the notes showered down on us from the stage and baby faced guitarist Kyle Shutt whipped his hair around and made it all look so easy.    Their set included "To Take The Black," "Tears of Fire," and an appropriate and ripping cover of ZZ Top's "Cheap Sunglasses."
Just down the block from the mainstage is one of the most unique performance spaces involved in the festival, The Curious Theatre.  The space, which typically is home to a theater company, features a round stage and a wrap-around balcony that provides for great viewing angles in just about any seat in the house.  When we walked in, A. Tom Collins was cranking out some passionate, horn-laced, jazzy, piano rock that was really impressive.  Lead singer and keyboard player, Aaron Tom Collins, was full of energy and even got up on top of his rig at one point in the set.  I'll definitely be seeking these guys out again!
As we walked back into the mainstage area, Del The Funky Homosapien was wrapping up his set with a cover of Gorillaz "Clint Eastwood," a song that he sang on when it was originally released.  As 7 o'clock approached it was just about time for the most anticipated performance of the day for many in my group, Yo La Tengo.  We made our way up front for the veteran indie rockers and they were greeted with a roar from the thousands assembled to hear them.  While they delivered several of the songs that they are known for, including the 1997 gem "Sugarcube," their set lacked some of the flair and punch that they had displayed when they last came to Denver nearly two years ago.  The highlights of the set were two of the songs from their most recent album Popular Songs; the hard edged "Nothing To Hide," and the nearly bubble gum pop of "If It's True."  As their set drew to a close, I was left a little flat as Ira Kaplan coaxed walls of feedback from his guitar during a highly experimental version of "Little Honda."   Maybe the sound wasn't dialed in, I'm not sure, but whatever it was, Yo La Tengo just didn't deliver the genius I expected from them.
Evening was in full swing when Chromeo took the stage at about 8:45 and proceeded to wow the pulsating throng of screaming fans with their electro-synth funk jams.  They opened with "Don't Turn The Lights On," and from there it was a non-stop dance party as Dave 1 and P-Thugg dropped the beats and milked the talk-box to their maximum advantage.  The 75 minute set was highlighted by party favorites "Hot Mess," "Night By Night," and "Bonafied Lovin'" which featured a few bars from the Dire Straits classic "Money For Nothing."  While Chromeo is definitely a bit of a "schtick" group, there is no denying their power to get people moving, and they did just that on Saturday night.
Organization: B-
Crowds: A-
Sound: C+
Prices: A
Line-Up: B+
Overall: B
Music has always been a part of my life. It probably all started listening to old Grateful Dead, Peter Paul & Mary, and Simon & Garfunkel records that my parents had, but it wasn't long before they were taking me to concerts like Starship, Crosby, Stills & Nash, and Huey Lewis & The News. I got the bug to write about music after reviewing an Eric Clapton concert for a creative writing project in high school but didn't really take it up seriously until 2002. Since then I have published countless articles in The Marquee Magazine and done some work for Jambase.com, SPIN Magazine, and various other outlets. I started Listen Up Denver! as a way to share the music information that is constantly spilling out of my head with people who care. Please enjoy!