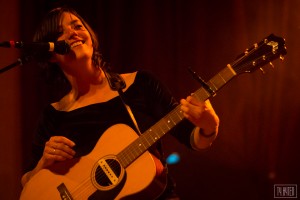 Photos by Ty Hyten
The Scene: Hip twenty and thirty-somethings loosely filled the Bluebird Theater for Brooklyn-based melancholic Indie rocker Sharon Van Etten. The well blogged-about, dour songwriter just released her fourth album to critical praise and brought this unabashedly forthcoming music to eager ears at the Bluebird.
Sharon Van Etten: Sharon Van Etten played a fourteen song set that traversed her entire catalog; consisting solely of mournful songs. Despite the dark nature of the music, Van Etten maintained a bubbly stage presence which was a welcome break between songs and a nice reassurance that she is, in fact, going to be okay.
The evening opened with "Afraid of Nothing," the first of  ten songs from this year's Are We There. A full band filled out the songs and Van Etten jumped back and forth from keys to Omnichord to guitar. Van Etten's voice conveyed her troubles flawlessly. It hit me like a punch in the gut as she ventured from a low, husky cry to a featherlight and angelic whisper tugging at my heartstrings all the while. Van Etten's voice has an unequaled ability to instill what she once felt in her present audience. Haunting and taxing; I even witnessed a man crying, head on his boyfriend's shoulder, during "Break Me."
"What if I was a mime?," mused Van Etten, while silently pretending to play her keys between sips of red wine. Her dry humor and schoolgirl smile helped dampen the blow of songs like "I Love You But I'm Lost," which she recently referred to as "The Beast" during an interview with Fred Armisen in which she said that song still hurts every time she plays it. Even if she has made peace with the song since the interview, it was clear others in the audience had not, as tears ran down their face.
Throughout the evening, Van Etten looked at backup singer Heather Woods Broderick as she sang. "You Know Me Well" cut particularly deep. "Don't Do It" was also another standout, feeling very Cranberries-esque.
The night eased out with "I Know" which Van Etten shared was about balancing a relationship with a career.  The song, one of my favorites from the album, was played solo on keys for the dead silent audience. The band returned to the stage and the audience laughed when Van Etten admitted,  "I fucked it up" after flubbing the intro to "All I Can," a song that aptly contains the refrain "We all make mistakes." The show ended with the single that sums up the new album  "Every Time the Sun Comes Up" and I left drained but satisfied.
Energy: A
Musicianship: A
Sound: A
Stage Presence: A
Set/Light Show: D+
Overall: A-