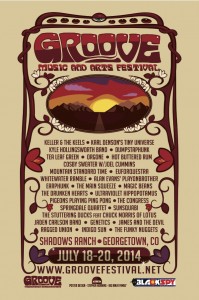 It's simple, it's summertime and there is an overabundance of festivals here in Colorado. It is a blessing and a curse for local audiophiles: while there are always fun things to do, not all festivals are created equal, and discerning one from another can be tricky. For the old school veterans and young flower children of our Coloradical music scene, we'd like to introduce you to the Groove Music & Arts Festival. Held in beautiful mountain abode of Georgetown at Shadow's Ranch, which was once home to the ever-popular Sonic Bloom, Groove is shaping up to be one of the best festivals of the season.
The talent on the ticket is impressive to say the least. At the helm, Karl Denson's Tiny Universe will man the Funk train; the Soul/Funk icon and his six-man band are well-loved in Denver, and always turn out an awesome crowd. There will also be a fair amount of that crunchier hippy stuff–Keller & the Keels are right along that (off)beat. The legendary guitarist's side project puts the grass in Bluegrass, with new twists on the genre, a touch of Folk, and of course, a liberal peppering of the quintessential rolling riffs of Keller Williams.
And then there's Kyle Hollingsworth Band. Hollingsworth, a master of the keys, gained fame as a member of String Cheese Incident, but his own band takes a Funk/Jazz twist on Jam and has garnered an enormous following within its own right. Dumpstaphunk, Orgone, Tea Leaf Green, Mountain Standard Time, Whitewater Ramble, Euforquestra and The Magic Beans are a few more notable names on the list—just to name a few. All in all, there are more than 25 bands on the lineup.
Camping is included with the modest price of the ticket, as well as yoga and meditations workshops. Art provides another facet to the event—live creations will be in tow as well as larger installations and displays. Local vendors will also be present and in the mornings there will a farmers market. It is a family-friendly event. They do not permit attendees to bring in outside alcohol, but there will be on-site full bars for those who wish to enjoy a drink while they dance. Just as festivals vary in sound, crowd and nature, so do their rules. We sat down with Groove Productions & Entertainment's Dillon Gross to learn about how this new festival came to be, as well as what to expect (rules and teasers alike) next weekend at the Shadow's Ranch.
LUD!: How many people make up Groove Productions?
Dillon Gross: Groove is owned and mainly comprised of three owners, Kevin Long, Shane Brocchini and Dillon Gross, but includes about another five core team members, all young, driven music lovers.
LUD!: What inspired you all put together the festival?
Dillon: Having our own festival has been a dream since we started going to them together. We built the company in order to build up toward this goal of our own major event and fortunately, it has only taken us just under two years to do so.
LUD!: What are the key elements that make up YOUR ideal festival?
Dillon: Above all else, it is a MUSIC festival so, a carefully selected lineup that focuses on talent. A strong sense of community and concern for each other. It should NOT take up all of your money and be the only thing you can afford to do in a summer. It should be safe, thoughtful and the festival-goers interests/needs should be top priority, well before profit margins.
LUD!: Why did you choose the Shadow's Ranch?
Dillon: It's absolutely beautiful, it has rich history, and it provides a perfectly intimate setting for a very closely communal festival. Natural features like sweeping mountain views, a rolling mountain river, and a beautiful lake provide a treat for your eyes and perfectly accompany the big league sound/lights packed into the Shady Grove. Above all else, it's naturally cooled by a lush forest and breeze of the river. Clear Creek County has been an amazingly helpful and generous host to the event and we are thrilled to bring an event to match the caliber of that beautiful area.
LUD!: What bands were part of the plan from the get-go?
Dillon: We had our sites set on some sort of Keller Williams project, Kyle Hollingsworth, Dumpstaphunk, and Tea Leaf Green from an early stage. Hot Buttered Rum was one of the first bands we got on board and The Main Squeeze and Cosby Sweater were always included in plans because they're great friends of ours from back in the Midwest.
LUD!: Any newer/smaller bands on the line up that you are particularly excited about?
Dillon: Earphunk, The Main Squeeze, Pigeons Playing Ping Pong, Ultraviolet Hippopotamus, and The Magic Beans are some but not all of the mid-level bands that we feel are about to step it up to the next level. Also, The Stuttering Ducks, a case-sensitive electric or acoustic Bluegrass/Americana band led by Pat Hoeper. His set at Groove will be a full electric band featuring talent from around the Colorado scene, including Chuck Morris of Lotus on drums.
LUD!: Are you expecting any guest visitors (not on the line up) on the two stages?
Dillon: Not as of yet, but we may pull something out of our sleeve late in the game so pay attention.
LUD!: What other exciting things can you tell us to expect?
Dillon: Be ready to be blown away by what you walk into. The production, the scenery, the music, and the best people will be jaw-dropping to spectators upon arrival.
LUD!: If you are camping, can you have a fire? How about a stove? We understand there's no off-site alcohol allowed–what other items should attendees leave home?
Dillon: Fires will not be permitted on the grounds due to county ordinances. Stoves are fine. As much as we LOVE dogs, they won't be able to make it to this one either.
LUD!: Best advice you could give attendees trying to get the most our of their Groove Music & Arts Festival experience?
Dillon: Get your tickets and get in the gates early because Mountain Standard Time is going to kick it off on Friday afternoon and the music will be non-stop heater after heater for the rest of the weekend. Be prepared for a heavy dose of FUNK.
GROOVE MUSIC & ARTS FESTIVAL
July 18th-20th
Shadow's Ranch – Georgetown, CO
Tickets: $135 ADV, $150 Dos
PURCHASE TICKETS
Audiophile. Logomaniac. I must get to the show.