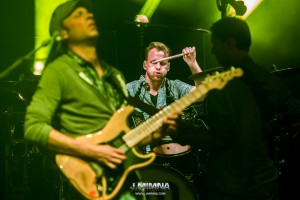 Photos by Jim Mimna
The Scene: Colorado Jamband fans rallied last Saturday evening for the chance to see the ever-progressing, in both musicianship and fan base, Umphrey's McGee.  Hailing from Chicago, Umphrey's is a band whose fan base has been exponentially increasing in recent years.  So, when a chance comes around to witness these pioneers of the Prog-Jam genre in action, Colorado Umphreaks pop a few post-Fourth Advils and get their butts to Red Rocks.
The night prior, the band had brought out Bela Fleck and String Cheese Incident's Michael Travis to collaborate with them at the Boulder Theater, so this night had a lot to live up to.  Excitement matched these high expectations as we slowly filed in, up the ampitheater stairs, with attendees sporting those neon orange "Umph Love" stickers that somehow spread like wildfire.
The Opener: The Motet. The Motet is Boulder's beloved Funk band.  Fronted by the curly-topped Jans Ingber, the seven-some lit the Red Rocks roof on fire last Saturday in their opening slot.  Ingber's comical dance moves as he glides across the stage, along with his impressive set of bluesy pipes,  makes him the ideal frontman for the band.  Ingber, Dave Watts on drums, Garrett Sayers on bass, and the rest of the gang never fail to get all bottoms out of their seats, dancing endlessly to their variety of songs, including both old-school covers and Motet originals.  Things get especially groovy when Joey Porter (on keys) whips out the talk-box and croons to an ecstatic crowd.
This all went down on Saturday before the sun had even set, with The Motet doing Umphrey's a great favor by getting their post-Independence Day crowd amped as all hell for the next few hours of extraordinary Prog-Jam fusion.
Umphrey's McGee: Less than a month prior to this Red Rocks party, Umphrey's released their latest album, Second Skin, and the band would feature a number of songs off the new album along with oldies-but-goodies, and even a never-before-heard track or two.
The boys kicked off their first set with the debut of "Lucid State," this was a major move for the band and one that clearly showed fans the direction the band is moving in.  The development of Umphrey's musicianship is significant, and this song debut felt like the foolproof way to reiterate the band's conscious undergoing transformation.  From there Umphrey's kicked it into full throttle with vocalist Brendan Bayliss' exquisite near-moan leading the boys into "Conduit," before they brought the music level down for the intro of "Cut the Cable," one of many kickers off of Similar Skin.  The crowd hung on every note of the intro, where everything is turned down low – Bayliss almost whispering, before kicking it right back into high gear and dropping into that perfect Umphrey's guitar-shredding.  And with Umphrey's, the guitar-shredding really never stops.
Only a short pause in the music came before part one of "JaJunk," an almost entirely instrumental track, before going straight into "Ocean Billy."  Taking a moment to look around during this jaw-dropping jam, the crowd was going nuts.  Heads and hips thrusting all over as Bayliss, Jake Cinninger and Ryan Stasik ripped it on their respective guitars and the whole place was lit up in deep red enveloping us all in a Rock 'n Roll trance.  A partial "Gents" was sandwiched between what resulted in this two-part "Ocean Billy" and then another quick break for these kick-ass, hardworking Chicagoans – a break that these boys would need as they went into "All in Time."
Now was the time to slow it down, and Umphrey's did so gracefully, as they picked their way through "End of The Road."  As it turns out, a friend of the band is the owner of one of Jerry Garcia's guitars and that very same guitar was in Cinninger's careful hands for this beautiful take on the Safety In Numbers gem. Following that gorgeous track came "Educated Guess" off of Similar Skin, featuring a quick-talking Bayliss, and the closer of the first set, "Hollywood Nights," which, in the capable hands of these six men, is the ultimate party song and the perfect way to lead a hyped crowd into set break.
Starting with "Little Gift," and switching it up a bit with Cinninger now on vocals, a few Similar Skin tracks opened the second set.  The boys had picked up right where they left off and used that momentum from the first set to bring the night to its climax. For "Bad Friday," Umphrey's brought out Big Gigantic's Dominic Lalli and his infamous saxophone-playing.  Adding a lil' brass to any Rock show makes it that much more exciting for me and the crowd around me was clearly in agreement as I checked out the widely grinning faces to my left and right.
One oldie-but-goodie that is a particular favorite of mine and a sure crowd-pleaser is "Dump City." With it's funky bass-line and crazy transitions from Jazz-Rock to Rock-Jam and back again, Umphrey's proved yet again that they know how to bend the genres of their music and break through any possible limits with their musicianship before slipping from the groovy "Dump City" right into "Slacker."  From Jazz influences to Reggae/Ska influences, this band knows how to do it all, and they do it pretty darn well.
The band then returned to those classic, hard-rocking jams that Umphrey's does best.  The first came in the form of the goofily-named "Wappy Sprayberry," before they tore into the part two of the raucous "JaJunk."  "Wappy"'s transient jam allowed for a little improv and imagination, and the crazy blue-yellow-pink-green lights that accompanied these last fews song made for a mind-glowingly extravagant end to the second set.
The first of a three-song encore was an oft-covered version of The Band's "Ophelia."  This classic may be a bit outside of the band's repertoire but Umphrey's solved this problem by bringing out The Motet's frontman Jans Ingber to join them on vocals.  Collaboration is always my favorite thing to witness at any show, and it is a blessing to see members of two bands, with two completely different sounds, come together on a true classic.
Things were slowed down once more with "Hajimemashite," a wailing-guitar track that brought us full circle, back into the second round of "Bridgeless" and to the close of an impressive night of insurmountably creative sound.
Throughout the night, bouncing between a few groups of friends and friendly acquaintances, I managed a dance or two with friends who had seen the band a few times, friends who are die-hard Umphreaks, and friends whose first time it was witnessing a Jamband at all, let alone our favorite Prog-Jam pioneers.  Needless to say, Umphrey's McGee made a lasting impression on everyone in attendance and brought our Fourth of July weekend to an unforgettable close.  Come back soon, boys!
Energy: A-
Musicianship: A
Sound: B+
Stage Presence: A
Set/Light Show: A
Overall: A-