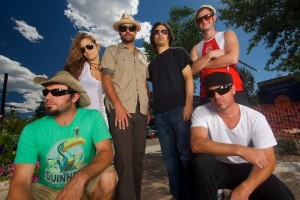 "The Road To ARISE" is a series of conversations writer Brian Turk will be having with ARISE Festival Artists. It is presented by ARISE Music Festival, Oskar Blues Brewery, Listen Up Denver!, The Marquee Magazine and Harmony Yoga. In other words, brought to you by everything that makes Colorado, well, Colorado. Tying it all together is the ARISE Festival, the Colorado music festival that brings together all the parts that make living in Colorado awesome. If you live in Colorado, ARISE represents the essence of the music loving culture. If you don't, and you travel to ARISE from afar, you get to live like a Coloradan for three days, which will make you realize Colorado is as cool as everyone thinks it is.
The music scene in Colorado is about as diverse as it gets. Bluegrass, Rock, Funk, Soul, Roots and Reggae music are just some of the genres that are well represented locally…and often time's bands pull from various genres in order to produce their signature sound. Bonfire Dub is one of those bands. Their performance will take you on a genre spanning journey, yet still allow you to stay in the same groove. Born in Vail, Bonfire Dub has a sound that represents a lot of what Colorado is about. It seems that ARISE was able to identify the quintessentially "Colorado" bands, and get most of them on the bill this year. I had the pleasure of chatting with Scotty Stoughton from Bonfire Dub, who is also the creator of both the Campout for the Cause and Winter Wondergrass festivals, and he filled me in on the pre-Bonfire Dub days, as well as the current state of affairs.
Brian Turk: In my opinion, the first thing that hit me about Bonfire Dub's music was the level of consciousness in the music. What is your approach, well, to this approach?
Scotty Stoughton: Ever since I got into music, which was over 20 years ago, I have always felt that there is a serious responsibility for people who have the ability to capture attention. I feel it's our responsibility to leave folks with something to sink their teeth into that pushes them to be more conscious and aware personally, socially, environmentally, and politically. When I was younger I was probably more forceful with my approach, but I always try to walk the line and not tell people what to do, but just "to do," and have some awareness. If I disagree with your point, I want to learn why, I don't just want to disagree. And vice versa. The more open conversations we have as people, the better we will be individually, as a community, and globally.  Music is a dialogue. Musicians and fans are having a conversation during a show.  I think I developed this approach because of the way I grew up. I grew up surfing and listening to Bob Marley, and was always inspired by his ability to produce lyrics that were never cheesy, but he was still able to achieve "pop" success. He did realize that his tunes had to have extremely catchy hooks and melodies in order to gain success and ultimately push his message. That always took root in me. I realized immediately that Bob Marley, and reggae music in general, wasn't this positive don't worry be happy kind of music…but was spiritually charged, social responsible, and culturally relevant. I picked up on that at a very young age.
BT: Reggae is the most spiritual form of music to me as well. It's one of the few genres of music that when I listen to it, I consider it a form of prayer. When it's done right anyway.
SS: Oh man…..completely. For me, spirituality ties in to all of this.
BT: You mentioned when you were younger, you were more forceful in trying to get your message across. Tell me more about that. What kind of music were you playing before Bonfire Dub.
SS: I was with a band called Sucker, for about 3 records, from 1995-2002. It was Punk/Funk/Reggae that was inspired by Bad Brains, Red Hot Chili Peppers, and of course, Bob Marley. Sucker was a super high energy band. I mean we crushed our shows. I would climb the highest rig in the theater to jump off into the crowd, and really get the crowd, and the mosh going. It was pretty wild.
BT: I can totally picture it. That's around the time bands like Reel Big Fish and the Ska scene were jumping off too. No pun intended.
SS: Totally. I was quite a bit more political then during our performances, and got into situations where I was pushing my viewpoint pretty hard. Some people at shows definitely got aggressive with me. I took that as an opportunity to reevaluate my approach to connectivity. I realized I didn't need to force the message. Now I strive to connect; through the lyrics in Bonfire Dub, and the events I put on. If we all can't communicate, connect, and lay it all out there to honestly converse about….we are doomed.
BT: Reggae is definitely a big part of your music. It influenced it, and it is part of the Bonfire Dub sound, but there is so much more to Bonfire Dub. There is a strong roots element, whether you want to call it roots rock, Americana, or whatever; and I see it mostly through the instrumentation. Rodney Coquia brings in his pedal steel and lap steel, and you have Elephant Revival's Bridget Law, and her phenomenal fiddle,  with the band part time. What made you decide to not go down the Reggae path fully, but to bring all these other elements into the band?
SS: I spent a lot of time developing the sound of Bonfire Dub. I wanted to do something different that would allow the band to go to the next level. A while back I had a pretty heavy experience that made me back away from music for a while. Instead, I started putting on events, putting on shows, producing benefits, and I opened a night club. That time away from music brought me into the second phase of my musical career. I didn't perform music for 3 or 4 years. At some point I realized I wanted to get back into it, but only because I want to get back into it, and I want to play these songs…even if it was just by myself. I had never played guitar, so I bought a crappy guitar and went traveling. I learned some simple chords and started writing some new material. I felt so good just simply playing something on the guitar that tells a story. I don't even know what the "style" of Bonfire Dub's music is. But for me, I have always been drawn to acoustic music, and have been really into roots music. To me as an artist, if you can't perform it in front of a campfire, it doesn't hold water. When I was in Sucker, we were playing big shows, with big bands. I would always ask other musicians to come sit in with us. I learned that in Colorado, from Leftover Salmon, because they were always asking me and others to sit in. When I did it during the Sucker days, most musicians couldn't do it. They couldn't sit in with another band. Behind all their toys, bells, whistles and gadgets…they didn't understand the connectivity of sitting in with other people. So, anyway, once I got into guitar, started writing new material, and started putting Bonfire Dub together, those roots, acoustic and Reggae influences really came through. I feel on our last record, that's when things really came together, and we opened up.
BT: Where were you doing all this? The nightclub, the events, forming Bonfire Dub, etc. Was that all here in Colorado?
SS: It was. The nightclub was in Vail. That's when I started Campout For The Cause too. Then I  spent some time in Haiti after the earthquake doing disaster relief work.  I came back through Vail, and started putting the band together. I started the band with Rodney Coquia, who was in Sucker as well.
BT: Wow, so you and Rodney have been playing together for a while then.
SS: Yeah, Rodney and I have known each other since 1994. When I formed the band, I was also still working really hard on the other music related endeavors I had going on, like Winter Wondergrass and Campout For The Cause, so I didn't have a lot of time to focus. But when we got together, and were all serious about it, we came with the right intentions and a hard work ethic. I feel our sound has really found its way. We are six years old as a band, and all the pieces have really come together. It's coming purely from the heart. It's so honest, and it feels like this is it. This is what I believe, and what I feel, and what I love.
BT: Since you produce two festivals of your own, what are your thoughts on ARISE?
SS: I really respect what ARISE is trying to accomplish, by putting the right intention out there, for all to either embrace or deny. It takes a lot of guts to go out and do that. To say, "This is who we are, and this is what we stand for." It's time for all music festivals to make sure they start carrying a bit of responsibility with regards to the messaging. I have a lot of respect for ARISE because they are pushing forward with their mission. The message you spread from a festival comes through the bands you book, the MC's you have on stage, the workshops, and the partners they choose to embrace. You need to be mindful of every element. I am just as passionate about organizing gatherings as I am creating music.
BT: Is Bonfire Dub currently working on new material?
SS: We are working on some new tracks now, and plan on releasing a new CD in the fall.
Brian Turk grew up in the shadow of the Catskill Mountains, near Woodstock, NY. He comes from a family of music lovers, audiopliles, Dead Heads and avid concert goers.The musical magic that can only be created in the Catsklills, both past and present, is what Brian cosiders the epicenter of his music addiction. The music of The Band, and most recently The Levon Helm Band, is the soundtrack of home for him. Brian's mother took him to his first concert at 5years old...it was Johnny Cash and Roseanne Cash at Jones Beach Amphitheatre. For Brian, music is a family affair. He feels the same way about live music...we all convene to celebrate together. Brian's writing life started when he wrote his favorite author, southern fiction writer Clyde Edgerton, a fan letter at age 13. When most kids were idolizing baseball players and television, he was worshipping writers and musicians. The two became friends and Clyde shared his craft with Brian. The next year Brian attended Duke University's Young Writers Camp. This is the extent, of what Brian considers, his "formal" training in writing. From then on his goal was to capture snapshots of life through words. Brian has been involved with live music in various facets over the years, and combined with his enthusiasm and love for Denver's music scene, he creates a vivid description of what he sees and hears. If you see him out at a show, dancing with a notebook in hand, say hello.