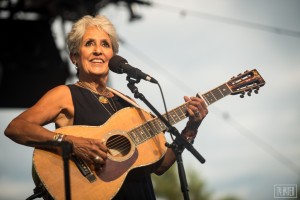 Photos by Ty Hyten
The Scene: A long line of silver haired patrons holding mini lawn chairs filed all the way around the corner and down Ninth Avenue last Thursday for folk legend Joan Baez. It was a matter of minutes after the gates opened at six before the entire grass portion of the bowl in front of the stage was claimed with cheese eaters and wine-bringers, leaving the majority of the concert-goers sitting to the side of or behind the open stage. Sweaty fans who were in less of a rush to grab a good spot wandered the Garden grounds taking photos the glass sculpture work of Dale Chihuly which is currently on display until November 30th.
Joan Baez: Joan Baez took the stage, right on time, without the warm-up of an opening act. The singer-songwriter was in good spirits, full of energy and easily appearing ten years younger than seventy-three. She played an hour and half set consisting primarily of covers of her contemporaries. Joined only by percussionist Gabriel Harris and multi-instrumentalist Dirk Powell, Baez's selections on war, peace and freedom were as relevant today as they were during the conflicts during which they were written.
The stage production level was low but the quality of Baez's voice and fingerstyle guitar kept the audience fixed on the show, and other than applause, fans sat silently waiting for the stories that she shared between songs . A few songs, like the traditional Irish folk song "Lily of the West," drew couples from the grass to dance, much to Joan's delight.
Joan drew from the catalogs of folks heros like Dylan, Guthrie, Patty Griffin, Johnny Cash, Steve Earle and John Lennon. Favorites of the evening were a cover of Patty Griffin's "Go Wherever You Wanna Go," Dylan's "It's All Over Now, Baby Blue" in which she did a brief Dylan impression, Guthrie's "Deportee" and her own "Diamonds and Rust."
After stepping aside for a brief pull on an oxygen tank (common practice for musicians in Colorado), Joan returned to close the night with two more covers. Lennon's "Imagine" and Dylan's "Forever Young."
Seeing a legend play was a special thing but, here and there, I've seen legends that are less than they once were. Joan Baez is not a artist I would describe as fading. Her voice was incredible, her stories interesting and her song selections engaging. I do, however, feel disappointed by the very tiny amount of her own work that she played. I understand much of what she played was her "reinterpretation" of these classics and that her career was built on Folk covers, nonetheless, I wanted to hear what someone as remarkable as Joan Baez had to say musically.
Energy: B
Musicianship: A
Sound: A
Stage Presence: A
Set/Light Show: C+
Overall: A-