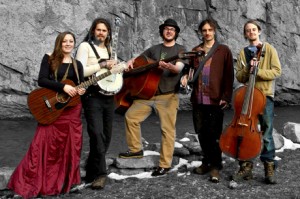 Sometimes a band's name seems to mean nothing about the band, and sometimes it clearly means everything. Well, for Gipsy Moon, it's all in the name. Hailing from the majestic, mountain town of Nederland, this young band captures the soul of their surroundings in the music they create. Nederland is the land where nature meets nurture, and its music making and loving residents feel and tell of its spirit in every note. I had the pleasure of chatting with Gipsy Moon's David Matters (banjo, guitar, vocals), who gave me some insight on the name and the spirit of the band. Gipsy Moon, like a lot of us, are on "The Road To ARISE" Festival, which the lovely town of Loveland will be hosting in a few weeks, so let's get to know them along the way.
Brian Turk: Love the name of your band. Tell me the meaning behind it for you.
David Matters: That's always an interesting topic because naming a band is never easy to do. (laughs) Lots of scouring the internet to make sure it's something that hasn't been done. Our mandolin player, Silas Herman's mother actually came up with the name for us. The name acknowledges the moon and its cycle, the natural wandering it does through the universe. It hit home for us. Our sound is evolving, since we are a relatively new band, and we try to capture that gipsy feel in our sound. We have elements of bluegrass, but we try to capture a gipsy sound, which represents the lifestyle we live.
BT: How have you lived that Gipsy lifestyle? How do you bring it forth in your music?
DM: Musically, we really explore the gipsy jazz sound, and get into the more complex jazz chords. Lyrically, we write and sing about life, nature, and traveling. A lot of the music I write is about wandering. I spent a lot of time hitchhiking around and riding trains. Those experiences come through in the music.
BT: So, where did you wander from?
DM: I am originally from Pennsylvania.
BT: Being someone who wandered a lot, is Colorado the utopia people make it out to be? What made you stay put in Colorado?
DM: The mountains always were calling me. Where I am from, there are a lot of hills and trees, but no mountains. I come from a tiny little Amish town. I traveled all over the United States, including Alaska. I went down into Central America, as well. After a few years of constantly roaming, I realized I wanted to settle down and figure out what to do with myself. Music was calling, too. Once I stepped foot in Nederland, I knew it was a place that had something for me. The beauty. The mindset. The progressiveness. It's a cultural explosion in a tiny little town. People are really into health and the outdoors. And there is more music in Colorado than anywhere else.
BT: There is this central theme in my conversations with people regarding their pull to Colorado. For some people, once they set foot in Colorado, they feel home, and it's most prevalent amongst musicians and music lovers. I sure felt that way. I traveled between thirty-five states in five years working on the road, and it was the music scene that made me stay in Colorado for ten years. For musicians it must open up a creative flow, especially ones who wandered and ended up in Colorado. Once someone feels settled, and truly at home and at peace, then the expressive spirit starts flowing. Especially in Nederland. Tell me how Nederland comes through in your music.
DM: I came to Nederland completely unaware of its magic. I didn't know Leftover Salmon. I didn't know Yonder Mountain String Band. I didn't know anything about that scene. Once I started making friends and met my band mates, I realized this tiny little town fosters an insane amount of amazing musicians. There is such a legacy in Nederland. Especially with Caribou Ranch before it shut down. It immediately struck me as a magical place with a musical spirt, and I was immediately inspired. I began writing more and more, and Gipsy Moon came together so naturally and easily.
BT: I love hearing about people finding themselves in Colorado. To me, that's what Colorado represents. It's where you find yourself, and where you find your voice. Specifically for artists, musicians, and this particular writer. And just to put it out there, if Gipsy Moon's CD was scratch and sniff, it would smell like Nederland. You captured its essence. Elephant Revival does it, too. God, I love Elephant Revival.
DM: For me, as soon as I came here, a different sound bubbled out of me. And that sounds describes the feeling of Nederland.
BT: Was Nederland your first stop upon arrival in Colorado?
DM: No. Actually, I was in Boulder first, at Naropa University. I had met Mackenzie Page (Guitar, Tenor Banjo, Vocals) on the road two years prior, and we ran into each other in the music scene. I had a little band in Boulder that fell apart, and she was already doing stuff with Silas, so when I moved to Nederland I called them up and asked to jam. As soon as we did, it came together. McKenzie knew Andrew Conley (Cello) from attending Rocky Grass, and we told him we were looking for a cello player. He was living in Iowa. He came out, hung out for a week, and then made the move shortly after. Recently we just got a new bass player, Matt Cantor. Now we are all in the hills.
BT: I guess if I was living in Iowa, and someone asked me to come play in a band in Colorado, I would do the same. He was waiting for that call.
DM: (Laughs). Yeah, there wasn't much convincing needed.
BT: What is your musical background? You said you didn't know of Leftover Salmon or Yonder Mountain String Band. Were you listening to any bluegrass before Colorado?
DM: Not at all. I listened to a lot of old time music. Jump band and ragtime stuff, jazz, and blues, as well. I really didn't seriously start playing music until Colorado, either. I was just wandering around making a little money with my banjo and my guitar before I got here.
BT: So, you have lived in Colorado for four years. You understand summer is about being outside and listening to music and drinking amazing craft beer, like Oskar Blues. What does the summer festival scene here mean to you, personally?
DM: Man, I have been all over, and I have never seen anything like what goes on in Colorado during the summer. The festival scene in Colorado is my family. It's such a tight-knit group. Both concert goers and musicians. When I got here four years ago, I didn't know anyone, really, now I can't walk through a festival without seeing dozens of people I know and love.
BT: Well, welcome to the family my friend. I will see you at ARISE! Just look for a guy with Chaco's, khaki shorts, a t-shirt with some interpretation of the Colorado flag on it, and a 10 day old beard. You won't be able to miss me.

Brian Turk grew up in the shadow of the Catskill Mountains, near Woodstock, NY. He comes from a family of music lovers, audiopliles, Dead Heads and avid concert goers.The musical magic that can only be created in the Catsklills, both past and present, is what Brian cosiders the epicenter of his music addiction. The music of The Band, and most recently The Levon Helm Band, is the soundtrack of home for him. Brian's mother took him to his first concert at 5years old...it was Johnny Cash and Roseanne Cash at Jones Beach Amphitheatre. For Brian, music is a family affair. He feels the same way about live music...we all convene to celebrate together. Brian's writing life started when he wrote his favorite author, southern fiction writer Clyde Edgerton, a fan letter at age 13. When most kids were idolizing baseball players and television, he was worshipping writers and musicians. The two became friends and Clyde shared his craft with Brian. The next year Brian attended Duke University's Young Writers Camp. This is the extent, of what Brian considers, his "formal" training in writing. From then on his goal was to capture snapshots of life through words. Brian has been involved with live music in various facets over the years, and combined with his enthusiasm and love for Denver's music scene, he creates a vivid description of what he sees and hears. If you see him out at a show, dancing with a notebook in hand, say hello.