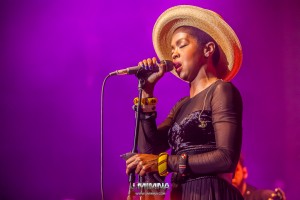 Photos by Jim Mimna
The Scene: It was not your usual Sunday evening at The Ogden, with the Mrs. Lauryn Hill experience coming through town and ready to get down.  Without any idea what to expect, we arrived at the theater with anticipatory, open minds and the crowd was buzzing in anticipation of this Hip-Hop legend making her mark on us, her adoring fans.
Opener: The Reminders. Colorado Hip-Hop duo The Reminders kicked off the night with an incredibly fresh breath of air as their energetic, social and politically conscious lyricism rained down on us.  The duo, who switched between soothing vocals and fast-talking rhymes, jumped and danced across the stage spewing lines that spoke of gender and racial equality, and the importance of the individual effort to strive towards a greater good. As an added bonus, many of the duo's raps were set to popular Hip-Hop songs, and the combination of the beats and their carefully crafted lines got this Sunday night party started.
Ms. Lauryn Hill: I've been waiting since I was in my teens to see Lauryn Hill live, and I could not have been more excited for this night to arrive.  From the moment I heard Ms. Hill's heartbreaking vocals during her acoustic "Selah," I've been mesmerized by this woman's insurmountable talent.
Of course we must remember that Ms. Hill is a diva of the highest order and, along with the likes of Madonna and Axl Rose, she's famous for being fashionably (or annoyingly) late to the stage.  As we waited, a DJ played through a number of old school Hip-Hop and Reggae tracks, frequently pumping the audience by wildly announcing Ms. Hill's imminent appearance.  When the queen of the night finally did take the stage after 11pm she was decked in a full-length black dress with black lace screening her arms, and a fantastic straw hat.  Add a black leather jacket with fringe and countless rings and bracelets and the woman was picturesque as she sauntered onstage.
Hill opened the two-hour performance with "Soul Rebels" before moving quickly into a Dub version of "Killing Me Softly."  Our queen was backed by two guitarists, a drummer and a keyboardist, and the first half of the night would be a blurring of genres as Rock 'n Roll met Hip-Hop.  I've never witnessed the boundaries of music and sound be pushed farther than they were on this night by Ms. Hill and her extremely talented crew.
With the band in full swing, Ms. Hill was also joined by three back-up vocalists whose sound and dance moves were reminiscent of Ray Charles circa-"Hit The Road, Jack."  The group ran through drastically rearranged version of many of Ms. Hill's best including: "Everything is Everything," "Final Hour," "Lost Ones" and "Ex-Factor" and while the songs sounded completely different to what I am used to, I was pleasantly surprised with the outcome.
Hill was a fast-rapping, fascinatingly eager leader as she spoke through her lyrics – some of the greatest poetry in all of hip-hop – and though the audience was clearly extremely impressed, my one criticism would be that the band's instruments be turned down and Hill's mic up.  The woman is simply to tremendous to go unheard, and at points her poeticism was drowned by the heavy bass and the powerful drumbeats.  Regardless, the ways in which Hill and her band meshed such opposing genres was phenomenal.
After a good run of emphatic Rock-Hop, Ms. Hill picked up her acoustic guitar and ran through several "unplugged" tracks while perched on a stool center stage. This section of the show featured "Adam Lives In Theory," "Jerusalem" and "Water" but the highlight came with the ever-popular "Turn Your Lights Down Low."  No crazy lights, no background music, just the extraordinarily talented Lauryn Hill, her guitar, and her unbelievable set of vocals that can move the toughest of us to tears.
Of course, what would a Ms. Lauryn Hill experience be without some Fugees tunes?  Naturally, the next portion of the evening was Fugee-licious, with the band back onstage and helping their leader in busting out "How Many Mics" and "FugeeLa," among others.  The energy was now at the highest point of the night, with the crowd singing along to the bad-ass chorus of my personal Fugees-favorite, "Ready Or Not."  After a nearly two hour journey through her catalog, the queen brought us into the final portion of the evening. Covers, covers and more covers. We were treated to renditions of the king of reggae's (and grandfather of 5 of Hill's children) "Jammin'," "Waiting in Vain" and "Could You Be Loved," with the wild light show accompanying the classic Marley tunes with flashes of green, red and yellow.  Ms. Hill also paid homage to another huge influence on her music by dropping Stevie Wonder's funky, soulful "Master Blaster" into the mix.
Last, but certainly not least, came Ms. Hill's most-mainstream song, the often-covered and all-too-sassy "Doo Wop."  Leaving the Ogden sometime before 2am, I was honestly dumbfounded.  Not only had I not known what to expect arriving that night, but the night had turned out to be one of the most creative nights of music I have ever witnessed.  Hill's energy was at an extreme high, swag and attitude were on point, and her vocals could not have been more strikingly profound, impressively articulate, and unfathomably beautiful.  Come again soon, Ms. Hill, because we adore you.
Energy: A
Musicianship: B
Sound: B
Stage Presence: A
Set/Light Show: A
Overall: A-