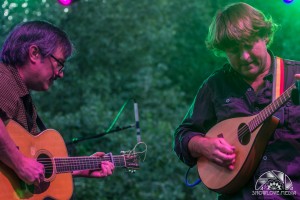 Photos by JohnRyan Lockman
Shadow's Ranch is a very special place. Those who have been there for Sonic Bloom, or a wedding perhaps, know of its beauty. Just east of Georgetown, in the valley that makes a bed for the cool Clear Creek rapids that wind down the Rockies alongside I-70, you will find this intimate venue. Two weeks ago Groove Music and Arts Festival made its grand debut at this magical place; the setting was a perfect reflection for the tone and mood that they seemed to encourage with the package. The ticket weighed heavy with Funk, with a liberal helping of Bluegrass and Jam on the side—it made for a nicely mixed crowd with regard to age. It also included camping, at a very modest price, and several workshops. Families were strongly encouraged to come; children were free and there was a special camping area for families near the main stage area. Attendees were very happy about the last-minute change in alcohol policies—for months their website said that no outside alcohol would be permitted, but two days before the event they announced they would be allowing attendees to bring in one case of beer and one fifth of liquor. It was a pleasant surprise. Everyone was fittingly in good spirits, and dressed to show it. Hippie skirts, fuzzy ears and rainbow fox tails, hula hoops, flat bills and bright colors filled the eye, confirming that the event would be artistic and expressive, both onstage and within the crowd.
Friday
We I arrived around 2:30 in the afternoon on Friday. On our final trip from the car, we carried two sleeping bags, two Therm-a Rests, and as we heard the sounds of Mountain Standard Time come from across our camp, we picked up two additional smiles as the excitement set in. The band out of Nederland, CO is known for blending acoustic with electric, creating what they like to call "Rocky Mountain FreeGrass." Though we couldn't devote our full attention to the music coming from the main stage, AKA the Groove Stage, we stopped talking for a while and listened as we went. About the time we made it to the campsite to set up our remaining camp items, The Congress came on. The side stage, or the Move Stage was much closer to the main camping area so the notes of the band's strings and the bass of their drums came through the Aspens in a beckoning way. It was a signal that we had better hurry; Mountain Standard Time would soon be coming to a close. We finished unpacking, shook hands with a few neighbors, quickly made and crushed two potent potables and found our way back to the Groove Stage for the remainder of MST.
When I finally got to give a whole-hearted listen to the opening act, I was impressed. Though the tempo of the songs ebbed and flowed (a mix of old and new), the band was musically on-point, and the sound quality on the main stage was as crisp and clear as the blue Rocky Mountain sky above us. For me, one of the most attractive features of the grounds are all the water elements—the pond adjacent from the main stage area was simply dreamy. Its little dock, no doubt used for weddings, was furnished with a white, flower-covered gazebo. We found a spot near it with plenty of jamming space, danced for a few songs, and the set came to a close.
Next up, the San Francisco Bay area's Hot Buttered Rum. Their sound has a certain twang that just gets my blood pumping for some Bluegrass. "Cherry Lake" was particularly special, and their cover of Talking Heads "Life During Wartime" garnered a big response from the crowd. Finally, "Summertime Gal" was a perfect fit for the setting. The weekend was off to a great start and though I was completely content with the music of HBR, as all festivals go, I could not neglect the nagging feeling that I should go check out the band at the Move Stage, The Stuttering Ducks. The group from Boulder includes Lotus' Chuck Morris on drums and I had been told by a few reliable sources that they were not to be missed. So, we made our way across the bridge that separated the stages. After only hearing a few notes, we recognized the song—they were covering Allman Brothers' "Jessica," and doing a damn fine job of it. The Bluegrass fusion band is lead by fiddle-player Patrick Hoeper, who looks like a tall, young Jerry Garcia, complete with wispy dark locks which fluttered in the air as he wailed on his instrument. Hoeper's stage presence and energy was undeniable, hopping around, always smiling and actively engaging the people in the crowd. Within a half an hour, the crowd at the side stage grew from a handful of people to a full-on hoard. Apparently they caught wind of the Ducks too. We enjoyed the rest of their set and took a quick walk back to the campsite for a snack, a beverage and prepared ourselves for the night's main acts: Dumpstaphunk and Orgone.
When Dumpstaphunk took the stage at 10pm, the crowd at the Groove Stage was popping with excitement—everyone was clearly ready for the Funk portion of the evening's festivities, to which the band happily obliged. "Everybody Want Sum" confirmed this, as fans sang along with the chorus. Their cover of Led Zeppelin's "Immigrant Song" seemed to send attendees into a full-on frenzy. It was a great set.
The crowd was rowdy and drunk. Clouds of various types of smoke wafted in the air, illuminated by the green, blue and orange lights coming from the stage. Though I have never been a huge fan of Orgone, they won my heart on Friday. Their super funky female lead singer, Adryon de León has some killer pipes, and her presence added a feminine quality that the stage had not yet seen. Songs like "Love is the Answer" really brought the familial, artistic and expressive nature of the festival full circle. It was soulful. When it was over, we made our way back to the campsite, only stopping for a short while to listen to Friday's last regular act, The Funky Nuggets, which would be followed by a silent disco starting at 3am. Because the group had a second set scheduled for Saturday, we decided to call it a teaser. The music sounded good, but we made our way back to the campsite anyway. Along the way we stopped at a community (bon)fire, which was surrounded by dreamy-eyed music lovers. We joined them, and in the firelight I saw a few familiar faces from up on stage, sitting and rapping with attendees. What a warm and fuzzy feeling. Groove day one was a total success. After staring into the flames and listening to the echoing sounds of the Move Stage in the not-so-far distance for a half an hour or so, we finally threw in the towel.
Saturday
Saturday started early. We woke refreshed and excited for the day ahead. We became friends with our neighbors in the campsite and enjoyed a pleasant morning of exchanging stories over bloody marys. Then, at 12:15, our pow-wow was interrupted by the the Jefferson St. Parade Band, which came barreling through the campsite blaring brass and thumping drums—it was quite the wild rumpus, and seemed to be a blatant announcement that the quiet morning was over: time to boogie. Their costumes were great, and while they were not technically the best, the artistic value of their concept cannot be undermined. After the rumpus ended, we gathered our things and made our way to the Groove Stage. Jaden Carlson was the first act. The 13 year-old is a prodigy in the making. I have had the pleasure of hearing her stand in a handful of times with some pretty amazing acts. On Saturday, I got to hear her play with her own band for the first time, and they were awesome too, but truly everyone is in the limelight when onstage with Miss Carlson—the way that she casually lays out out psychedelic riffs (and yeah, the fact that she is 13 years old) makes for a lot of double-takes in the crowd. She is truly unbelievable.
Just to give everyone a fair listen, we moseyed across the bridge to the Move Stage to catch a bit of the Ragged Union. The Golden, CO based Bluegrass band had a refreshingly chill vibe, which was just what we needed at the time. During their performance, Patrick Hoeper of the Stuttering Ducks made a couple cameos. The fellow was quickly becoming the mascot for the festival. Too bad we couldn't be two places at once; we had to leave after a half hour to catch The Drunken Hearts, who kicked off their set on the Groove Stage at 3:15. The six-piece Americana Jam group from Boulder has generated quite the buzz over the last year or so. Their Country vibe was, again, another perfect fit for the valley that housed the main stage, dwarfed by the mountains beyond. And they have a slide guitar player. Be still my drunken heart. Their set was fun and lively and I am looking forward to seeing them again soon.
After they finished, we returned to camp for a snack and to "rest our eyes" for a moment. The eye resting was a mistake. A couple hours later we woke to a neighbor yelling at us, "Napping on the job I see!" Thanks, neighbor. We scrambled to gather our things and made it to catch the last half hour of Springdale Quartet. I have seen these guys many times before, and they delivered the same solid Funk/Jazz/Jam music that I have come to love from them. Just as we started to get our dancing legs, the last song came to a close. Damn my eyelids!
At 7:30, Keller and the Keels came out on the main stage. Always cool and collected, this guy is a real guitar hero in the land of Jam, but the first twenty minutes of his set were somewhat lackluster. We decided to go grab some water from our campsite. Again, a bad choice. On our way back we were stopped by security at the bridge that separated the two stages. They told us the bridge was closed, and just moments later we saw them pull someone up on an ambulance gurney and take them away. Some said the person fell. Some said they stepped on glass. Clearly it was not a fatal injury, so my big question was: how do we get back to the main stage? We heard that there was a way around, so we ventured into the neon-garnished forest, with giant light-up flowers and massive dream catchers. A half hour later we made it to the stage. No question—had we been sober and known the way, it would've been quicker, but the whole situation was a bit of a buzz kill. We got back to the Groove Stage to see the last half hour of Keller's set. Fortunately, it was better than that first bit we saw, he definitely had been building some energy while we were away. The end of the set was bittersweet. I would've liked more, but was pretty amped for Kyle Hollingsworth Band all the same.
KHB took the stage at 10pm; we were ready and waiting. He kicked it off with a funky instrumental jam, and then into String Cheese Incident's classic "Can't Wait Another Day." After that, Keller came back onstage to play Daft Punk's "Doin it Right"—a brilliant rendition. At that point all of the little annoyances of the previous hours melted away. The rest of the set was awesome. Joel Cummins of Umphrey's McGee made an appearance, his entrance garnered a huge response from the audience. For me, the absolute highlight of the evening was Kyle's cover of Talking Heads' "This Must Be the Place," which conjured emotions that put both a silly grin on my face and tears in my eyes.
I almost felt bad for Cosby Sweater having to follow KHB. Though the Midwestern live Electronic group has plenty of fans in Colorado, the energy level of the crowd slumped when they came on. One guy I chatted with said, "Maybe I am a snob, but no matter how good it is, I just can't do the DJ-focused stuff." Their set was decent, but putting them after KHB was a fail. We left the set a bit early to have a listen to the Magic Beans on the Move Stage. They were giving it their all up there, in their second late-night jam session of the weekend, and they sounded great, but the climax of the evening had passed and our legs were getting heavy. We chilled out at another community fire near the stage for a half an hour or so, listened for a while and decided to go to bed.
Sunday
Sunday was a slower start than Saturday. Tired and a bit hung-over, we lazed about the camp for a few hours, rehydrating and discussing the previous night's music with our new friends. The Funky Nuggets came on at 1:00pm, but since we could hear their music from camp we decided to hang out and spend some more time with our fellow festival-goers. At some point, a neighbor brought us a bacon and veggie scramble—which we promptly consumed. It was at this point I realized how truly awesome Groove was—not only had all of the music been impressive (and explosive, and tiring), but the attendees were all amazing too. Literally, every person we met was fabulous. The audience was a huge factor in making Groove a success. With this happy thought in our minds and satisfied tummies, we crossed over the bridge for one last set before the unfortunate but unavoidable task of packing up camp. The Hyryder Grateful Dead tribute band was in full swing when I arrived. It was a perfect set to start the day. For an hour, I put all that packing nonsense out of my mind and tuned into the harmonies that made me fall in love with Jam and Bluegrass music. Joined onstage by Patrick Hoeping (The Stuttering Ducks), the five-piece group from Indiana threw down a great variety of Dead songs, from the Folkier "I Know You Rider" to the poppier like "Roll Away" and of course, plenty of crowd-pleasers like "Dancing in the Streets." When it came to an end, I wasn't ready, but we knew it was time to start packing. Some foreboding clouds and some light precipitation lit a fire on our asses and it was on. We borrowed a wagon from our ever-gracious neighbors and finished our chore. After we were done, we stopped to hear Alan Evan's Play On Brother cover "Sunshine of Your Love"—great stuff. We decided to have one last boogie, and we made it a good one. We were very sad to leave before Euphorquestra and Karl Denson's Tiny Universe came on. Unfortunately, not all of us can take Monday off after a weekend festival, so leaving early was the only responsible choice. The placement of Karl D in the line-up was another fail, to this I think many Groove attendees would attest. All in all however, it was an amazing weekend and a total success as far as first-year festivals go. While the placement of the bands on the set list wasn't perfect, the musical selection was fantastic, the venue was gorgeous and the people who came were equally beautiful. I think ultimately everyone who was there felt blessed to be able to witness Groove's grand debut, and all of us will be anxiously waiting to see what it will bring in 2015.
Audiophile. Logomaniac. I must get to the show.