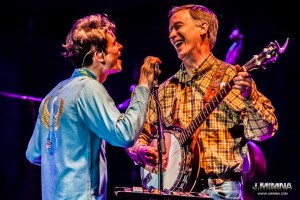 Photos by Jim Mimna
The Scene: The rain persisted throughout the day in Denver on July 16 but the fans endured the weather and filed into Red Rocks Amphitheatre for Old Crow Medicine Show. Old Crow made an appearance at Red Rocks last summer as openers for two sold-out nights with the Avett Brothers and this year they had their own sold out, one night event.  With bodies covered with ponchos, umbrellas dripping with the down pour, bare feet thumbing and smiles radiating from underneath rain soaked hair, no one seemed bothered enough to stall the shindig.
Opener: The Carolina Chocolate Drops. Opening for the main show were the self-proclaimed old time string band, with an antique Country and Blues sound, The Carolina Chocolate Drops.  Forming in 2005, the band of four have created a vibrant revival of Bayou Blues and Jug Band music with backwoods, black string style.   Playing banjos, cellos, fiddles, castanets or "bones," and a soap box, creating a feeling of being in the Deep South.  Rhiannon Giddens' haunting, yet beautiful, voice carried the band through songs of grandeur including originals "Come Love Come" and "Buck Creek Girls." As the rain poured through the rocks, the fans only became more enthused with the band, with their booming instruments, bass kicks and fiery melodies.  The band finished their set with a rendition of Blu Cantrell's "Hit em' Style" which sealed the deal.  The Carolina Chocolate Drops weren't done for the night and would make several appearances throughout the evening with the headliner.
Old Crow Medicine Show: As the rain slowed and then came to a stop, our very own Governor, John Hickenlooper, had the pleasure of welcoming OCMS to the stage.  As the most recent inductees to the Grand Ole' Opry, Old Crow Medicine Show has been making country music for over 16 years.  The band broke right into song and dance as soon as they stepped foot on to their lantern and string lighted stage.  It was time for a good ol' fashioned hoedown throw down.  "Bushy Mountain Conjugal Trailer" gave us a first taste of the old time country music Old Crow is well known for.  The banjo, slide guitar and mandolin were the main players but the boys are all quite the renaissance men.  Cory Younts was the most impressive with his playing of the drums, piano, mandolin, vocals and best of all for his mountain flat foot tap dancing!  No doubt did this encourage the crowd to hoot and holler and join in.   Old Crow had a never ending energy flow that didn't allow for any set break.   A five song jam, including "Caroline," "Firewater," "Bootleggers Boy," "8 Dogs, 8 Banjos," wrapped up with "Sweet Amarillo," which was a Bob Dylan penned song passed down to Old Crow to finish.  This was quite an honor coming from the group's main influence and musical hero declared the groups lead singer Ketch Secor.
Maintaining the nonstop foot stompin', knee slapping good time, the band pressed on with "Cumberland River," giving a shout out to our neighbors up north residing in Estes Park and Lyons effected by the floods of 2013.  Rhiannon Giddens from Carolina Chocolate Drops made a guest appearance and bellowed a pleasing rendition of Patsy Cline's, "I fall to pieces."  The highlight of the show in many regards was the guest appearance of Colorado Governor John HIckenlooper.  Hickenlooper stepped on stage being introduced as "one hell 'ova banjo player" and joined the band singing and playing on the favored "CC Rider."  Hickenlooper kept up and was featured several times during the song to strum that banjo all by his self.
The Old Crow boys carry a stunning harmony through most of their songs but was highlighted during "The Warden," sung while crowded around one microphone with an almost silent Red Rocks congregation.   The group kept the night affair going with, "Crazy Eyes", "Carry me back" and forged on with "Cocaine Habit" and "Tear it Down," giving the crowd a delightful song and dance serenade.    It wouldn't be a successful Old Crow Medicine Show jam without their break out hit, "Wagon Wheel."  The crowd thoroughly enjoyed singing along and it seemed like Ship and Creation Rock were singing along too.  Closing out the show, the band brought out The Carolina Chocolate Drops for a 12 man super jam crooning John Denver's tribute to Colorado, "Rocky Mountain High."  When the band took their bow, gave thanks for the "best music fans in world," the crowd clapped and roared with approval.
Energy: A+
Musicianship: A
Sound: A-
Stage Presence: A
Set/Light Show: B
Overall: A
From Evergreen, CO currently lives in the highlands of Denver, CO. Found my passion for live music as a young child with my parents taking me to see concerts and live music early in life. First concert? Jimmy Buffett at Fiddlers Green! Received a Bachelors of Arts degree in Business Administration and minor is communications from Fort Lewis College in Durango, CO. Have worked in music publicity for over five years around Denver. Favorite bands and artists include; Talking Heads, Steely Dan, Widespread Panic, Jackie Green, George Clinton, Joe Bonamassa. Rock and Roll, funk, hip hop and jam are the types of music I will favor. Favorite local band; The Motet. Favorite things to do: concerts and live music, SUP on local lakes, yoga, camping and weekend adventures, dive bars with a good jukebox and dining al fresco on my deck with friends.