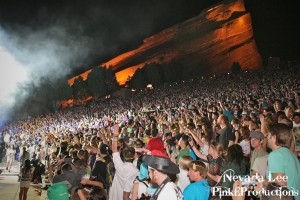 All Photos By Nevada Lee Furrow
Scene: I was dropped off at the lower south parking lot of Red Rocks around 3 pm on Saturday. There were already a few rows of cars parked with trunks popped and coolers a-plenty. Prior to this I had been completely ignorant on anything related to Bassnectar.  All I knew was that this show had been sold-out for weeks and that I was expecting a very high dose of very low frequencies. After my interview with Beats Antique, I stopped at the top of the stair case leading into the venue and talked with a group of people who had just arrived in Colorado the day before. They were the only ones on the stairs and said they had been sitting there drinking Coors Light since before 2 o'clock. Each one had a different homemade shirt with the word "Basshead" written on it in bright neon fabric paint. They explained to me that they had driven all the way from the middle of Virginia for the concert. One of them chimed in "He [Bassnectar] brought the loudest sound system to ever hit Red Rocks; this is going to be life changing."
That helped me put into perspective what I had gotten myself into. I partook in a few cold Coors and parted ways with the traveling Bassheads around 5 o'clock. I made my way down to the lower parking lots to meet a few friends and mingle with the masses. The party was in full swing as thousands of eager fans made their way through the circus up to the venue. It looked as if most in attendance were either teenagers or 20-somethings, with a few older folks mixed about. I could tell by the wide-eyed smiles on their faces, and the abundance of empty beer cans and bottles all over the ground, that a big part of the scene can easily be described as "mindless self-indulgence."   A man in a banana suit was walking by and screamed "How did you convince your parents to drop you off here?" over the crowd to a group of kids that couldn't have been more than 14 or 15. I heard different variations of that phrase multiple times throughout the night. Finally, I decided to make my way up towards the rocks and get settled. There were giant lines stretching from each of the entrances and electronic producer Eskmo from the Ninja Tunes label was about to start off the night with his unique approach to down-tempo sound.
Eskmo: I've been into, and known about Eskmo, for a while and was honestly pretty excited to see him perform at such an amazing venue. Even being familiar with his sound, it is very difficult to fully explain what you are listening to. The only word that really comes to mind when thinking about an Eskmo track is "Organic."  He carries a field recorder with him during his everyday life just on the off chance that he might hear an interesting noise that can be turned into a song later on. The crowd was slowly filtering in and I had pretty much a whole row up front to myself, which was a great way to take in his beautiful compositions. Not only does he mix the music himself, he also sings the vocals and uses objects that can't quite be considered instruments in the traditional sense. He finished his set with "Cloudlight" which is the opening song off of his self titled album released last year. I thought perhaps my eyes were playing tricks on me when I saw him pull out a shovel and beat the head of it with another object into a microphone. He then turned some knobs and the sound was incorporated into the song. Next, he pulled out two red cups and began pouring liquid out of one into another while recording it. It was definitely a new and very strange approach to improvisational live music. He is a master of taking sounds created naturally in the world and transforming them into what I thought was some of the most cutting edge music coming out of the electronic world today.
You can download a free mix as well as purchase his other albums here
Beats Antique: Eskmo had definitely gotten the audience warmed up and in the mood and Beats Antique were now set to unleash their electro-acoustic, world-fusion sound on thousands of excited music lovers. Sidecar Tommy was on drums. David Satori switched off between drums, a violin, a computer, and even a custom made Turkish banjo. The beautiful Zoe Jakes was beating on a bass drum hanging around her neck and Sylvain Carton played the Clarinet.
They opened with two songs, one of which being "Nesatovo" off of their album Collide, before Zoe disappeared. After a song without her, they made an announcement that she was on her way back out. This time decked out in a gorgeous pair of white feathered wings. Two more lovely ladies from her dance troupe joined her on stage. The style of dancing was both mesmerizing and hypnotic. You could feel every note as the absolutely stunning dancers gracefully and seductively worked their way around the stage.  As promised in the interview I conducted with them before the show, they played four unreleased, and unheard songs, during the set and received a decent response from the swaying ocean of color in front of them. David and Sidecar Tommy even switched things up a bit by trading places and further proving that the groundbreaking sound is not only  the result of endless creativity, but of  world class musicianship as well. It was no surprise to me that it has only taken them 4 years to go from no intention of performing to donning animal masks and getting tribal in front of a sold-out crowd at one of the greatest music venues in the world.
Their sound touched so many forms of music and creativity that actually describing it or even putting them in a genre is next to impossible. The captivating saxophone and clarinet played by Sylvain, mixed with the looped beats and exotic sound of the Turkish banjo, gave their songs an unrivaled feel. They provided a very psychedelic, Mediterranean influenced soundtrack for the countless Bellydancers in attendance doing what they do best. They finished their set with the crowd favorite "Beauty Beats." The sun had fully set and the amphitheater was nearly full. Beats Antique threw down an amazing set of music that I'm sure will not be soon forgotten by anyone listening or even by the band themselves for that matter.
Bassnectar: In the days leading up to this event I had heard many mixed reviews of Bassnectar's live performances. I was told to bring ear plugs and I was also told it was going to change my life.  I can't say it was as life changing for me as it may have been for some of his long time fans but it was very inspirational to say the least. I also want to mention and give thanks to him for asking that Red Rocks provide free water at the end of multiple aisles. It was nice not getting charged to hydrate.
California based Lorin Ashton [Bassnectar] came out to a massive eruption and was positioned on a small platform that was raised from the stage with giant LED screens in front, beside, behind and above him. It was one of the largest stage set-ups I have ever seen. You could hear the excitement in his voice as he thanked everyone and went on to say "This is by far the largest production I have ever had the pleasure to be a part of." He went right into it with Boombox. The opening track from his 2009 releases Cozza Frenzy. One lyric in particular caught my attention: Near the end of the song the words "There is nothing in life that I can't achieve" repeat multiple times. Seeing Lorin on stage banging his head like the rockstar he is was all the proof I needed that those words rang absolutely true for everyone with a little bit of drive and determination.
I had read somewhere a few days before that Lorin was quoted saying "We are bringing the loudest sound system to ever be used at Red Rocks. That was more than obvious to tell within the first 10 minutes of his set. He went on to mash up everything from Gogol Bordello to Jay-Z with his extremely deep wobble bass sounds and original productions. I was beginning to understand why he appealed to an audience of this age group. The samples he chose weren't anything I was expecting to hear and he really caught my attention when he used samples from Nirvana's "Breed" and blended it effortlessly into a relaxing sample from Led Zeppelins "Dyer Maker."
Throughout the night he was producing without a doubt the loudest noises I have ever heard in my life, and that wasn't necessarily a bad thing. He took sound to every possible level he could. Almost creating what felt like an inescapable shield of bass around and above the amphitheater. It was so loud that at one point my brain tricked me into thinking I wasn't even outside at all, but standing next to a massive speaker in a small room. The music was beyond being heard, you could feel it vibrating through your body. I'm no scientist, but I think it was safe to say that it was border-line dangerously loud. I couldn't help but wonder what the hell is going through this man's head as he constructs one of his songs. The bass frequencies were so low that I could feel it in my stomach and even grew nauseous for a short second. He touched every aspect of the music spectrum.
After the crowd favorite "Basshead" with a nice TI vocal sample over it and a few other songs he ended what was almost a 2 hour chunk of music with one word into the microphone over the silent night: "Wow." That is exactly what all 10,000 people in attendance were thinking with him at that very moment. Lorin went to give thanks to everyone and was almost giddy with excitement as he explained that this was the moment he was waiting for his whole life. It was truly remarkable to hear him talk about how amazing he felt at that moment.
A few more songs were played and his set ended at roughly 12:30. As I was walking up the stairs I really didn't even know how I felt or even how to describe what just took place. I understood what he meant when he described his sound as "an amalgamation of every sound I've ever heard, mixed with ultra wicked bass lines." It was indeed a melting pot of noise. The entire night was filled with sonic bliss from the beginning to end. My only concern was for the eardrums of the younger folks in attendance since it took my ears about 2 days to finally stop ringing.  Aside from that it was truly an inspirational performance from all three of the acts that destroyed the stage on Saturday night.
Sidecar Tommy had said it the best during our interview earlier in the day when he was cut short mid-sentence by Lorin's sound check: "Whoa…Bassnectar…" It was definitely only something I should only subject my ears to no more than once a year, only out of fear of going deaf. That doesn't change the fact that Bassnectar is a an unstoppable force overflowing with creative genius. Almost a puppet master on stage with thousands of die-hard fans willing to do anything the man says into his microphone.
It was easily one of the most massive spectacles to ever take place at that magical theater and raised the bar ten-fold for any electronic act in Red Rocks' future.  Over-the-top visualizations on the giant screens combined with the raw passion and musical mastery flowing over the hills of Morrison, Colorado left me with one thought as I walked down the road to our limo: "There is nothing in life that I can't achieve."
Energy: A+
Sound: A
Musicianship: A
Stage Presence: A
Set/Light Show: A+
Overall: A
I rode my skateboard from school in 7th grade to my buddy Vince's house where he put on the song "Perfect Government" by NOFX and I was hooked. The next day I bought the album Duh by Lagwagon. The next year I saw Against Me! at the Starlight Theater in Fort Collins, my mom dropped me off. I've since devoted every waking hour to anything done with passion. My speakerbox bumps everything from Lil' Wayne to Pablo Casals. I was never very good at making music, but I am damn good at listening to it. I've been filling up yellow notepads with random thoughts and misspelled words for as long as I can remember. I enjoy whiskey of all sorts, Newport cigarettes and the company of my family. I've got an addiction to run-on sentences that I'll probably never cure. A solid handshake with a stranger who has become a friend over a few beers means the world to me. You'll often find me wide eyed and wandering with an ear to ear grin. I live for funky break beats and spreading the love.