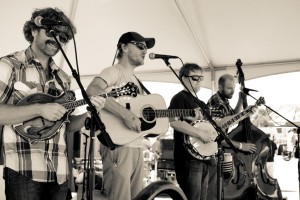 Photo by Emily Sierra Photography
It's summertime in Colorado, which means the is Bluegrass is ripe for the pickin'! Chain Station found music, each other and even their band's name wandering in the mountainous playground that lies just beyond Denver. Rightly so, they have traveled all over the state and beyond, bringing high energy "Mountain Music" wherever they go, and have gathered quite a following along the way. We caught up with Chain Station recently, in our latest installation of 20 Questions…
Listen Up Denver!: How did you come up with your band's name?
Chain Station: Traveling I-70 through Colorado's Rocky Mountains. Jon had thought it would be a good band name, and our vibe seemed to fit it pretty well. Plus, the free advertisement is nice, too.
LUD!: What is the line-up of the band?
CS: Jarett Mason (Mandolin), Alex Thoele (Guitar), James Weatherly (Banjo), Jon Pickett (Upright Bass).
LUD!: How would you describe your sound?
CS: We have used the term "Mountain Music" to describe our sound because we blend Bluegrass sounds with our own personal experiences that we have encountered throughout our lives as musicians.
LUD!: Who would you count as major influences on your band?
CS: Friends and family of the Bluegrass community, John Hartford, Old & In the Way, The Bluegrass Album Band………?
LUD!: How did you guys get started playing together?
CS: Jon and Alex met around the campfires of Estes Park. They played in a few bands, met Jarett through a mutual friend in the summer of 2010 and started Chain Station. Two years later, our original banjo player (Tony Martin) left the band, and James was welcomed in after being recommended to Jarett by another local musician.
LUD!: Does anyone in the band have any formal musical training?
CS: Not really. We've all taken private lessons from people we know and attended the occasional workshop, but no formal education to speak of. Jarett embarked on a self-directed study of musical theory years ago and now teaches private lessons on several instruments, as well as general music classes in an arts enrichment program for home-schooled kids. Bluegrass and Folk music have a tradition of being handed down from generation to generation. There is a wonderful community of friendly and knowledgeable musicians here in Colorado, and we've been lucky enough to tap into some of the resources at our fingertips.
LUD!: Where was your first gig together and how did it go?
CS: Our first gig with James was at Quixotes True Blue. We had a Sunday residency there and it was a comfortable gig for us. We literally met James for the first time in the back room at noon and took the stage at 2pm. It was an instant hit for us and the smiles on our faces said it all.
LUD!: What's your favorite memory of playing together?
CS: Too many to choose from, but the best memories are when we get to play for people who enjoy our music as much as we do. Halloween 2013 we dressed as The Muppets at The Rock Inn in Estes Park, CO. One of our favorite places to play. We had Alex (Kermit), James (Rowlf), Jarett (Swedish Chef), Jon (Sgt. Floyd Pepper of the Electric Mayhem Band)
LUD!: Are you playing any shows coming up that you are particularly excited for?
CS: We're really happy with the job we did booking the Summer of 2014. We'll be busier than ever, and are particularly excited to get our music in front of some people outside of Colorado. On the home front, we are excited for our show August 5th @ The Fox Theater w/ The Railsplitters and Caribou Mountain Collective.
LUD!: What is your favorite song to cover?
CS: Right now our favorite song to cover is "Freight Train" by Fred Eaglesmith.
LUD!: What is the strangest request you've had at a show?
CS: Most of them probably shouldn't be mentioned here, but we have been asked to play only Muppet's music because people think we look like The Muppets. Not that far from the truth if you have seen us..
LUD!: What was the first song you wrote together as a band?
CS: "Don't Build Me Up"
LUD!: Do you still play that song live?  If not, why?
CS: It is still one of our favorite songs.
LUD!: Have you released any of your material yet?
CS: Our debut album Dancin' With the Law was released at the end of 2013. We have plans for many more.
LUD!: What is your favorite venue in Colorado, and why?
CS: The Rock Inn in Estes Park has been somewhat of a home base for us. Jon and Alex established that relationship years ago and the staff there have welcomed the rest of our musical family with open arms. They always have great crowds, great food, and really know how to make musicians feel appreciated.
LUD!: If you could play on any stage in the world where would it be and why?
CS: Red Rocks Amphitheatre. Close to home and one of the coolest venues ever.
LUD!: If you could open for any band or artist, who would it be and why?
CS: We opened for the Travelin' McCourys featuring Bill Nershi in Vail at the beginning of July. That is already a dream come true, but if Del would've showed up, we could probably all die happy.
LUD!: What is the most outlandish thing your band would consider putting in your backstage rider?
CS: Allowing all of our "Frans" (friends and fans) to come and hang out with us backstage. That, and some BC Headache Powder.
LUD!: What is your band's drink of choice?
CS: Whiskey…with water, ginger, Seven, soda or just ice. We also love Whiskey Dews!
LUD!: Can you name a few local Colorado bands that are really impressing you right now?
CS: The Railsplitters, Caribou Mountain Collective, Finnders & Youngberg.
Audiophile. Logomaniac. I must get to the show.