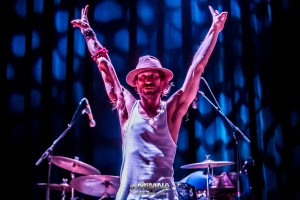 Photos by Jim Mimna
The Scene: Hard Working Americans made their return to The Boulder Theater last Tuesday evening after their debut performance in December. This time the show was augmented by a full set from Alabama singer-songwriter Jason Isbell. Between Jason Isbell's 400 Unit and Hard Working Americans there were band members from 8 + acts represented on the stage. When we arrived, the packed crowd was divided equally among Drive By Truckers, Widespread Panic, and Todd Snider supporters. You never know what you might get from such a diverse crew of musicians but the one constant in the venue was the heat and stagnant air that made it feel like Alabama in July from the minute we walked in the door.  Tonight would prove to be gritty southern fried Rock n Roll at its finest.
Jason Isbell: Jason's newest solo record, Southeastern, released in 2013, is simply one of the best albums to come out in a long time. Seeing Isbell live for the first time is an experience worth savoring and Boulder was witness to a fantastic performance with the 400 Unit brethren providing the symphony to Jason's limitless vocal range. Tonight we heard favorites from Southeastern including "Traveling Alone" and "Super 8," alongside old Truckers favorites like "Decoration Day" and God Damn Lonely Love." The Drive-By Truckers defined Alt-Country in the early 2000's and it was an absolute joy to hear some of these older and darker tracks pouring out of Jason's mouth once again. Jason and The 400 Unit also brought out several tracks from 2011's Here We Rest including "Alabama Pines" and "Codeine."
Hard Working Americans: Back on December 20th 2013, Hard Working Americans debuted at the Boulder Theater. That show was solid and an amazing introduction to the group but it lacked energy and fluidity. Tuesday showcased the band, several months into their tour in full synchronicity. Neal Casal was a lion on the guitar; Dave Schools ripped effortlessly on the bass and Todd Snider captivated the crowd with his unbridled enthusiasm. After opening with "Blackland Farmer" and a wicked solo from Neal, the group continued through much of their self-titled debut. They have mastered these tracks live over the last few months and the band seems much more comfortable extending the songs into lengthy jams. Fortunately, Todd Snider added a few artistic touches throughout the set including a "Is This Thing Working" that ignited the funky keys of Chad Staehly. There was also plenty of that dirty-Soul laced harmonica that Snider's perfected over the years.
Will we be blessed with a 2nd album from this fantastic super group? That remains to be seen with the busy careers of the musicians involved but it certainly would be welcome.  For now though, The Hard Working Americans will continue to proudly broadcast authentic American welfare music that cuts straight to the soul.
Energy: A-
Musicianship: A
Sound: B+
Stage Presence: A
Set/Light Show: B-
Overall: A-
I've worked various positions in the music industry with Madison House, Rock The Earth and Bohemian Nights. My dream is to travel the world and seek out all the good tunes, beer and food that make life so special. I have a healthy obsession with live music and I'm thrilled to share the epic moments with you.